Home Team
They're small in stature, but big difference makers
---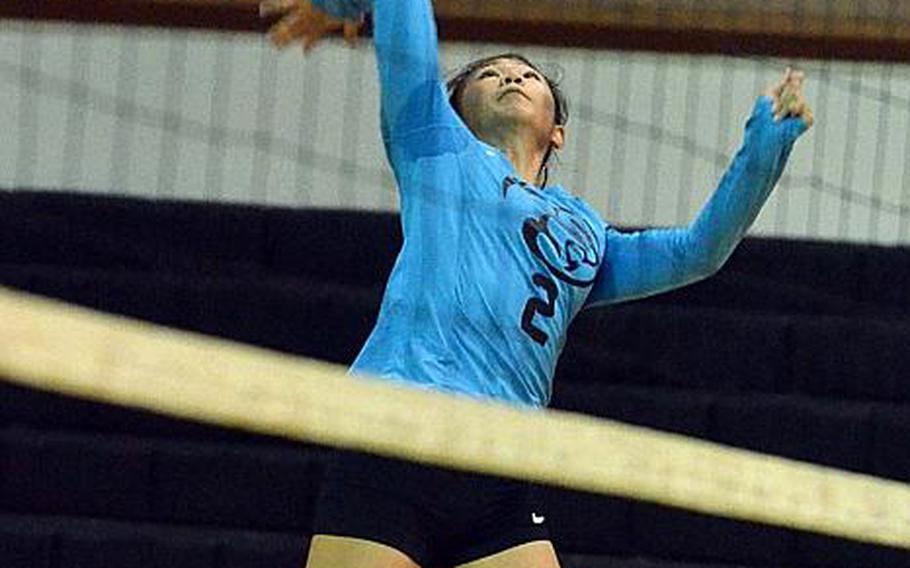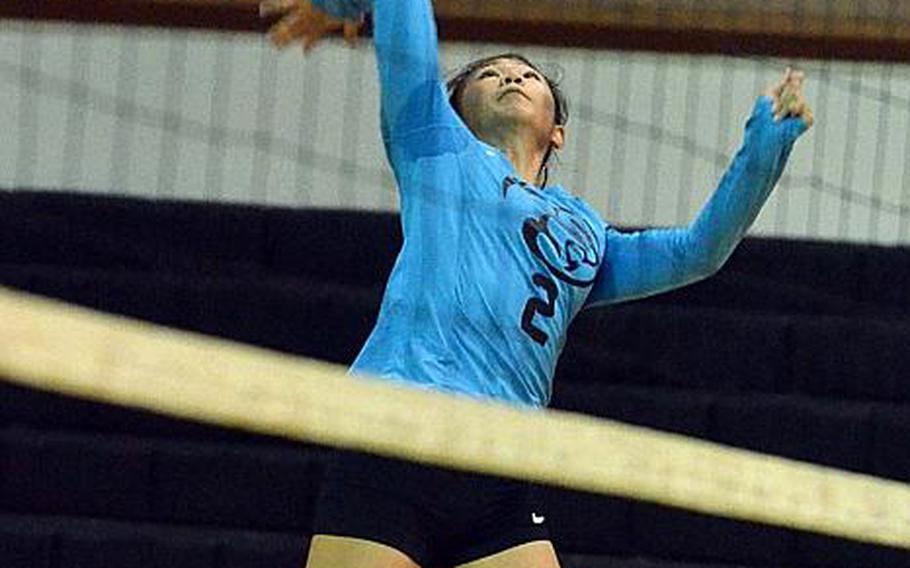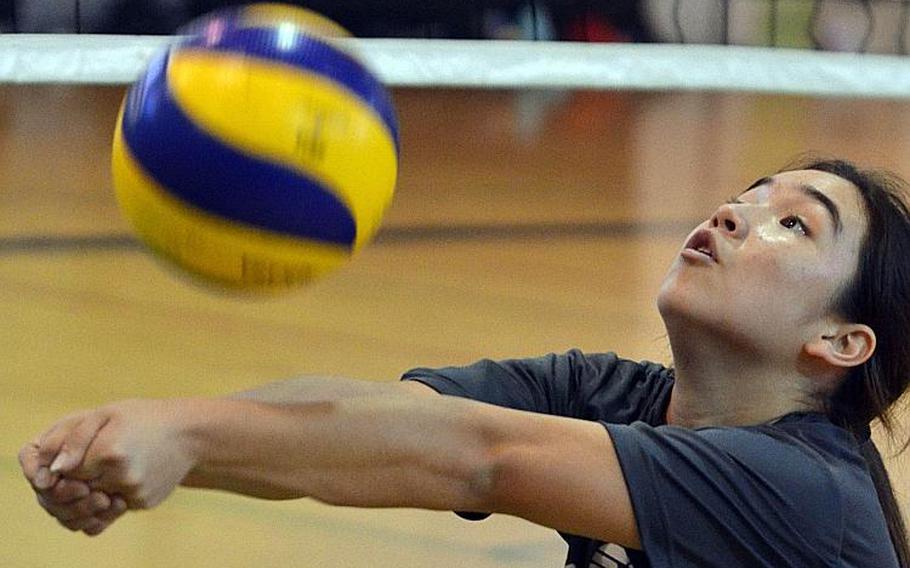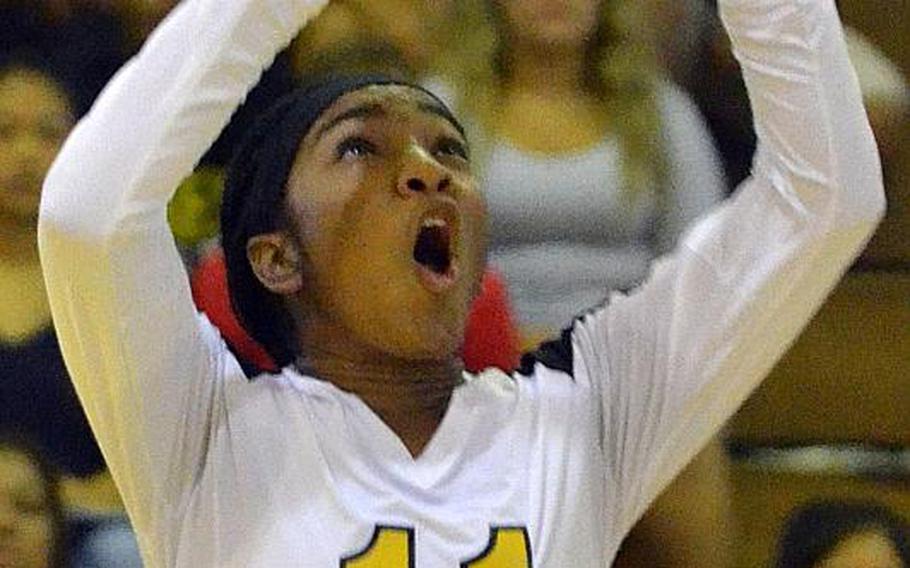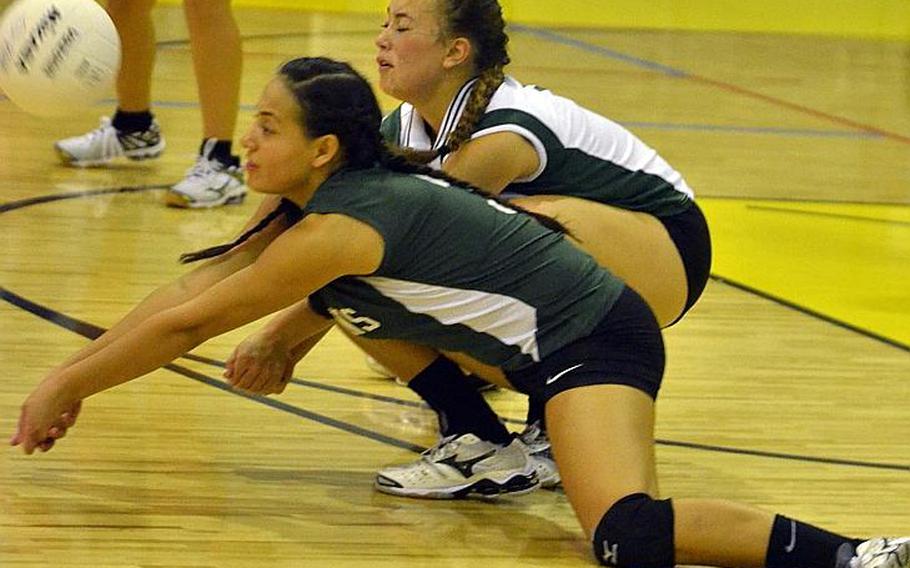 One normally thinks of tall, lanky players who deliver pile-driving spikes as the ones who grab the headlines on volleyball teams.
But in the Pacific, height comes at a premium. Many players have at least one local national parent and children of Asian descent – Japanese, Korean, Chinese, Filipino and Chamoru (Guam) – tend to be more diminutive than their taller, big-boned western counterparts.
So it's the small packages that consistently deliver big things in Pacific high school ball. The ones who do the ground work on the back lines defensively, create the sets that turn into those spike kills, or at times deliver hard hits from angles at the edges of the net for unexpected points.
Take the teams that won Far East Divisions I and II Tournament titles last year. D-II offensive MVP Andrea Carandang of Osan stands all of 5-foot-4. Outside hitter Kelsey Rogers earned D-I MVP honors as Kubasaki's inspirational leader, but many observers said the play of 5-1 freshman defensive specialist Maiya Larry was equally key to Kubasaki's fortunes.
"The big ones are the flash, but the foundation players are strong and little," Kubasaki assistant coach Amy Deakins said. "That's what's nice about our team. We complement each other. We're strong all the way around."
Those strong and little types, Larry (now a sophomore) and her freshman sister Mimi, junior Libero Jordyn Deleon Guerrero and senior setter-turned-outside hitter Miranda Fino, combined with the bigs, Josie Daffin and Chloe Stevens, to capture Kubasaki's 11th straight Okinawa district title.
The little giants also figured big in the Dragons' championship last weekend in the American School In Japan Yujo Invitational Tournament, a 10-team Pacific-wide event, in which Maiya Larry was named MVP.
And it's not just limited to the reigning champions. Though Kadena has taken a back seat to Kubasaki in league since 2003, the Panthers came within two points of beating them this season behind the play of sisters Rheagan and Rhamsey Wyche.
"They bring quickness, the concept of if it can be done it will be done, they bring hustle, they bring heart," Kadena coach Joanna Wyche said. She likened the play of her daughters – each about 5-2 – to that of their older sister Rachel and libero Leanna Quizon on Wyche's former Daegu team that won Far East Division II in 2013.
"They bring desire and drive to the court. And they show the giants on the court that they have absolutely no excuse."
Using that quickness and hustle, smaller players cover the court tenaciously, keeping balls from dropping to the floor, coaches say. They get clean passes to the setters. And the setters consistently deliver the ball to the net tape for the bigs.
Those smaller players "have to want the ball," Dragons head coach Mike Hogen said. "Maiya wants the ball. She's very competitive. She doesn't like to lose. If she wins, she wants to win by more."
Aside from being able to pick up most everything, Guerrero is perhaps the most vocal defensive player the Dragons have.
"She definitely wants to make the play," Hogen said. "She's extremely aggressive. Athletically, she's able to get to anything. And she's very communicative. Her, Maiya, Miranda, they're very verbal."
The Larry sisters are each of Japanese descent. A vast number of players on champion teams in the Korean-American Interscholastic Activities Conference are of Korean descent. Champion teams from Guam, when they were still attending Far East tournaments, were driven by smaller players, most recently Wella Comoda and Charlene Pama who helped Southern win D-II and D-I titles in 2000 and 2002.
"In an ideal world, you have six girls over 6 foot and one libero," Hogen said. "Not on the Pacific. ASIJ can pull it off, but they're the only team that really has that kind of height."
So, Hogen, Wyche, Williams and the rest of the Pacific teams short on height but long on tenacity have to go with what they have.
"Good defense beats offense if defense plays defense long enough," he said. "Offense is important, it looks good and we focus on it, but defense usually trumps offense."
That's not to say big players aren't important. "We need them, too. They hold the line," Joanna Wyche said.
But teams can't always depend on height and must make the best of what they have, said Carandang, who is of Filipino descent.
"I don't think height should really matter as long as they do their job and succeed in it," she said. "(Height) gives some advantages to hitters, but there are some hitters who are smaller who can jump higher and hit better than (players) who are taller than they are."
All the ingredients must then work in concert with each other. Without them, "you wouldn't have a team," Kadena senior Corina Withrow said.
"Without the good passes, you probably wouldn't have a team. And if you don't have good hitters, you don't have a team. If you don't hit, you can't score points like that."
---
---
---
---