These Nielsens get high ratings at Kubasaki
---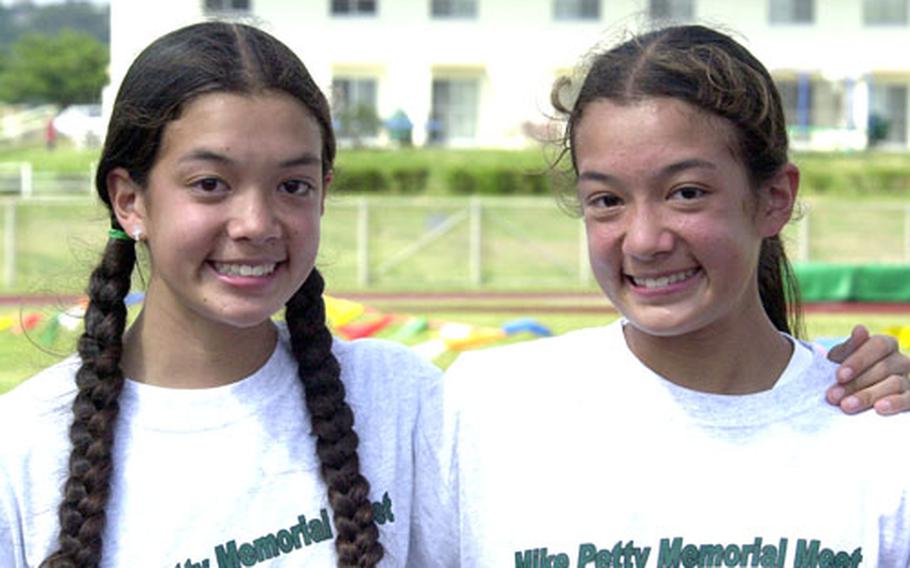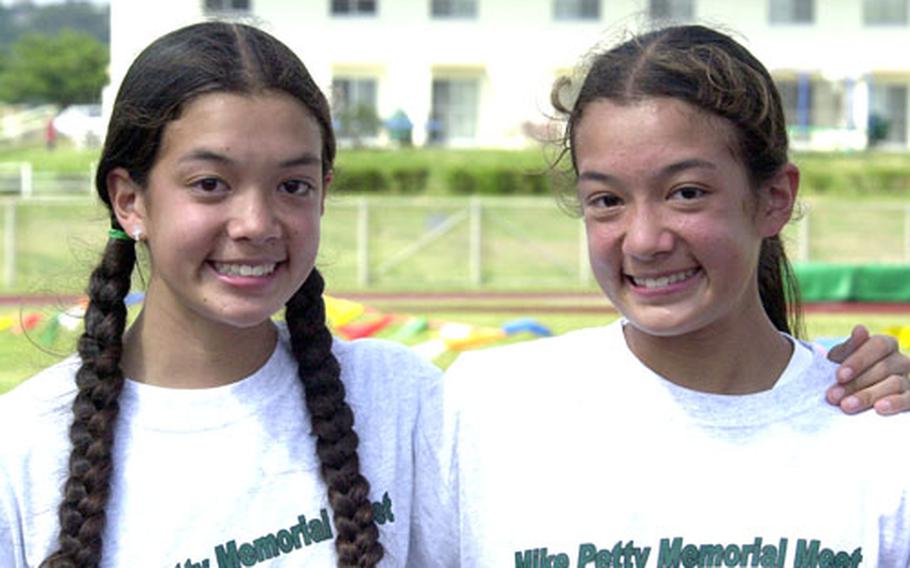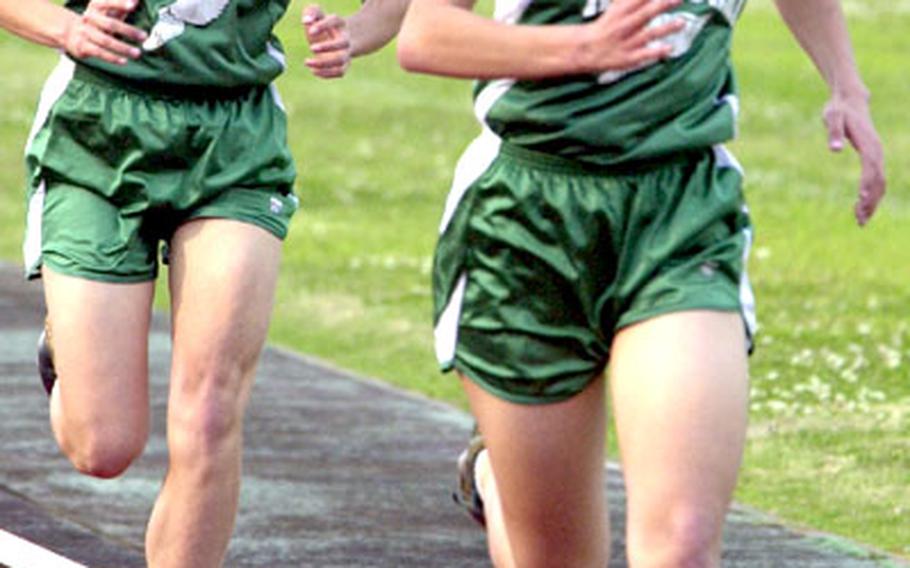 CAMP FOSTER, Okinawa — There are twins. There are identical twins. Then there are Kubasaki distance runners Beth and Lisa Nielsen.
National Honor Society members with 4.0 grade-point averages, they take the same course load, they're both Girl Scouts, Model United Nations attendees and both have earned DODDS-Pacific Far East band honors playing the same instrument — the French horn.
"Sometimes, they drive you crazy. One will complete the other's sentence," Kubasaki track and field coach Charles Burns said.
But they also often drive the competition. They split the gold in the distance events in the Petty track meet earlier this month — Lisa won gold in the 1,600, and Beth claimed first place in the 3,200.
"They're incredible," Burns said.
They're also Kubasaki's second pair of identical twin sisters to be the Pacific's top miler and two-miler in as many seasons.
Crystal and Candace Sandness dominated cross country as sophomore transfers from Utah. With Candace on her heels, Crystal virtually rewrote Okinawa's distance record book in the spring of 2004. The two since have returned to Utah.
In their wake were the Nielsens, another pair of runners whoregularly finished about three minutes behind.
But the Sandness twins didn't discourage the Nielsens — they inspired them.
"They helped us run faster, to tell ourselves that we needed to try harder," Lisa said.
The daughters of Murl Nielsen, an Army Corps of Engineers contractor at Camp Foster, and his wife, Lynn, the twins moved to Okinawa from Camp Zama in the summer of 2003. They ran track as Zama American High School freshmen "and then did nothing for 10 months after we moved, trying to get settled," Lisa said.
But seeing the Sandness' success, the Nielsens decided to try cross country. Their training regimen: six-mile endurance runs three times a week during Okinawa's blistering summer.
"That helped our conditioning and endurance and helped us prepare for cross country, which we had never done," Beth said.
They took to it, regularly finishing in the top five in regular-season meets. Beth even outperformed Crystal Sandness in the island championship Oct. 27, running 3.1 miles in 21:18 to Sandness's 21:26. Lisa was seventh in 22:29.
Beth had another top-five finish in the Nov. 8 Far East meet, running just 46 seconds behind champion Niki Kauzlarich of Kadena.
The twins said such results inspired them to even greater efforts on the track this spring.
"We figured 3.1 miles isn't that long so a mile or two miles is certainly not that long," Beth said.
The girls placed 1-2 in their first mile race of the season. Beth clocked 6:07; Lisa was two seconds behind. In the Petty meet, Beth captured the 3,200 in 12:50.7, then Lisa rallied past Beth and two other runners the next day to take the mile in 5:59. Beth was fourth in 6:07.9.
"When we run, it's like, when a Nielsen wins, it's OK," Beth said.
It's more than OK, said their coach, who has seen the Sandnesses transfer, senior sprinter Serafina Smith suffer a stress fracture in her foot and distance runner Andrea Roxas graduate.
"It's great to have them, with the season going like it has," Burns said.
Sibling rivalry? Not really.
"We get into arguments over stupid things, but that's it," Lisa said.
So how fast can they go?
Burns said he believes that "with some hard work, some weight training," they could be as swift as the Sandnesses.
"They'll be seniors, a year older, a lot stronger. With a good cross-country season, they could reach the next level."
Maybe even approach Crystal Sandness' island mile record of 5:37?
"Crystal was an animal," Burns said. "She ran as if she was angry at something. That comes from training and discipline — which these two have."
---
---
---
---