Home Team
The Few. The Proud. The football players?
---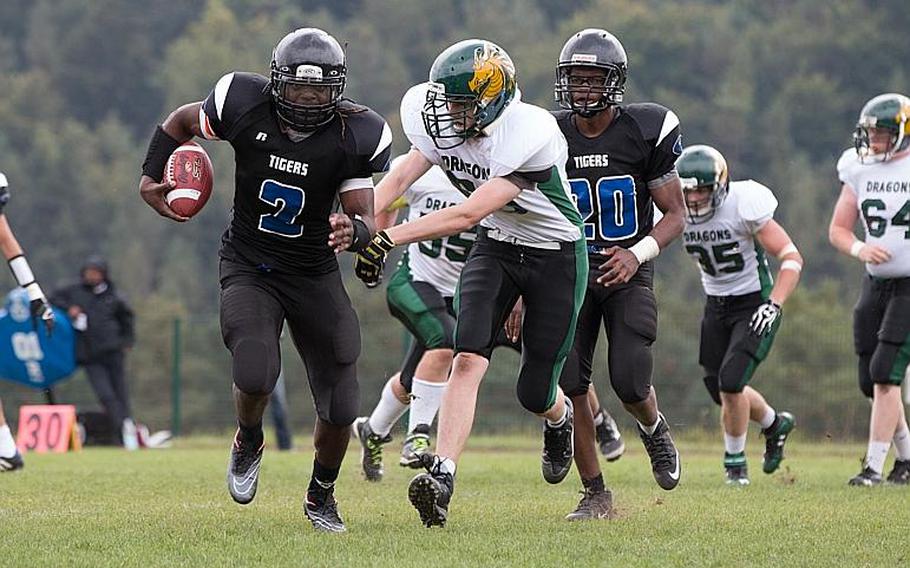 Compared to the historical events that led to its creation and the world-changing decisions that will dictate its future, the challenges facing DODDS-Europe football can seem small.
Of course, being small is the biggest challenge DODDS-Europe football is facing.
The primary existential threat to DODDS-Europe football is the gradual drawdown of United States armed forces in Europe. Fewer troops and civilians deployed across the continent means fewer dependent children enrolled in base schools, or even the outright closure of those schools. When schools close, the remaining DODDS-Europe schools lose an opponent. When a school's population plummets, that school could have trouble finding the 20 or so willing and able recruits required to field a football team.
In recent years, DODDS-Europe has taken a variety of approaches to the issue. As recently as 2013, the organization had its smallest schools play nine-man football, requiring fewer players than the traditional 11-man variety. Over the last few seasons, DODDS-Europe has taken to combining neighboring schools that are struggling to meet minimum roster requirements; Bavarian schools Schweinfurt and Bamberg merged in 2013, and Menwith Hill filled out its roster with players from non-DODDS neighbor Woodham Academy in 2014.
That trend escalated this fall. Just before the season, Benelux programs AFNORTH and Brussels responded to their dwindling personnel by combining programs into a single Division II team. While that's the same approach taken in the examples above, there's a significant difference. All three of those DODDS-Europe programs – Bamberg, Schweinfurt and Menwith Hill – were in their final school years before closing their doors permanently, making the mergers a last-ditch effort to field one last team. But neither AFNORTH nor Brussels is slated to close, and their arrangement could extend into multiple seasons.
Perhaps predictably, some coaches at larger Division I schools are more resistant to the idea of merged programs – Vilseck's Jim Hall said such arrangements are usually a "nightmare with logistics," and Stuttgart's Billy Ratcliff said a merger between former rivals "ruins chemistry" – while coaches at smaller schools that are more likely to actually confront such a reality in the near future are more flexible.
"If it will keep the program open and the kids are able to compete…not much you can do other than combine schools," said Vicenza coach Jesse Woods, who was head coach of the merged Schweinfurt/Bamberg squad in 2013.
For now, the shrinking size of DODDS-Europe football rosters are primarily a problem for DODDS-Europe's smaller schools. While some schools shrink, in fact, others – especially the big four western German programs of Kaiserslautern, Ramstein, Stuttgart and Wiesbaden – should grow as forces are consolidated onto a handful of substantial bases.
Barring a major reversal of recent trends, however, every DODDS-Europe school can expect to be affected to some degree eventually. This season, even an apparently robust football program such as Ansbach is feeling the tightening vise.
Population numbers at Ansbach, which won the Division II European football title last season, are plummeting. DODEA enrollment figures published Oct. 16 place the school's high-school age student body at 146, down from 210 on Oct. 17, 2014. Among the outgoing students were a number of key players from head coach Marcus George's football team, dropping its roster size from 43 to 34, though the turnover didn't prevent the Cougars from going 5-0 in the recently-completed regular season and entering this weekend's quarterfinals as the No. 2 seed in Division II.
George said Ansbach's history of success creates "an attractive product" to offer students who might be debating whether or not to show up for football camp. Schools with small student populations need a higher percentage of those students to participate in sports to field viable teams, while larger schools can handle a lower degree of student interest and still put together an adequate roster.
"It is hard to attract top athletes to the program without prior success, and success can often elude you without the top athletes," George said. "Our best recruiters are the students. If they are pleased and excited about the program, they draw their friends in."
Alconbury coach Rashad Gallon said he also noticed a decreased turnout for his Dragons this fall, and even briefly considered the idea of bumping up his numbers with players from a local British team as its former rival Menwith Hill once did. Instead, the unassisted Dragons nabbed the last spot in the Division II quarterfinals with a final-day defeat of AFNORTH/Brussels.
"Times appear tough," Gallon said, adding that he expects DODDS-Europe football to remain in a "consistent state of flux" over the coming years. "I think the coaches have to continue to promote football and how great a sport it is."
While lower-division schools fight a constant battle against attrition, even the larger schools aren't exempt from the pinch.
Despite its status as DODDS-Europe's third-largest school, Kaiserslautern has struggled all season with the size of its football roster; as a result, the winless Raiders were the first team eliminated from Division I playoff contention this fall. Other Division I programs have also reported lower turnouts this fall, a phenomenon that might also be the result of growing concerns about the health and safety of young football players. But Wiesbaden coach Steve Jewell isn't ready to call this year's dip evidence of a trend.
"I don't think there is one reason," Jewell said. "We have had low turnouts in years past, then the next year there is a large group.
"Not sure I would make a guess as to why this year was slightly lower than last."
There are other options to consider beyond merging two programs into one, though they tend to chip away considerably at the brand of American high-school football DODDS-Europe is striving to replicate overseas. One idea is to revert again to eight or nine-man football; another calls for breaking larger programs like Ramstein and Stuttgart into two teams, effectively diluting the talent level to the point that a school half its size could make a credible opponent.
With the drawdown apparently moving irrevocably forward, however, most coaches understand that all their efforts will one day meet an unavoidable end.
"Obviously, eventually sports will have to drop at some point," Jewell said. "But the school populations are not near a level where that discussion needs to happen."
Twitter: @broomestripes
---
---
---
---