The common theme in Korea: Start over
---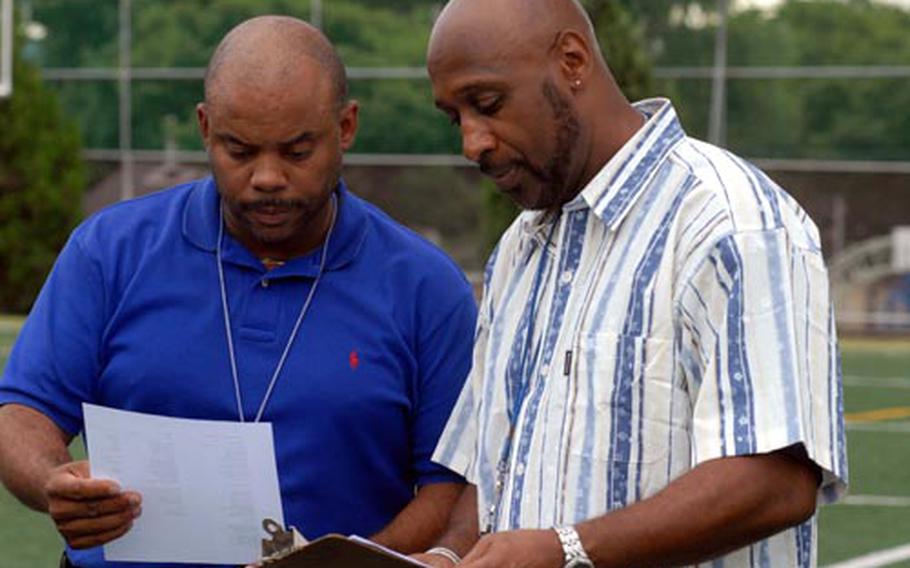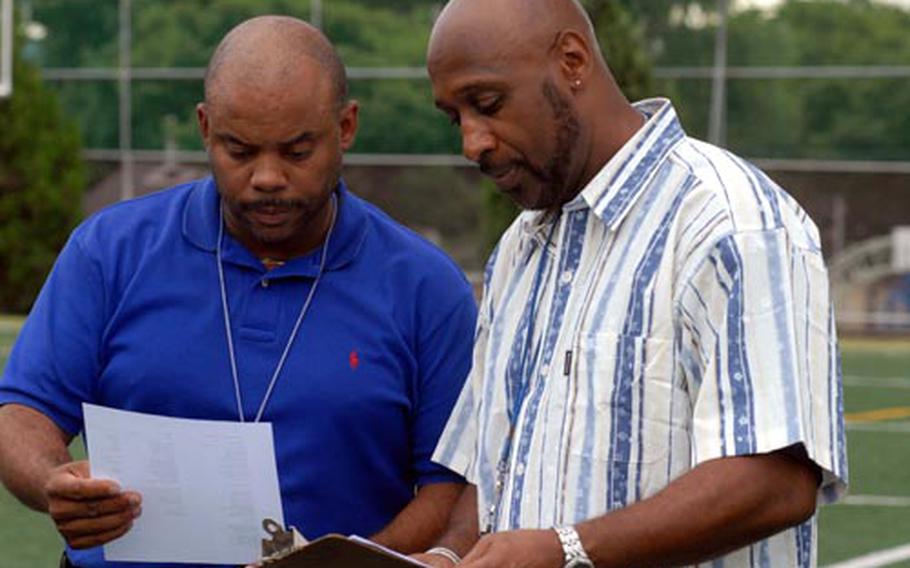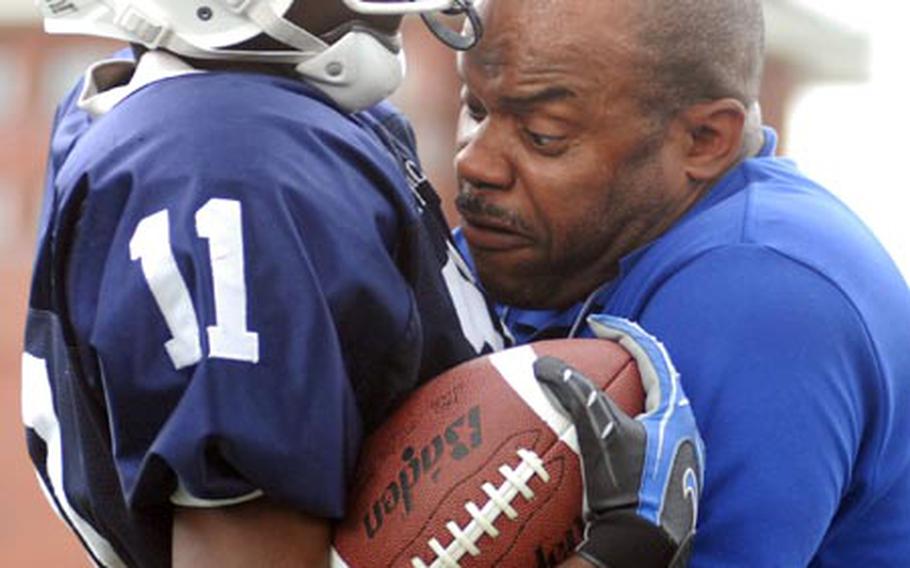 YONGSAN GARRISON, South Korea — A morning public-address announcement at Seoul, Osan or Daegu American schools these days might well include the following:
"Help wanted: Big, beefy student-athletes to play for the high school football team. Hit and be hit. Experience preferred but not necessary. Inquire at the coach's office."
With just 14 returning staters among them, the three DODDS-Korea Football League team coaches are wondering how soon they can make their teams competitive.
"We are beginning from scratch," said Ken Walter of Daegu, which lost the Class A title game 27-6 to Robert D. Edgren last season — then said farewell to nine offensive and eight defensive starters.
"Uphill battle," said first-year Osan American coach Duke Allen. Three years removed from the Cougars' first and only Class A title, Allen takes the reins of a team that went 0-6 last season.
The good news for each team is there are plenty of young players hungry for their chance to shine. But they might need a season or so to take root.
In Falcon country, just four players return from Seoul American's 2006 Class AA champion team, all seniors — Joe McLean, Trinadai Stansel, Mark Lieberg and Demetrius Johnson.
Sixth-year coach Julian Harden says he plans to step away from what has worked for him over the years.
He's directed new offensive coordinator Billy Ratcliffe, late of Vilseck, Germany, and defensive mentor Alan Morton, formerly of powerhouse Yokota in Japan, to implement their own wrinkles to Seoul's pro offense and five-man defensive fronts.
"I want to try things we haven't done. Give us a new look," Harden said. "If better is possible, good is not enough. They have a little more base of understanding, they come from legitimate power programs, and they'll improve ours."
Walter will rely on four new assistant coaches to help mold a small group of holdovers from the Class A runner-up squad with what he calls "some very coachable and hard-working players" who have moved to Daegu.
"We are working hard to match our schemes with the type of athletes we have," he said. "I feel like I have pretty good skills players, but few experienced linemen. It should be an interesting year."
Back in Cougars uniform is the last holdover from the 2005 Class A title team. Will Rapoza, a senior running back, returns after missing 2007 due to knee-ligament surgery.
Like Daegu, Osan boasts several key skills players, but not much interior experience.
Allen says he thinks Daegu can repeat its Korea Class A title game berth, with a trip to Misawa Air Base to face Edgren on the line.
"Daegu has a quality squad," Allen said, adding that he saw the Warriors during a 7-on-7 scrimmage last spring. "They're the reigning champions for Korea. Until we beat them, they're the champions."
Korean CapsulesSeoul American FalconsSouth Post, Yongsan Garrison, South Korea2007 record: 5-1, lost Class AA semifinal 27-10 at Kadena.Coach: Julian Harden, sixth season.Returning players: 13.Returning starters: 5.Base offense: Split-back pro set.Base defense: 5-man fronts.Key returners: Joe McLean, Sr., LB-FB; Trinadai Stansel, Sr., RB-SB-WR; Mark Lieberg, Sr., OL-DL; Demetrius Johnson, Sr., SB-S; Joe Han, Sr., PK.Key newcomers: Brent Spencer, Fr., QB; Michael Masolo, Fr., QB; Adrian Thomas, So., WR-CB; Wayne Witherspoon, Sr., LB.Strengths: Good backfield speed, some size in the line and at fullback.Drawbacks: Lack of depth, inexperience at QB.Overview: Rebuilding. Senior leaders such as Daniel Burns and MarQuintez Johnson must be replaced. Younger players hungry to learn and should mold into a solid team in coming years.
Osan American CougarsOsan Air Base, South Korea2007 record: 0-6.Coach: Duke Allen, first season (spent previous two years as defensive coordinator under Tony Alvarado).Returning players: 14.Returning starters: 4.Base offense: Pro.Base defense: 5-man fronts.Key returners: Will Rapoza, Sr., RB-CB (returns after missing 2007 season recovering from knee ligament surgery); Adonte Murry, Sr., WR-RB-S; Mike Gilliam, Jr., LB-OL; Carl Ditty, Sr., LB-RB; Jesse Crockett, Sr., OL-LB.Key newcomers: Rashad Bell, So., QB; Ryan Kelly, Sr., WR; Travis Neher, Jr., OL-DL; Jordan Wray, Jr., RB.Strengths: Excellent experience at skills positions, good hands and runners.Drawbacks: Lack of depth, interior experience.Overview: Rebuilding. Nice to get Rapoza back, but this likely won't resemble the Cougars who won the 2005 Class A title and lost in the 2006 rematch at Robert D. Edgren.
Daegu American WarriorsCamp Walker, South Korea2007 record: 3-3, lost 27-6 to Robert D. Edgren of Japan in Class A championship game.Coach: Ken Walter, second season.Returning players: 7.Returning starters: 5.Base offense: Multiple.Base defense: Multiple.Key returners: Phillip Cox, Sr., LB; Gianluca Scoppa, Sr., OL; Larry Dixon, Sr., DB; David Martinez, Jr., DB; Chris Ford, Jr., RB; Trey Griffin, So., QB; Juwan Bullard, So., WR.Key newcomers: Thomas Smith, Fr., DE; Miles Glen, Fr., OL; Ricky Bezold, Sr., LB; Marcus Lee, Sr., DB; Antoine Feagin, Jr., LB; Jarel Connie, So., DL.Strengths: Quickness and aggressiveness.Drawbacks: Experience across the board.Overview: Rebuilding. Replacing 17 starters — including do-everything Antonio Harris and Angel Hickman — would be a tough order by itself, but Walter also lost his entire coaching staff. "We're starting from scratch," he said.
ScheduleKoreaRegular seasonSaturday, Sept. 6Daegu at Seoul, 2 p.m.Friday, Sept. 12Seoul at Osan, 6 p.m.Friday, Sept. 19Daegu at Osan, 6 p.m.Saturday, Sept. 27Seoul vs. Daegu at Kelly Field, Camp Walker, 6 p.m.Friday, Oct. 3Osan vs. Daegu at Kelly Field, Camp Walker, 6 p.m.Saturday, Oct. 11Singapore Oilers vs. Daegu at Osan, 2 p.m.Singapore Vikings at Osan, 5 p.m.Saturday, Oct. 18Kubasaki (Okinawa) at Daegu, 2 p.m.Osan at Seoul, 2 p.m.Friday, Oct. 24 or Saturday, Oct. 25Daegu at Osan, if necessary
---
---
---
---