'The Beast' unleashed: DODDS, international wrestlers get big-time tune-up
---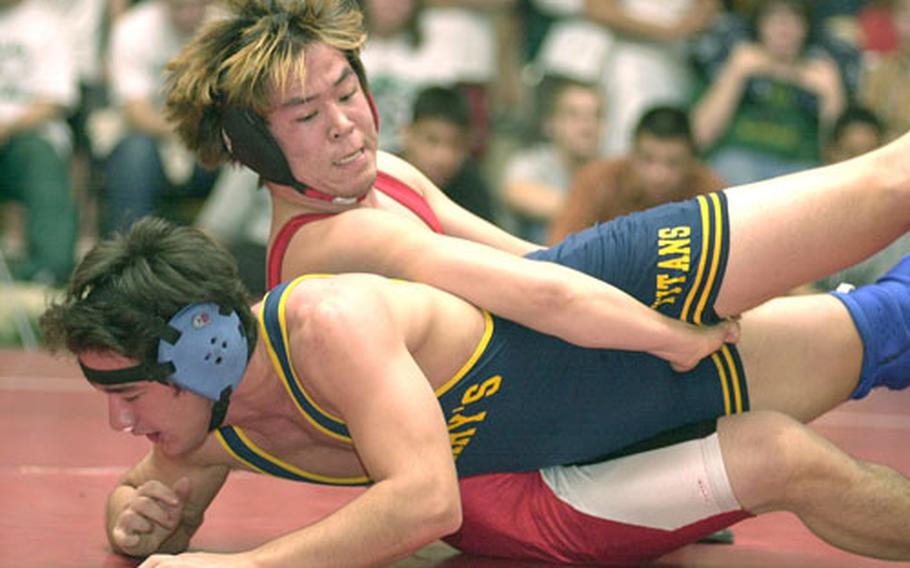 From just another in-season event for teams in Japan, the Nile C. Kinnick Invitational "Beast of the Far East" Wrestling Tournament has grown over its 12 years not just in size and stature, welcoming teams from around the region, but in importance. So much so that it's becoming known only as "Beast" to those who participate.
It serves as a scouting tool, confidence booster and skills and experience builder for Department of Defense Dependents Schools-Pacific teams as they prepare for next month's Far East tournament.
For international schools, no longer participating in Far East tournaments, "Beast" has become their own unofficial regional championship. It's the only place they can wrestle DODDS and international schools in one setting, as well as prepare for their own Asia-Pacific Invitational in February on Guam.
"Anybody who goes to 'Beast' has the benefit of getting better and ready" for season-ending state championship-equivalent competition, said Yokota coach Brian Kitts, who will attend his fifth "Beast" on Saturday at Yokosuka Middle School.
For outlying schools such as Kadena and defending Far East champion Kubasaki of Okinawa, "it's great to have the added competition of the Tokyo international schools and whoever else comes," Kitts said.
Likewise for international schools, "it's their one chance to see somebody different from the same five schools every week," Kitts said. "To get to wrestle such great competition, it makes our guys better and it makes them better."
"Beast" began in 1994 as an invitational for DODDS and international school teams in Japan, but gradually grew into a major event when DODDS programs such as Seoul American, Kubasaki and Kadena started attending in 2000. Brent International-Subic and Faith Academy of the Philippines came aboard later.
This year's "Beast," a single-elimination with consolation round event, will feature some of the most decorated programs in Far East tournament history — Kubasaki (20 Far East titles), host Kinnick (6), St. Mary's International (6) and American School In Japan (4) of Tokyo, Yokota (2) and Zama American (2) of Japan.
Taking the mat on Saturday will be 10 defending or past Far East champions as well, eight DODDS and one each from CAJ and St. Mary's.
"They're the ones you still measure against," Kitts said of the Tokyo international schools, pointing to ASIJ coach John Hohenthaner and Jon Rhodes of St. Mary's, with five Far East titles each. "To be a perennial powerhouse is anybody's goal. That's St. Mary's and ASIJ."
Perhaps the biggest thing the DODDS programs at "Beast" look forward to is the mat time spent against people they wouldn't otherwise see, a factor that Kubasaki coach Terry Chumley calls "vital" to her team's and wrestlers' development.
"The more experience we get with different competitors will help us improve," she said. "Every year is a new year. You never stop learning."
"That's what makes a wrestler, learning, experience, seeing different people," said returning Far East 129-pound champion Brandon McCullough of Kadena. "You develop more technique, you build up your experience and confidence levels, which help you when you get ready to go for the [Far East] gold."
It gives coaches such as Kitts a chance to see for themselves a team or a wrestler whom they had only read about. Kitts cited Ben Blake, the first-year 141-pound Kadena wrestler who pinned defending Far East champion Matt Maza of Kubasaki in Okinawa's season-opening dual meet earlier this month.
"A new guy at 141 comes in and pins Maza. That scares me," Kitts said. "Beast is the best place to [see them], no doubt about it."
Even those who won't be there this year understand the tournament's importance. Longtime coach Julian Harden of Seoul American couldn't get permission to travel to "Beast" this year, since it meant a day out of school for his wrestlers. He had hoped to attend so his team could get a better understanding of new rules implemented for the 2005-06 season.
"The competition is there, plus those are the referees who will be at Far East," Harden said of the tournament slated for Feb. 16-18, also at Yokosuka.
"There's no way we can do well or have a hope of winning without going over there" to Beast, Harden said. "We could place in the top four if we had a chance to get over there. But I have to deal with the cards I'm dealt."
While this invitational is the only chance for all DODDS teams to compete against the international wrestlers — the way the Far East tournament was only two years ago — Kitts stressed that Far East, not "Beast," still is the ultimate championship for DODDS schools.
"It's the biggest in-season tournament, but it will never be the culminating activity," Kitts said. "If we win 'Beast' but lose at Far East, who would want to trade that for a banner that would hang in your school gym for the rest of eternity?"
---
---
---
---