Texas Guardsman readies for next mixed martial arts fight
by
Seth Robson
June 14, 2010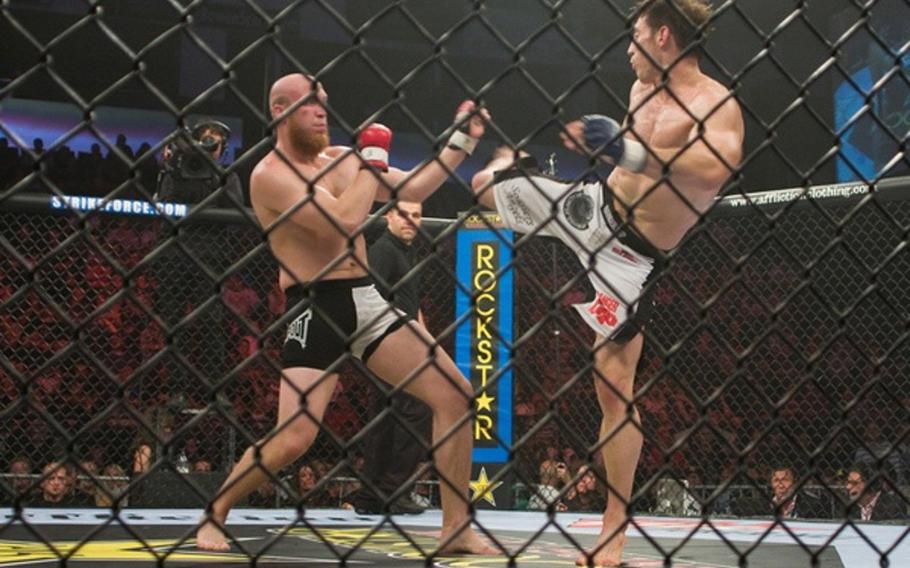 Professional mixed martial arts fighter Tim Kennedy used to look like he was jumping out of his skin in the moments before he stepped into the cage, according to his corner-man, Nick Palmisciano.
That was before Kennedy joined the Army and deployed to Iraq and Afghanistan as a Special Forces sniper.
These days, when the 5-foot-11-inch middleweight steps into the ring, he's relaxed, said Palmisciano, a former soldier who works with Kennedy to promote his Ranger Up line of military-inspired mixed martial arts, or MMA, clothing.
Palmisciano puts the change down to the fact that Kennedy, now a 19th Special Forces Group, Texas National Guard staff sergeant, interrupted his MMA career to spend several years as a Green Beret, risking his life in Iraq and Afghanistan.
"He used to think that getting in a cage was putting his life on the line," he said. "After being shot at and being in situations that a Special Forces sniper and weapons sergeant goes through, when he gets in a cage, he knows the worst thing that is going to happen to him is getting beat up."
On Wednesday, the 185-pound Kennedy will fight South African Olympic wrestling qualifier Trevor Prangley in Los Angeles in the Strikeforce league — one of the top mixed martial arts competitions, alongside the Ultimate Fighting Championship, or UFC.
It's been a long journey for Kennedy, a 30-year-old father of two who spends his days training National Guard marksmen and promoting the military in conjunction with his fighting career.
Kennedy competed in karate, wrestling and jujitsu as a youngster growing up in San Luis Obispo, Calif., and trained with some of the future stars of mixed martial arts, including Chuck Liddell, Jack Shields and Scott Adams.
"They were way better than I was and I thought I was really good," he recalled. "MMA wasn't really a sport then and the UFC was just starting. I was trying to keep up with those guys and started training a lot more in different martial arts."
The young fighter added kenpo, kickboxing and muay thai to his training program, he said.
By 2001, when he had his first professional MMA fight, he'd competed in about 30 amateur bouts since 1996 with a record of 30-1. He's gone on to amass a strong record in competitions such as the World Extreme Cage Fighting Championship, the International Fight League, and Strikeforce with 11 victories, including five submissions and five knockouts, and two losses.
During his early professional career, Kennedy was studying criminal justice with an eye to joining the FBI. But after 9/11, he decided to try out for Army Special Forces and enlisted in January 2004.
"I wasn't a bad person but I was a pro fighter," he said of his outlook before he joined the Army. "I was messing around at grad school and working at various jobs. I was absorbed with my own life. I needed to do something positive."
In between deployments, Kennedy became a three-time Army Combatives light heavyweight champion and fought and won three times with the IFL's Chicago Red Bears team.
"I was still able to fight a few times on active duty, but being a Green Beret the mission always came first," he said. "The bigger promotions like the UFC and Strikeforce called and asked me to fight, but I didn't have time to train."
Last August, he transitioned from the active Army to the National Guard so he'd have more time to fight and quickly signed a contract with Strikeforce, he said.
Since then, he's knocked out one opponent and submitted another. Prangley will be his first fight under a new contact he's signed with Strikeforce, he said.
Palmisciano thinks Kennedy's calmer approach gives him a big advantage.
"He is a lot more pragmatic in the way that he dismantles his opponents now," he said.
---
---
---
---