Tennis aces two of a kind
---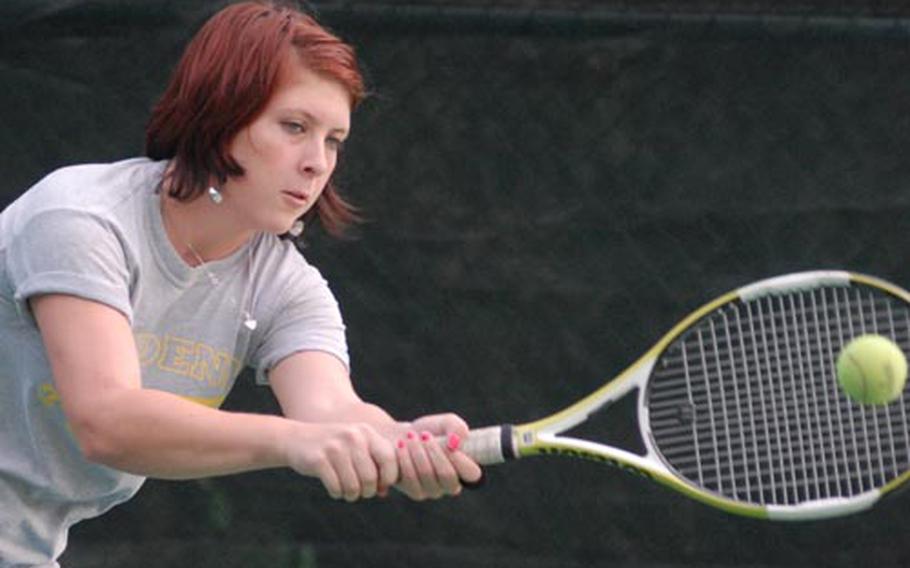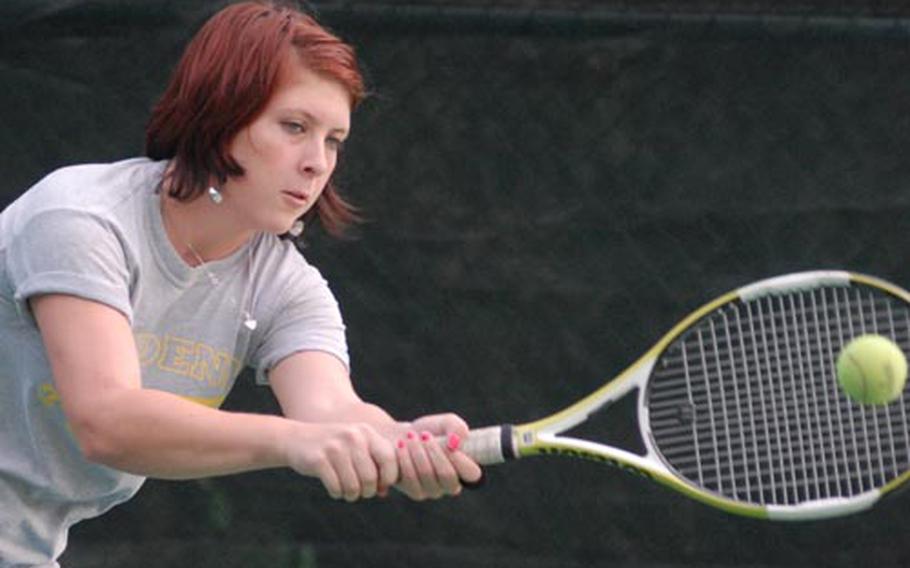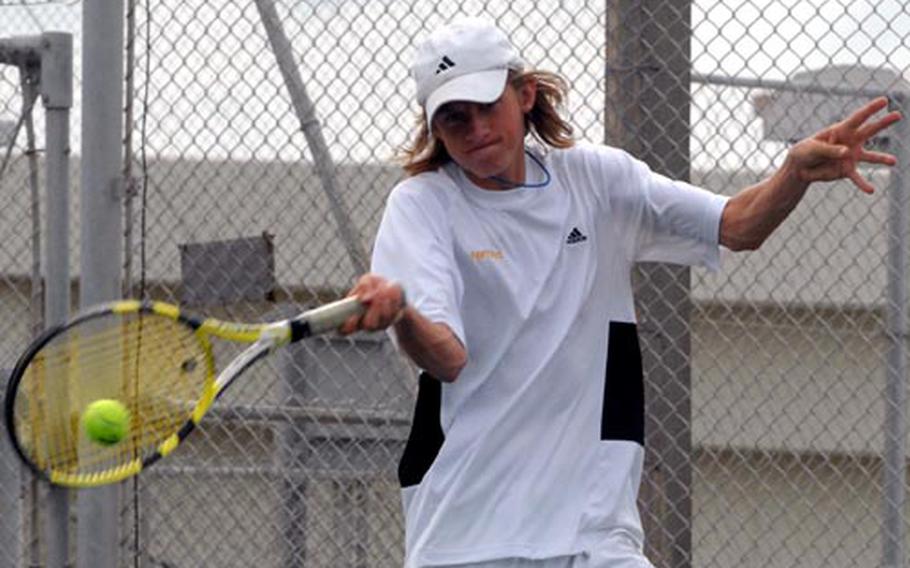 YONGSAN GARRISON, South Korea — Only once has a DODDS player successfully defended a Far East High School Tennis Tournament singles title. By the time Nov. 11, 2009, rolls around, a pair of three-time champions may be crowned.
Kadena's Kyle Sprow and Seoul American's Kennedy Allen each won their first Far East singles crowns Nov. 7, 2007 at Kadena Air Base's Risner Tennis Center on Okinawa. They're juniors, and unless something changes, they'll graduate where they are in June 2010.
They even had the same tennis teaching pro, Risner's Tokio Nakamatsu, as youths earlier this decade when Allen lived on Okinawa.
"It would be quite an accomplishment for two people to go 3-for-3," Sprow said, adding that it would be a tip of the hat to Nakamatsu, who helped form their games. "It would be a tribute to him, absolutely."
They'll get a chance to bank that second gold medal Nov. 3-5 at Risner. Sprow and Allen serve as two of the showcase players for three-time team champion Seoul American and 2004 team champion Kadena.
"They have grown as players," Nakamatsu said after Sprow beat Yokota's Kenta Takahashi in three sets for the boys title, and Allen dethroned two-time champion Kristia Suriben of E.J. King in straight sets.
Is earning the title "Far East champion" a life-changing event?
"You could say that," Allen said of the idea that all eyes will be on her at Far East. "It's always going to hover over me. There's no getting rid of it. Even after this year, there will be next year. I don't have the element of surprise this time."
"You have to welcome it," Sprow said of the pressure. "Take what you're given. Play the cards you're dealt. You can't let the pressure eat you up. You can't look ahead. You take care of what's right in front of you, one step at a time."
If their early-season results are any indicator, Sprow and Allen have gotten off to flying starts.
Allen, a top-10 singles player and state doubles semifinalist in Florida as a freshman, has won all four of her Korean-American Interscholastic Activities Conference singles matches, dropping just three of 35 total games.
Sprow, meanwhile, opened the Okinawa Activities Conference season by handily downing Shingo Douglas of Kubasaki 6-0, 6-0 on Wednesday.
Neither player spent the summer resting on their laurels.
Sprow attended a pair of camps, one at the College of William & Mary and another local camp at Kings Mill, Va. There, he "focused on endurance, stamina and on-court footwork," Sprow said.
Allen practiced much of the summer against Cha Jung-hoon, a Korean coach with the Korean National Sports University.
That simply helped build on the fundamentals that Nakamatsu taught them as youths, Sprow said.
"He gave me a great foundation, the right technique to play consistently, stay within yourself, believe in yourself and not always go for broke," Sprow said.
Their coaches feel Sprow and Allen haven't let their success go to their heads. "He hasn't slacked off at all," Kadena coach Bob Bliss said of Sprow, adding that his goal is to play collegiate tennis.
Has Allen even uttered the words "defending champion?" "Not to me, anyway, so far," new Falcons coach Chae Yi said. "She has skill, experience, she gives a lot of advice to low-skilled players. She's a real asset to the team."
What would it take to bring down these champions and end their run at a gold trifecta?
"Whoever can come up and bring his 'A' game," Kadena teammate Eliott Mason said.
Bliss says it would take somebody who is as dedicated to the game as Sprow. "His whole success is based on consistency," Bliss said. "If somebody can be just as consistent and overpower him, but he's also gotten more powerful."
"Hit it to her backhand and try to pin her to the baseline," Daegu American coach Ed Thompson said of Allen. "If you don't let her come forward and don't feed her forehand, you have a chance."
Both players say they're not taking anything for granted.
"There's always somebody out there better," Allen said.
---
---
---
---