Far East basketball
Teams to navigate pools again on way to title runs
---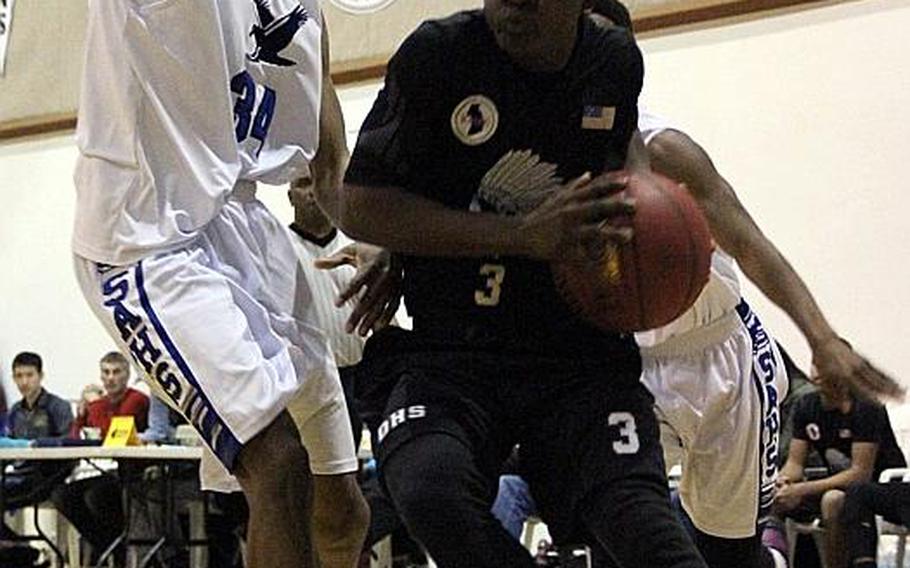 A bone of contention for many prior to last year's Far East high school basketball tournaments was the seeding process. Pool-play were games eliminated and a straight double-elimination format introduced, with seeding by tournament directors and approved by the DODDS Pacific area office.
DODDS has reversed course this year, restoring pool-play to help seed teams in the elimination playoffs later in the week.
"It seemed to make sense" to restore pool play, DODDS Pacific athletics coordinator Don Hobbs said.
"We can squeeze them into the time allotted. It guarantees teams at least two or three games before bracket play. It's a good decision and the tournament directors convinced me it could be done."
Coach Jon Fick of host Kubasaki, seeded No. 1 last year but fifth at the tournament, welcomed the return of pool play.
"We get to see what everybody has the first two days of the tournament," Fick said. "Nobody has seen each other. We'll have to play it out and see where everybody ends up."
Observers point to Kubasaki as one of a handful of tournament favorites, to include Korea regular-season champion Seoul American, reigning champion American School In Japan, Yokota, Kadena and Faith Academy of the Philippines.
On the girls side, ASIJ, which just missed ending its 21-year title drought last year, enters the D-I tournament at Camp Zama as a prohibitive favorite, with several coaches saying it's the best balanced Mustangs team they've seen.
"If you can handle their presses, keep them off the offensive glass and take away points in transition, then maybe you have a chance. Or maybe not," said Yokota girls coach Tim Pujol. His Panthers lost 50-24 on Jan. 29 to ASIJ.
Daegu's boys and girls teams raised the most eyebrows before last year's Far East Division II tournaments. They were seeded No. 1; the boys were eliminated in two games on the first day and the girls were ousted on the second day after three games.
But the boys rebounded to win the Korea postseason tournament this year and the girls won the regular-season title and just missed in the tournament final against Seoul American. Daegu athletics director Ken Walter said if things fall into place, the Warriors' teams have a shot.
"Last year, the boys fell in love with the immediate three-pointer," Walter said. "This year, they're playing a more balanced game. They need to play ball."
As for the girls, they also featured good balance, but a sudden transfer by center Auburn Hood left a void in the paint. Still, they're "solid," Walter said, with Lari Robertson and Rachel Wyche having played together since middle school.
"They have to continue to do what they've been doing. They have to go out and play and shoot the ball," Walter said.
---
---
---
---