Girls soccer preview
Teams scramble to join divisional elites
by
Gregory Broome
May 17, 2018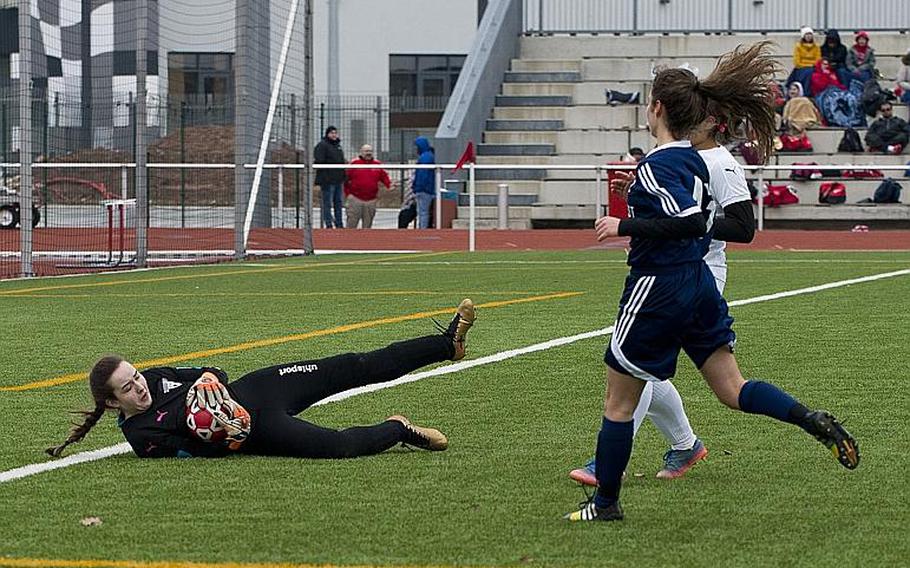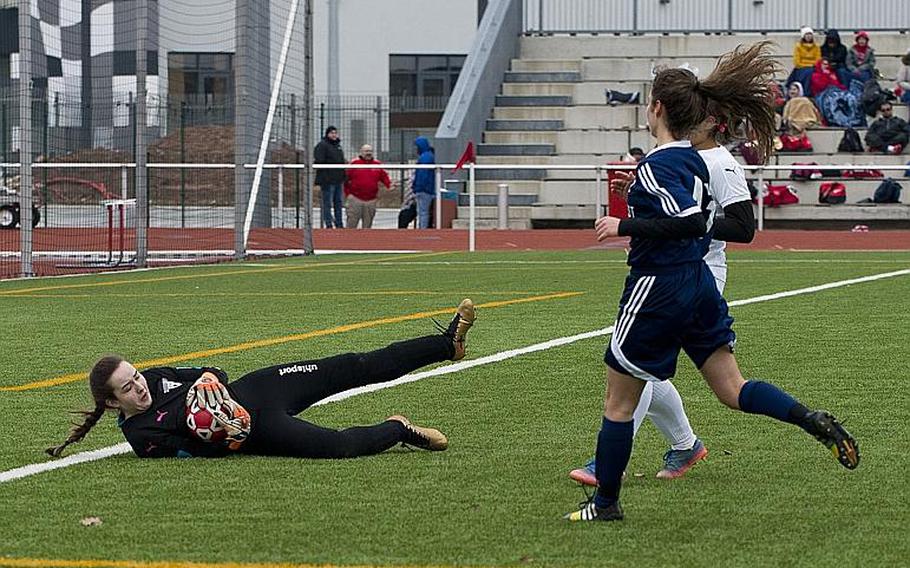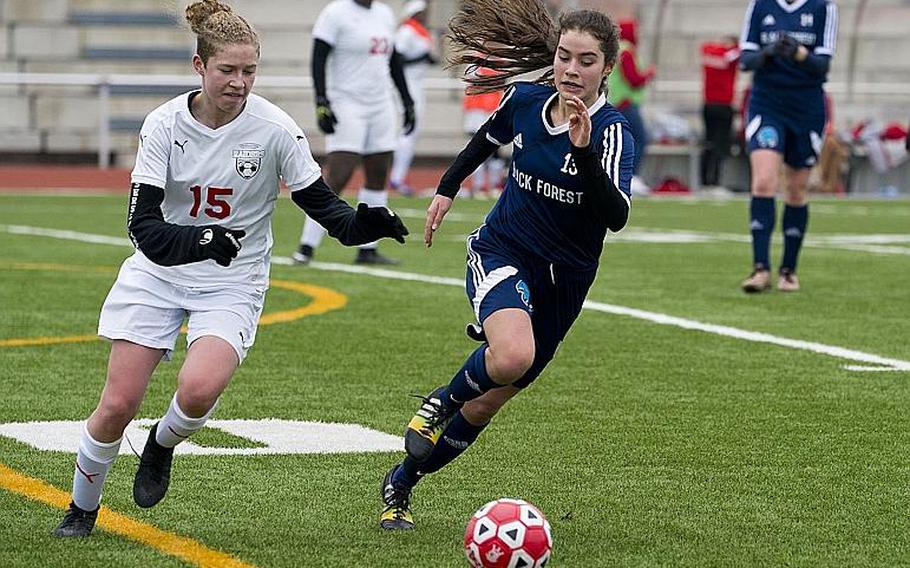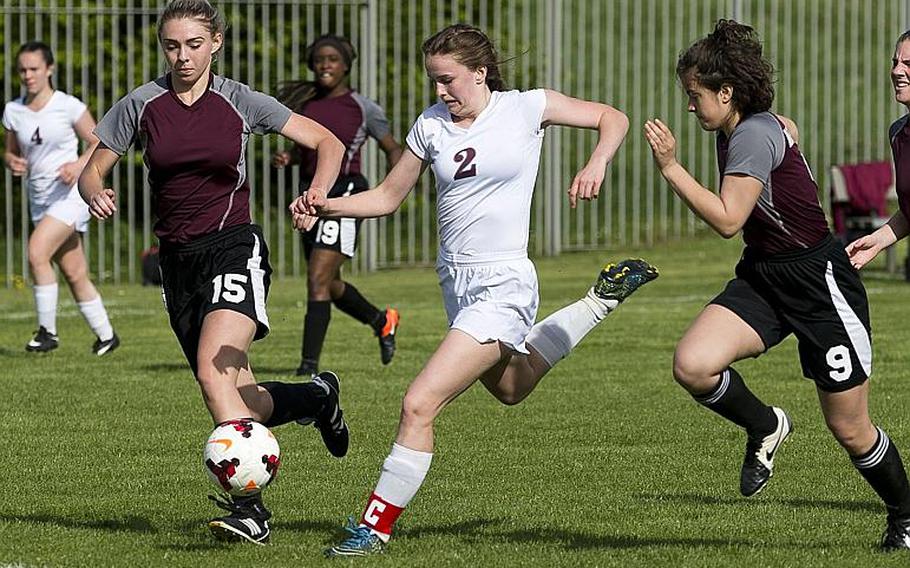 Three DODEA-Europe divisional championship girls soccer tournaments will begin Monday at sites around the Kaiserslautern Military Community. All three will culminate with European championship matches Thursday at Kaiserslautern High School.
That's about all these divisional tournaments have in common.
Each of the three concurrent brackets is built around its own distinct narrative: the continuation of an historic rivalry in Division I, a field of contenders without a clear favorite in Division II, and an overwhelming defending champion dominating Division III.
Division I It's been three seasons since the Stuttgart Panthers and Ramstein Royals have played each other in the European championship match, and last year both fell short of the title.
Ramstein hasn't won a championship since 2014 and hasn't appeared in the European final since its 2015 loss to Stuttgart, then known as Patch. The Panthers saw their bid for a third straight title foiled by Wiesbaden's shootout win in the 2017 championship match.
But their rivalry is as intense as ever, and both teams are eager to restore their lost championship luster.
On April 14, the Panthers and Royals played to a 1-1 draw, a typically hard-fought, low-scoring entry in one of DODEA-Europe's most compelling rivalries in any sport.
That tie game is the only blemish on either team's otherwise immaculate record this spring.
Aside from its one-goal outing against Stuttgart, Ramstein hasn't scored less than three goals in a game and has scored at least six goals in four of its six overall victories. Defensively, the Royals have posted three shutouts and allowed more than one goal just once this spring.
Stuttgart has been equally dominant. The Panthers got off to DODEA-Europe's most impressive start, winning its two Division I games before spring break by a combined 10-1 score. They also finished strong, scoring 14 unanswered goals over their final three divisional victories.
While Ramstein and Stuttgart have beaten everyone they've faced aside from each other, they haven't done so easily. And the teams that mounted the biggest challenges in the regular season are likely to do so again in the tournament.
The defending champion Wiesbaden Warriors are the only team this year to get two goals past the Royals, and they also enjoyed a decent showing defensively in a 4-2 Ramstein win on March 24. Wiesbaden has been on a tear since losing to Stuttgart and Ramstein to start the season, rattling off five straight wins by multiple-goal margins, capped by a 7-0 thrashing of Kaiserslautern on May 5.
The Naples Wildcats, who reached the 2016 championship game and claimed third place a year ago, gave Stuttgart a serious scare in a 1-0 loss to the Panthers on April 20. That outcome, and their otherwise unbeaten regular season, position the Wildcats as legitimate threats to claim the breakthrough championship they've chased since moving up to Division I.
The Vicenza Cougars, Italy's other Division I program, showed their own potential in a 1-1 tie with Naples on April 13. Lower seeds SHAPE, Kaiserslautern, Lakenheath and Vilseck face uphill climbs to the elimination round.
Division II Several teams in Division II can present a convincing case as a championship contender. But no team's case is convincing enough to make it a runaway favorite to survive this year's most unpredictable bracket.
The Rota Admirals are the frontrunner, bringing a 5-0 overall record and 4-0 divisional record into the postseason. Rota stood up well to an increased regular-season workload of games and travel, wrapping up the ramped-up slate with a 4-0 shutout of Sigonella in distant Sicily.
But Rota's narrow margin of victory against its toughest Division II opponents portends a tough path through the tournament. The Admirals edged Spangdahlem and Marymount by matching 2-1 scores on consecutive weekends in April.
Marymount, usually overshadowed by the dominant boys program with which it shares a school, was the breakout Division II team of the season until its loss to Rota quelled its momentum. A 1-0 defeat over a solid Black Forest Academy squad a week after its only divisional loss put the Royals back on track heading into the postseason.
AFNORTH, meanwhile, played one of the more bizarre regular seasons in recent memory. The Lions played four tie games this season and won their other three matches to join Rota as the only Division II girls teams with undefeated records. That ability to keep games close and avoid losses suggests good things for the tournament; still, the Lions put down Brussels 4-1 on May 5 to enter the playoffs on a winning note.
Spangdahlem is one of the teams to play AFNORTH to a draw; coupled with its one-goal loss to Rota, the Sentinels are squarely in the mix of potential champions despite their lack of a divisional win. Black Forest is in a similar predicament; its loss to Marymount denied it a Division II victory, but the Falcons emerged from a tough schedule with a respectable 2-3-1 overall mark.
In contrast, American Overseas School of Rome's 2-2 divisional mark is sullied by a decisive 4-1 loss to Rota
Aviano, Florence and Bahrain round out the nine-team Division II bracket.
Division III The Alconbury Dragons have won the last three European small-school championships, and appear headed for another after a perfect 3-0 divisional performance this season. But there are two reasons to question that assumed outcome.
First, the Dragons didn't play either of the two teams that figure to be their toughest tournament opponents.
The Hohenfels Tigers carved out a 2-3-0 overall record against a tough schedule filled with much larger schools, even recording a 4-2 defeat of Division I neighbor Vilseck. The Sigonella Jaguars played strictly upper-division Italian schools, and came away with encouraging wins over Division II squads Aviano and Florence.
Second, none of Alconbury's title-game victories have come by more than a single-goal margin. That includes a 2-1 defeat of Brussels in 2015 and 1-0 wins over Sigonella in both 2016 and 2017, the latter of which went to overtime.
Brussels and Baumholder, both of which lost to Alconbury this regular season, fill out the five-team Division III field.
Twitter: @broomestripes