Teams out to prove they're better than records
---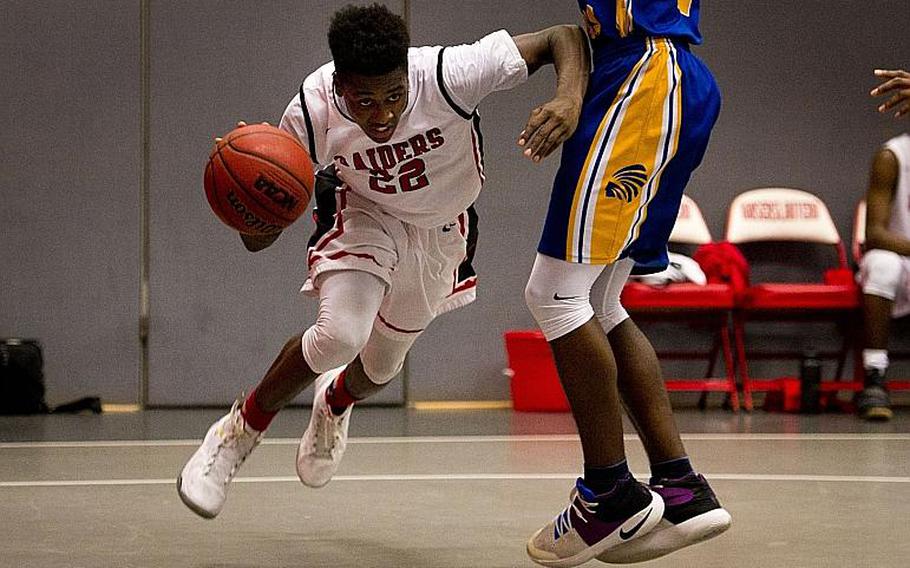 The DODEA-Europe basketball tournament invites every team regardless of its record. That's a fortunate fact for a number of teams that have occasionally looked like legitimate contenders in the midst of losing, or even winless, regular seasons.
The Kaiserslautern boys best embody this kind of unrealized potential. Free of context, the Raiders, led by coach Corey Sullivan and dominant forward Marlon Robbins, look like one of the more potent and dangerous teams in Division I. But their record presents a strong case otherwise - they've lost all five of their divisional games, most recently a 57-56 home-court heartbreaker to first-place Wiesbaden on Tuesday.
Kaiserslautern gets another chance to end its losing streak this weekend, but it will come against a Vilseck squad that is equally eager to prove that it's better than the unforgiving standings indicate.
The Falcons have experienced extreme highs and lows in compiling a 2-5 in Division I play to date. They knocked off defending champion Ramstein 43-36 in December; their next game was a 96-63 pummeling at the hands of Stuttgart. Their January visit to Italy yielded a blowout loss to Naples and a blowout win over Vicenza.
On the girls side, Naples is likely to earn a middling seed in the Division I bracket, as the Wildcats have already completed their divisional schedule at 2-2. But they may be able to outperform that status at the tournament.
In the four-team meet last month at Vicenza, the Wildcats earned a double-digit defeat of Vilseck and fared respectably against undefeated Stuttgart in a 35-19 loss. Though they won't get another chance to prove themselves against fellow Division I competition, this weekend's set against Division III favorite Sigonella presents the Wildcats an opportunity to add quality wins to their overall mark.
Bitburg, meanwhile, has played its entire season to date without encountering a fellow Division II team. The Barons have fared extremely well outside the division, winning 11 of 12 combined boys and girls games. But they'll open divisional play with perhaps the most challenging opponent possible in rival Black Forest Academy, which itself has just one combined loss on the season.
Twitter: @broomestripes
---
---
---
---