Teams have final weekend to tune up for finals
---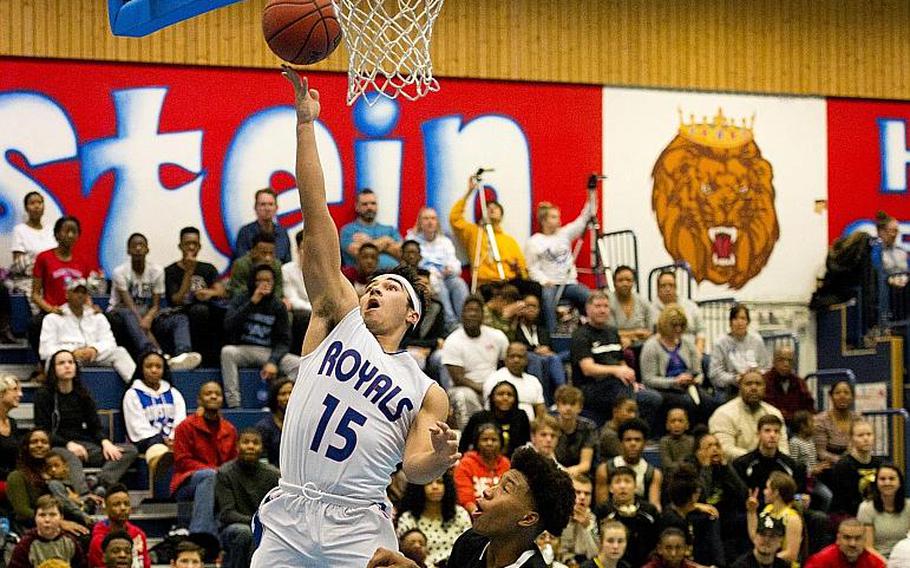 At next week's DODEA-Europe basketball championship tournament, every team on the continent will lock in on its divisional competition in search of a coveted Division I, II or III title.
This weekend, the last of the 2017-18 regular season, will see a lot of those teams prepare for that grind with tough non-divisional matchups.
The marquee event is a Friday-Saturday doubleheader between host Black Forest Academy, the defending Division II champion in both boys and girls, and visiting Ramstein, the reigning champion in Division I boys and returning runner-up in Division I girls. All four teams remain squarely in their respective title pictures and could earn a nice psychological boost from a successful final weekend.
The Ramstein boys have rounded into championship form of late after a rocky start. The Royals have gone undefeated in the new year after posting a 2-2 pre-holiday record and are coming off a 61-52 defeat of Wiesbaden in a rematch of last year's championship game.
Black Forest is also peaking at the right time and has the goods to slow Ramstein's momentum. The Falcons are quite comfortable punching above their weight, as last weekend's 82-52 and 70-57 wins over Division I Vilseck demonstrated.
The girls matchup figures to be equally intriguing. Ramstein is wedged into a logjam of accomplished but imperfect contenders trailing unbeaten Naples in the Division I standings. While it won't help the Royals' divisional stature, a sweep of the Falcons would help ease the sting of recent losses to Division I rivals Vilseck and Kaiserslautern.
It won't come easily, as the perennially tough Falcons have produced a winning record this year despite a schedule heavy on larger opponents.
Further north, two cross-divisional matchups should reveal a lot about four lower-division title hopefuls.
The AFNORTH girls sit atop Division II with a 4-0 divisional mark and an 11-3 overall record. The Lions can address one of those three losses Friday when they host Brussels, who edged AFNORTH 24-22 in each team's Dec. 1 opener. The Brigands plan to present a serious challenge to first-place Hohenfels and defending champion Sigonella in next week's Division III tournament.
The Baumholder boys are the only undefeated boys team in DODEA-Europe and will enter the Division III bracket with a solid chance to unseat reigning Sigonella. But the Bucs' perfect record is at risk against Division II frontrunner Spangdahlem, which is looking to get back on track after last weekend's tough trip to Lakenheath.
In the south, meanwhile, the weekend's home-and-home set between Division I Vicenza and Division II Aviano puts regional bragging rights at stake a few days before the teams go their separate ways in search of divisional glory.
Twitter: @broomestripes
---
---
---
---