DODDS-Europe volleyball - Day 2
Teams battle late to determine finalists
by
Rusty Bryan
November 4, 2011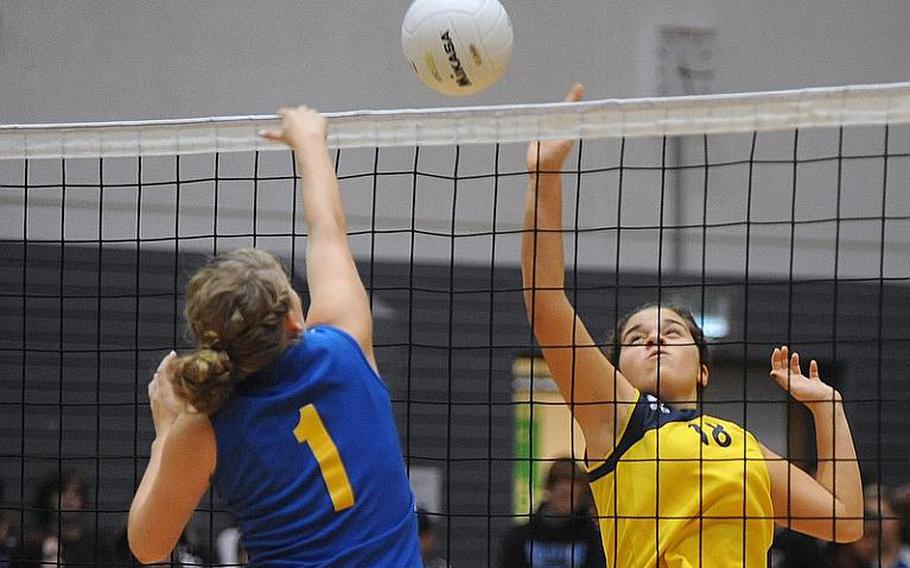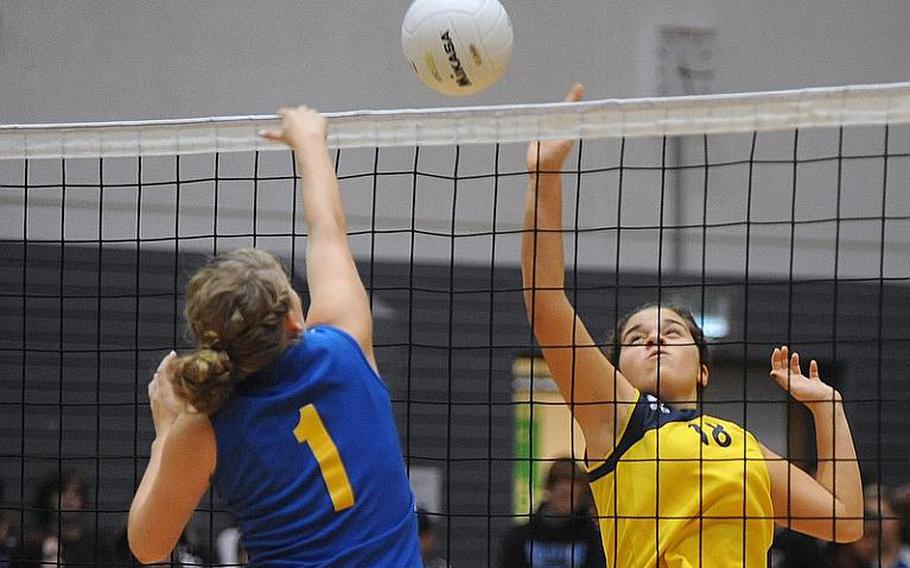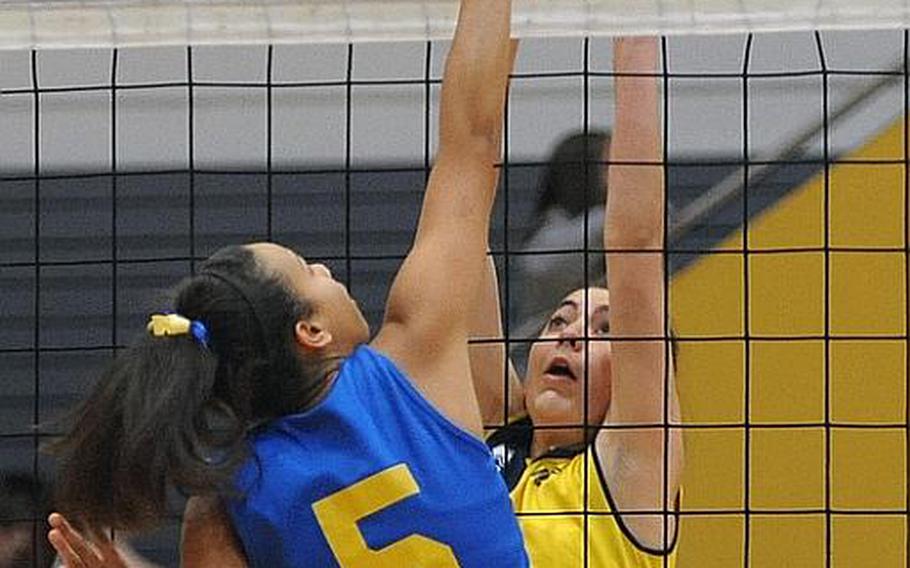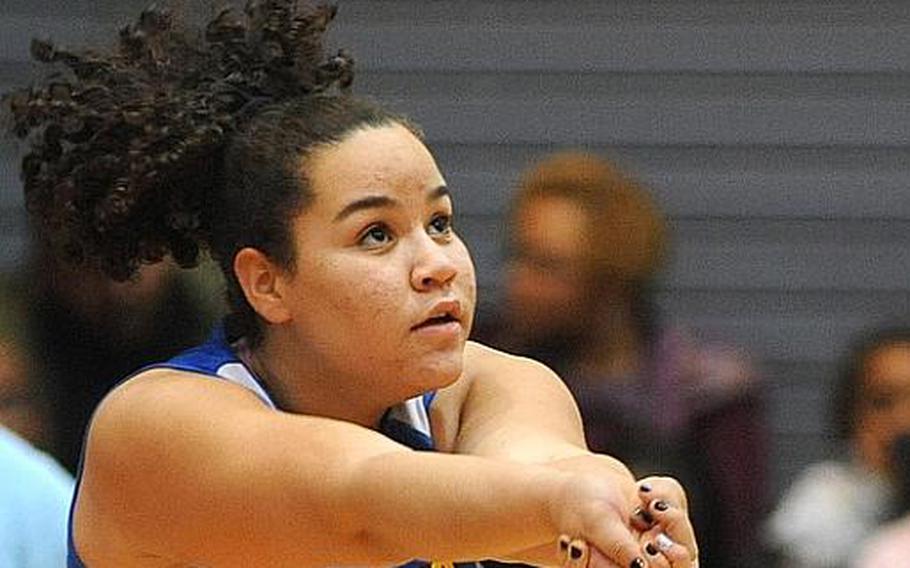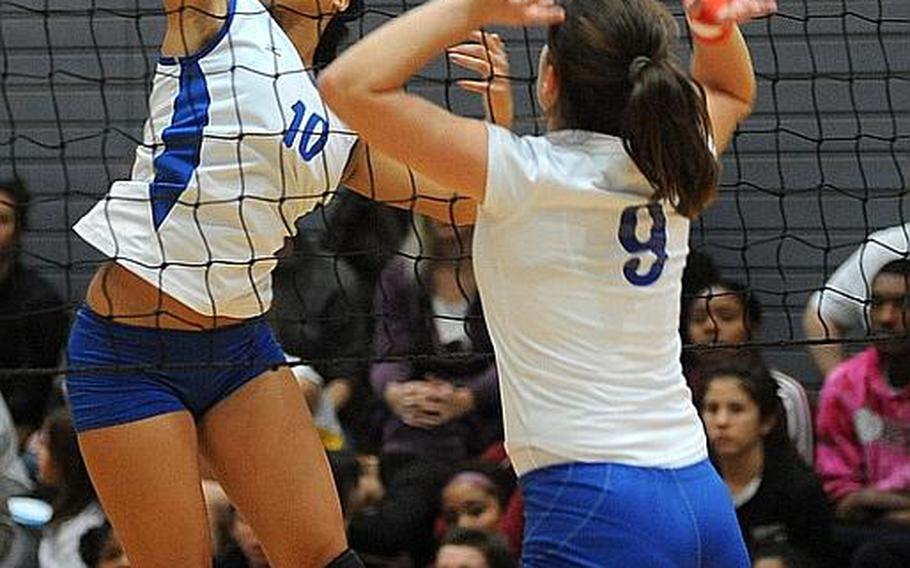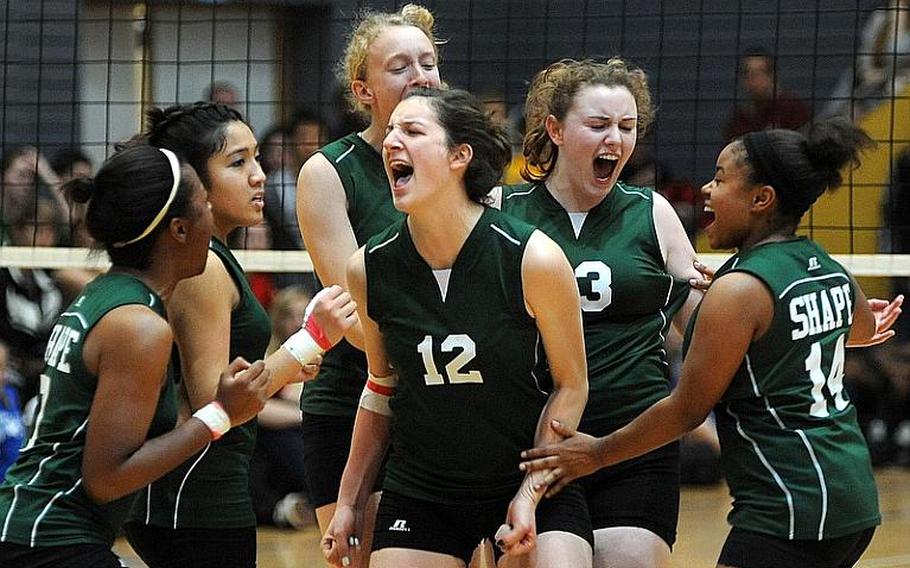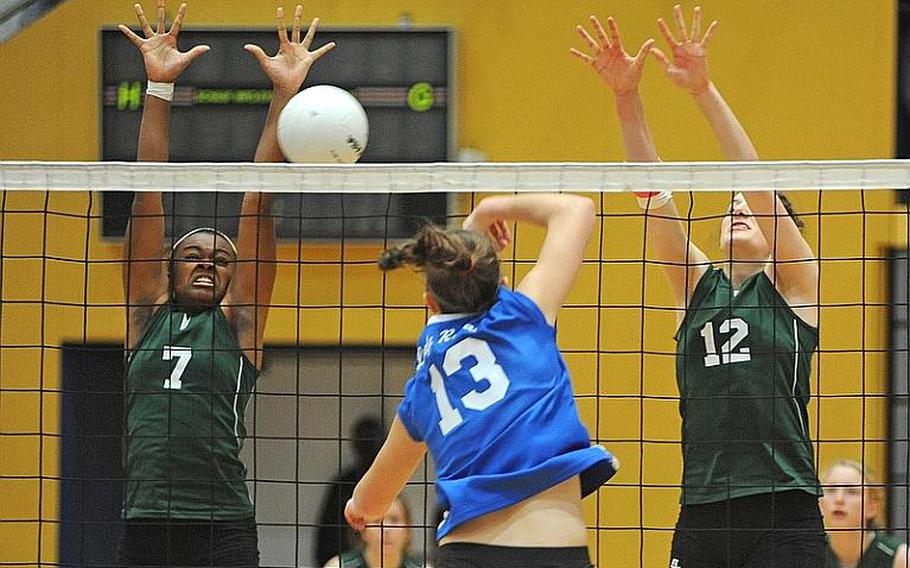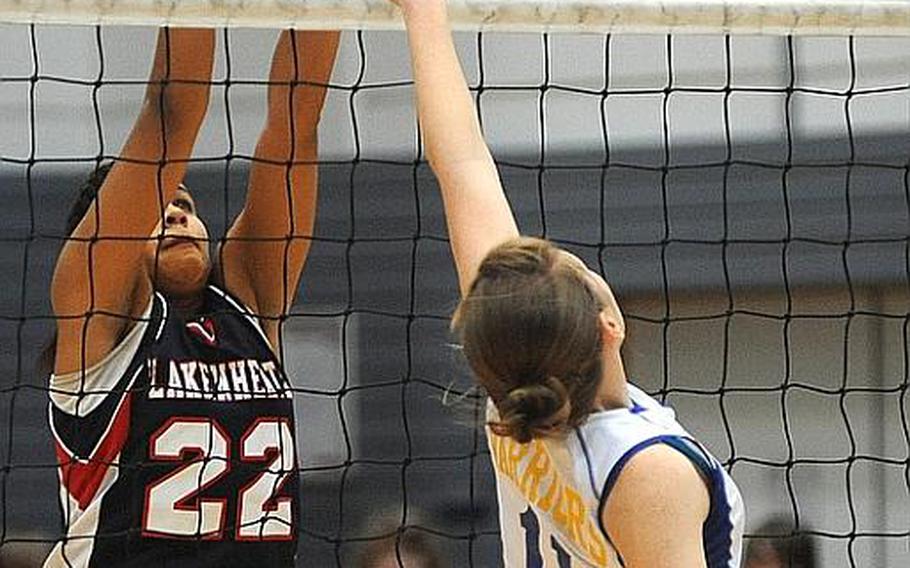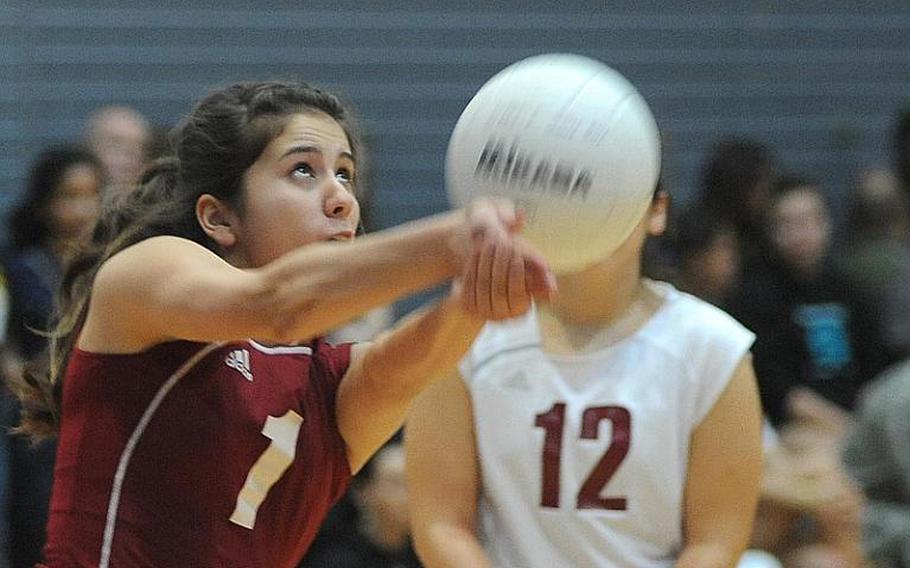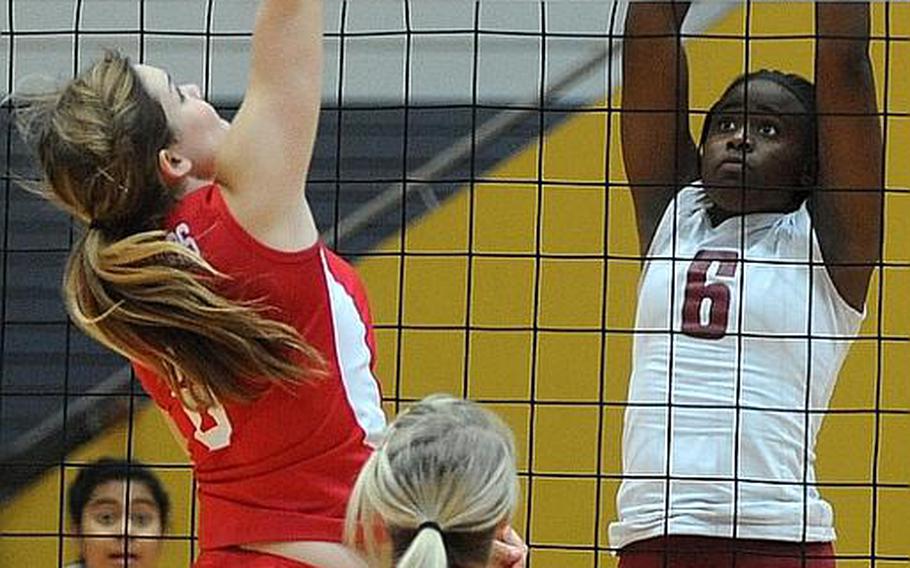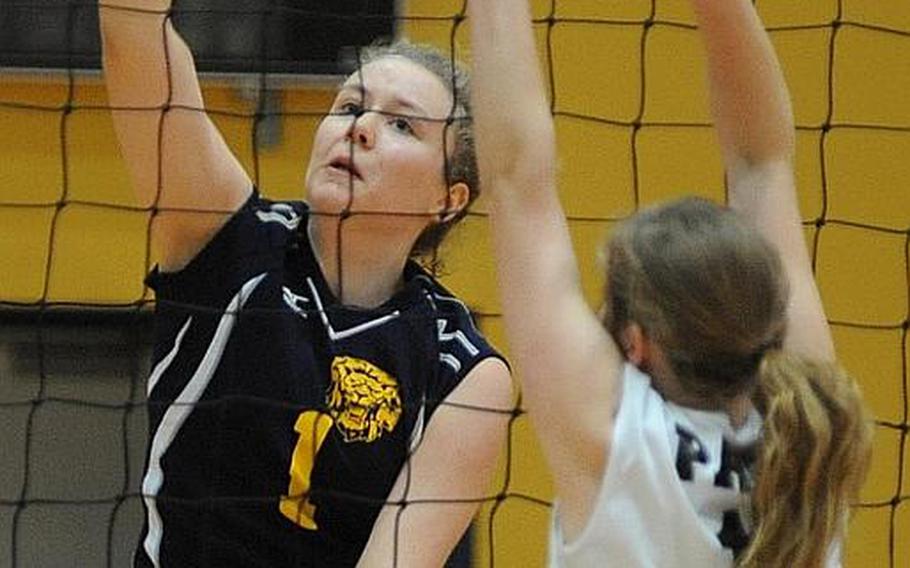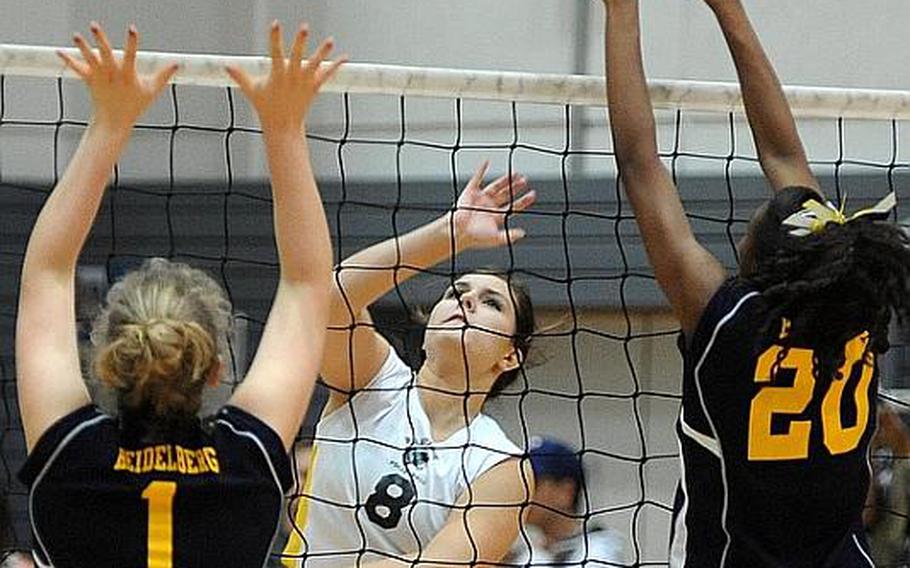 RAMSTEIN AIR BASE, Germany – If Saturday's European Division I championship volleyball game comes down to which team plays the best under pressure, the SHAPE Lady Spartans will be a team to reckon with.
SHAPE, taking on an undefeated Ramstein team and needing to win to keep their title hopes alive, covered the floor like varnish Friday, harmlessly re-directed Ramstein kill tries throughout the match and overcame some late jitters to take a 25-23, 25-20 pool-play victory over the Lady Royals.
"We knew it was a must-win situation," said SHAPE senior All-European Teresa Muldoon after a match which saw the Lady Spartans erase a late 21-16 deficit in Game 1 and tie Ramstein and Heidelberg atop the round-robin standings. "We were really pumped up."
Thanks to a tiebreaker that sorted out a three-way tie for first place, the two teams will play again for the championship Saturday.
Heidelberg, Ramstein and SHAPE all finished with 6-1 records Friday after two days of round-robin play. The teams were then ranked based on percentage of games won among the three, and Ramstein and SHAPE prevailed, according to DODDS-Europe athletic director Karen Seadore.The tiebreaker landed Heidelberg, which lost its only match of the year 25-19, 25-14 to Ramstein earlier Friday, in Saturday's third-place game. The Lady Lions are to play 2010 champion Vilseck for the bronze medal at 10 a.m. here. Vilseck, Patch and Wiesbaden all tied for fourth in the event, and the same tiebreaker was used to decide which of those teams made the consolation game.Ramstein couldn't overcome SHAPE's crispness and intensity Friday and its own errors.
The first-game comeback and second-game victory were fueled by the presence of Muldoon and sophomore Ashley Seiler at the net. When the two weren't putting away kills and scoring with dinks, their efficiency at blocking Ramstein kill tries goaded the Ramstein attackers into taking difficult angles on their hits.
"They were trying to hit around us," Muldoon said, "and hitting it out."
Seiler set the tone early in Game 2.
Her dink over Ramstein's Sarah Szybist and Kelsey Freeman gave the Lady Spartans their first lead of the game at 5-4, and her block kill during a run of four service points, one of them an ace, by Muldoon, put SHAPE up 11-7. Ramstein never made up the ground.
SHAPE's lead eventually ballooned to 20-11 before late-game nerves infected the Lady Spartans' service game and let Ramstein back into the game. With SHAPE leading 20-13, four straight Lady Spartans were unable to put their first serves into play, and Ramstein closed to 23-20 down before a dink by Seiler and her service winner put the match away.
"It was jitters," Muldoon said of her part in the serving drought, "pressure and the noise of the crowd. I had so much adrenaline going, I hit it long."
Seiler said the end justified the means.
"We played our hearts out," she said.
In the other tournaments, Rota and the International School of Florence each completed unbeaten pool-play runs to advance to today's Division III championship game at 11 a.m. at Ramstein Southside.
Defending champion Rota downed Brussels 25-10, 25-11, 25-18, and Florence bounced Sigonella 25-20, 25-21, 25-17 in the D-III semifinals.
In the last games that finished late Friday night, Naples and AFNORTH each advanced into the finals with victories in the semis. The top-seeded Wildcats, who haven't lost in the tournament, downed Vicenza 22-25, 25-23, 25-12, 27-25 and the Lions topped Bitburg 25-23, 25-15, 15-25, 25-18.