Taylor, Naples top Bitburg in opener of D-II hoops tourney
by
Rusty Bryan
February 22, 2007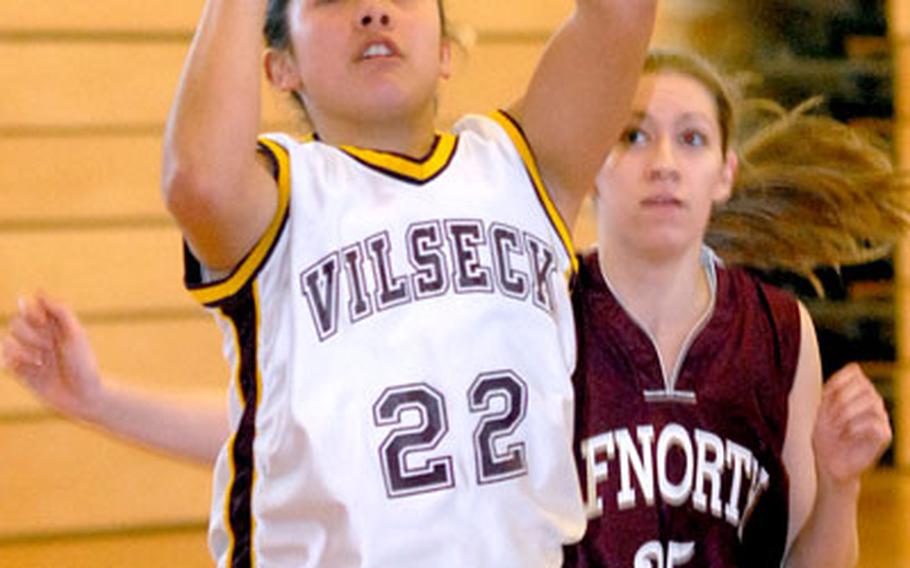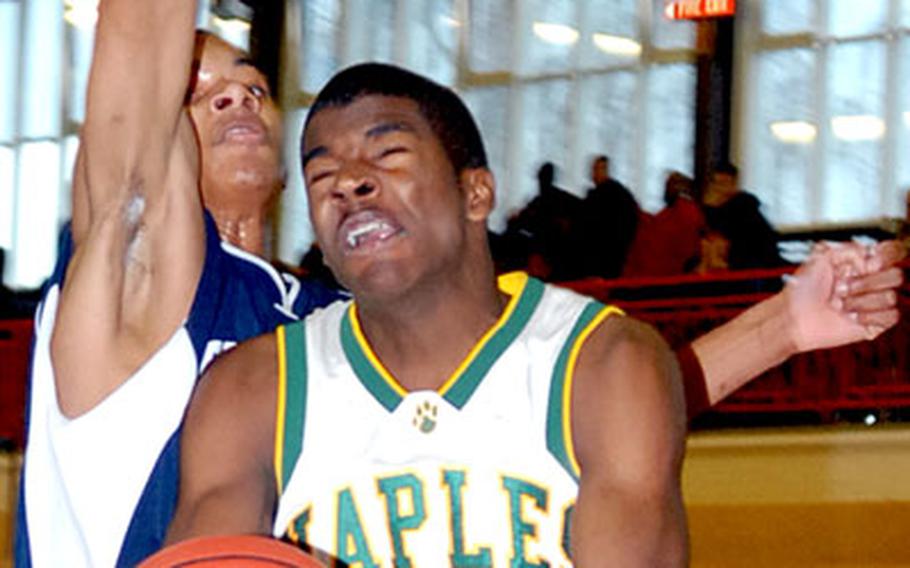 MANNHEIM, Germany — Making his first appearance in the DODDS-Europe high school basketball tournament Wednesday, Naples senior B.J. Taylor stuck to a familiar plan.
Taylor, a 5-foot-6 transfer student, let the game come to him.
"I give my teammates a chance," Taylor said after scoring 20 second-half points in Naples' opening pool-play game, a 55-42 victory over Bitburg, in the four-day European Division II tournament. "Then, if they need me to, I take over."
"Then" in this case was the third quarter, when Naples doubled its five-point halftime lead. Taylor, who scored half of his game-high 28 points in that quarter, slashed and spun through the lane, sank four field goals, including two three-pointers, and put himself on the foul line six times, converting four free throws.
"I'm not going to lie to you," Taylor said. "I'm not a good free-throw shooter. But I make them at clutch time."
Taylor's performance was the most productive in the 20 boys and girls games that opened this four-day finale to the season.
The Division II event, which includes sixth-seeded Naples, and the Division III event, which begins Thursday morning, wind up at the Benjamin Franklin Village Sports Arena on Saturday. The D-I and D-IV tournaments conclude there on Friday.
In the girls tournament, Wednesday's Division I games were played at Heidelberg High School, where the home team posted the biggest surprise of the day. The Lady Lions knocked off defending European D-I champion Kaiserslautern 49-34.
Wednesday's other noteworthy pool-play games, all of which have seven-minute quarters instead of eight, included:
Vilseck boys 48, Aviano 29: Chris Lewis and Dex Johnson each scored 12 points, and Ronnie Turner added 10 as the Falcons went on a 12-0 run over the first 5:57 of the third quarter to expand their 22-9 halftime lead in a Division II game.
Andre Dean led Aviano, the American Schools in Italy League runner-up, with 15 points.
Würzburg boys 45, Mannheim 20: Würzburg, which won the past two D-I tournaments, unleashed a game-long full-court press on Mannheim that held the Bison scoreless until 5:27 remained in the second quarter.
Donald Bryant scored 13 points for the second-seeded Wolves; James Robinson added 10. Anthony Cook led Mannheim with eight points.
Vilseck girls 39, AFNORTH 7: Cathy DelaRosa scored all of her game-high 14 points in the first three quarters, then carried injured teammate Alania McKinnis off the floor in the fourth quarter. Ashley Hicks, who like DelaRosa sat out the final quarter, scored 10 points.
The loss was the second of the day in the D-II event for AFNORTH, which also fell to second-seeded Baumholder 44-22.
SHAPE girls 34, BFA 33: SHAPE got three three-point plays from Justine Shelton before halftime, and Black Forest Academy, trailing 34-32, went 1-for-5 from the line in the final 1:16. Shelton led all scorers with 15 points.
The 51-game schedule continued into the evening on Wednesday. Thursday's schedule begins at 8 a.m. at six sites in the Mannheim-Heidelberg area. Admission is free at all of them.
During the final two days of the tournament, admission is $5 for adults and $3 for students.
---
---
---
---