Tannis repeats in U.S. Forces Europe tennis singles, doubles
by
Rusty Bryan
July 25, 2005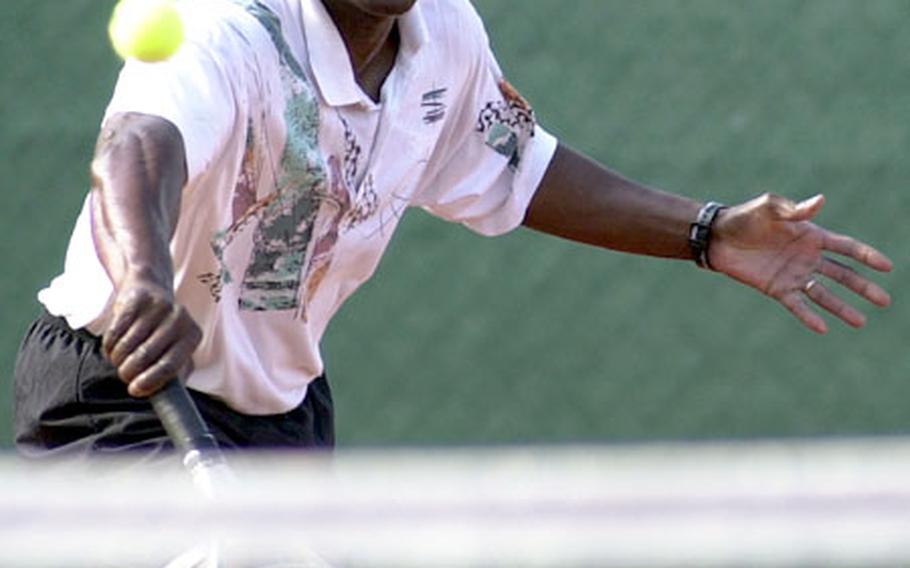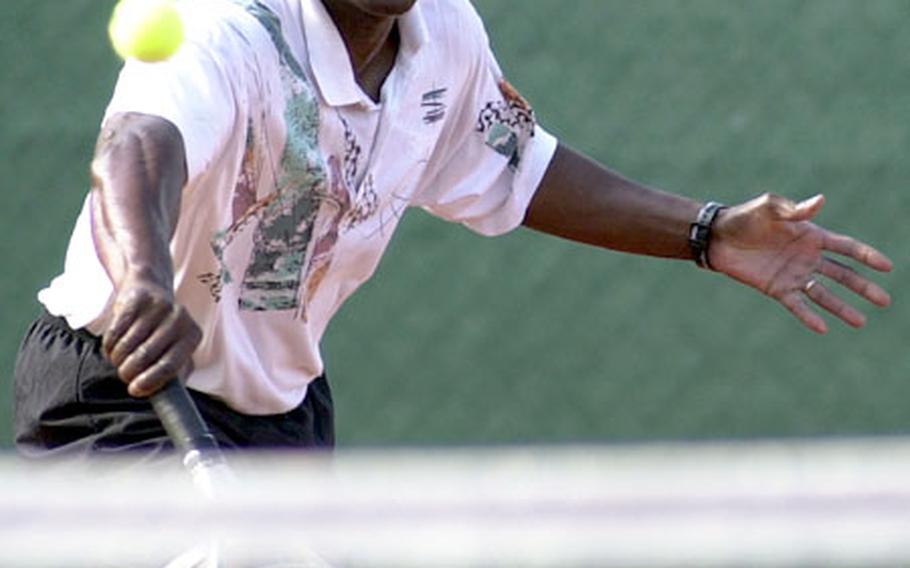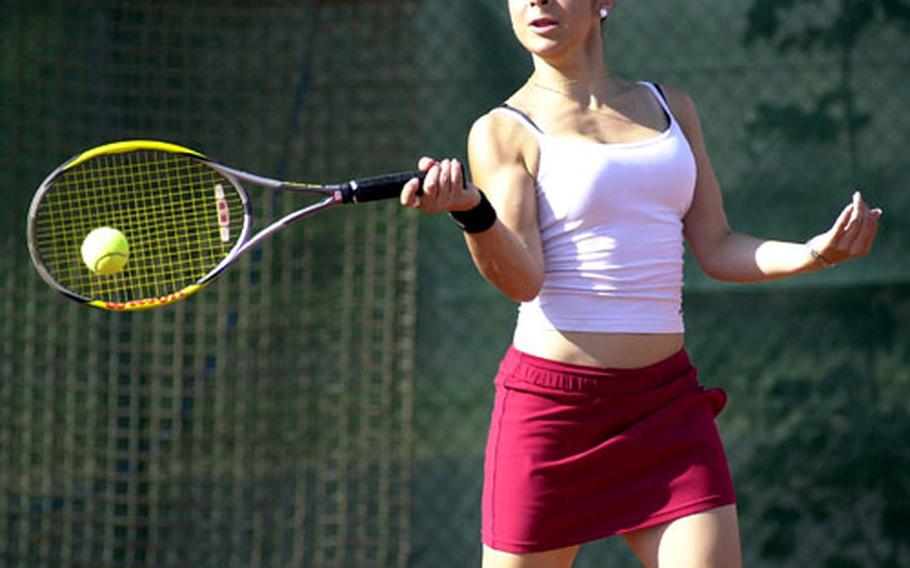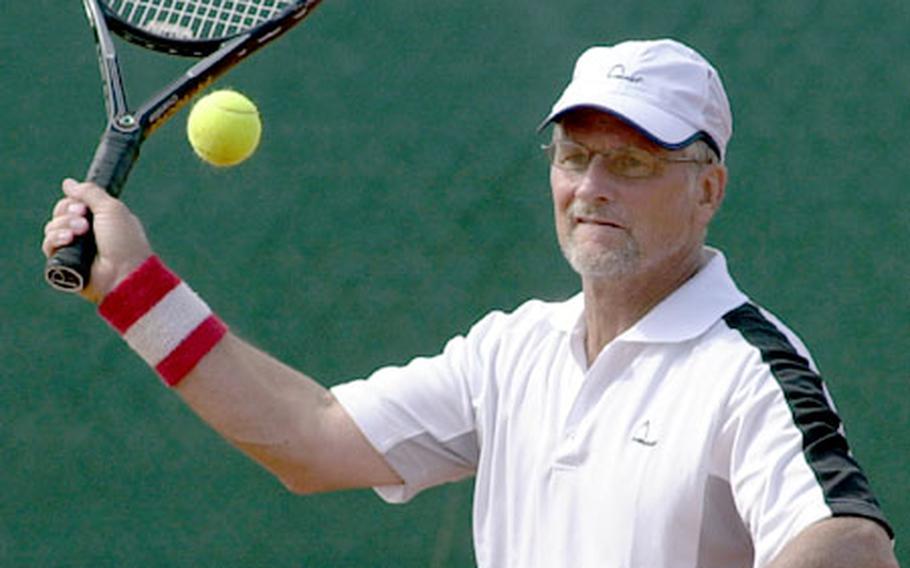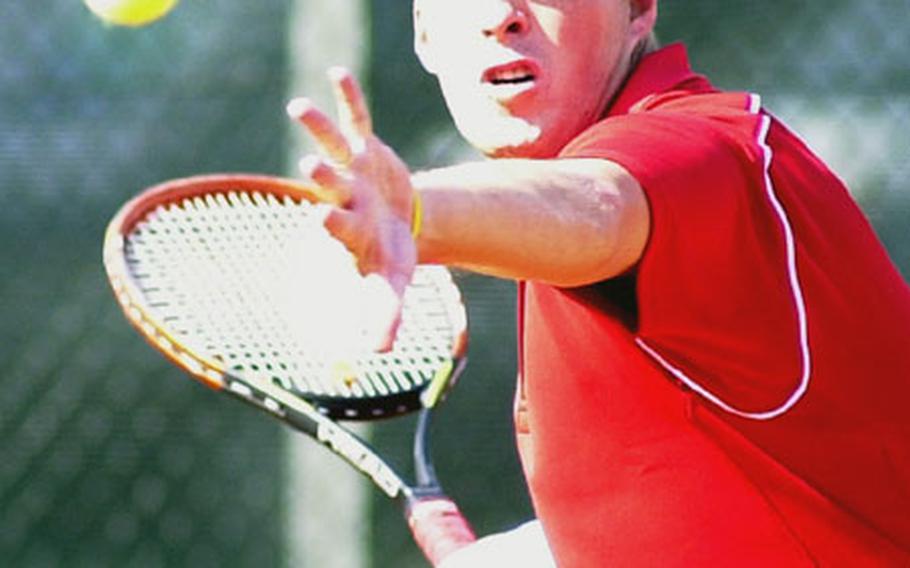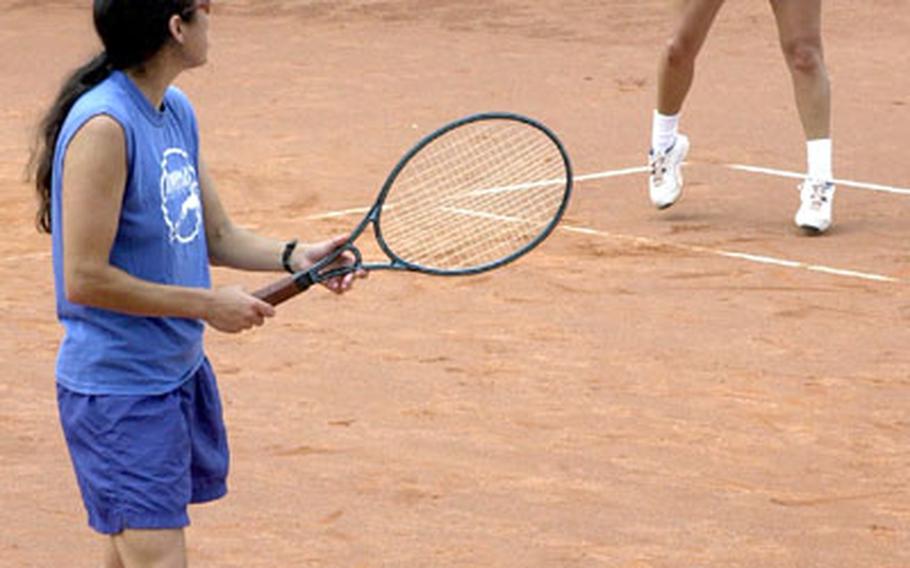 HEIDELBERG, Germany — Darmstadt's ageless Roy Tannis swept to his third straight men's singles and second straight men's doubles gold medals Sunday as the U.S. Forces Europe Tennis Championships ended a three-day run on the clay courts of the Heidelberg Tennis Center.
Tannis, playing in the Open Division despite his 55 years, downed newcomer Jamie Rydell of Bamberg 6-3, 6-4 in the singles title match, then teamed with two-time masters champion Jim Moss of Kaiserslautern to take the doubles crown with a 6-2, 6-3 victory over Craig Hendrix of Ramstein and Orlando Gonzalez of Landstuhl.
"I'm blessed I can still play at 55," Tannis said after completing his run through the singles without losing a set. "I'm still able to keep the energy level up."
In fact, Tannis lost just one game in the two singles matches he played before he reached the final against a player less than half his age.
"I tried tiring him out," smiled Rydell, 26, who said he reached No. 7 in Florida's amateur standings prior to enlisting last year. "I ran him back and forth as much as I could."
To no avail.
"He was more consistent today than I was," Rydell said. "He didn't tire."
Much to Tannis' surprise.
"I haven't played that many matches this year," he said. "I pulled a hamstring last fall, and I wasn't able to play my usual German club schedule."
Even so, Tannis and his doubles partner, 60-year-old Moss, had plenty of energy left for the doubles final, winning in straight sets. It was a rebound of sorts for the duo, who dropped the second set in Sunday morning's 6-2, 6-7 (4-7) 6-3 semifinal victory over eventual third-place finishers David Ward and Gus Leotta of Heidelberg.
Rebounds, however, are a specialty for Moss, who despite suffering a stroke in 2003 now owns back-to-back masters titles for players 40 and older. Moss won despite spotting each foe a head start this year.
"I lost the first set in every match I played," said Moss after downing Tom Floyd of Würzburg 3-6, 6-4, 6-0 for the masters' title. "I'm old, but I'm in good shape. It's a question of willpower."
Joining Moss in beating the calendar was women's champion Anjuli Bishop of Mannheim. The 18-year-old dethroned defending two-time champion Philisa Legrier of Heidelberg 7-6, 5-7, 6-3 in Saturday's semifinals en route to a 6-2, 7-5 championship victory over Melissa Postlewait of Mannheim on Sunday.
Legrier took third on Sunday when her scheduled consolation opponent, Maria Frost of Sigonella, chose to default and save her strength for the mixed doubles final later in the day.
Legrier then teamed with Leah Creiglow of Heidelberg to claim silver in the doubles, losing 6-4, 4-6, 6-3 to Jackie Chen and Hilda Serrano of Landstuhl in the final.
Frost's husband, Caedron, claimed the seniors title for men age 30-39 with a 4-6, 6-2, 6-2 victory Sunday over Steve Hardy of Heidelberg.
However, the Frosts couldn't get past Rydell and Jennifer Gonzalez of Bamberg in the mixed doubles final later in the day. Rydell and Gonzalez triumphed 5-7, 6-1, 6-1.
Still, a gold and a silver were just fine with the men's seniors champ.
"I've been playing hard courts in Sigonella," Caedron Frost said after downing Hardy. "When I got on the Web and saw that this tournament was on clay, I had to scramble around and practice on clay. It's a whole different game."
---
---
---
---