Tanaka scores a rare triumph in wrestling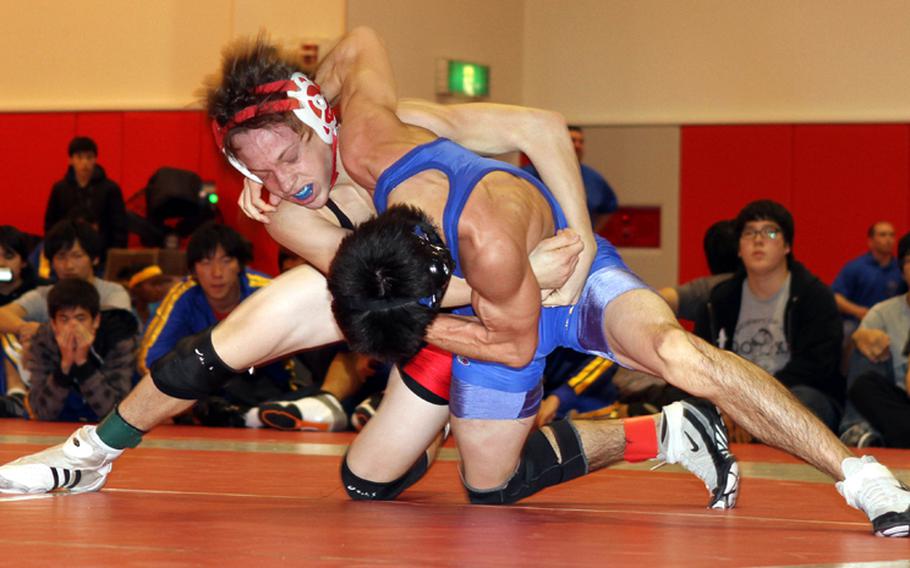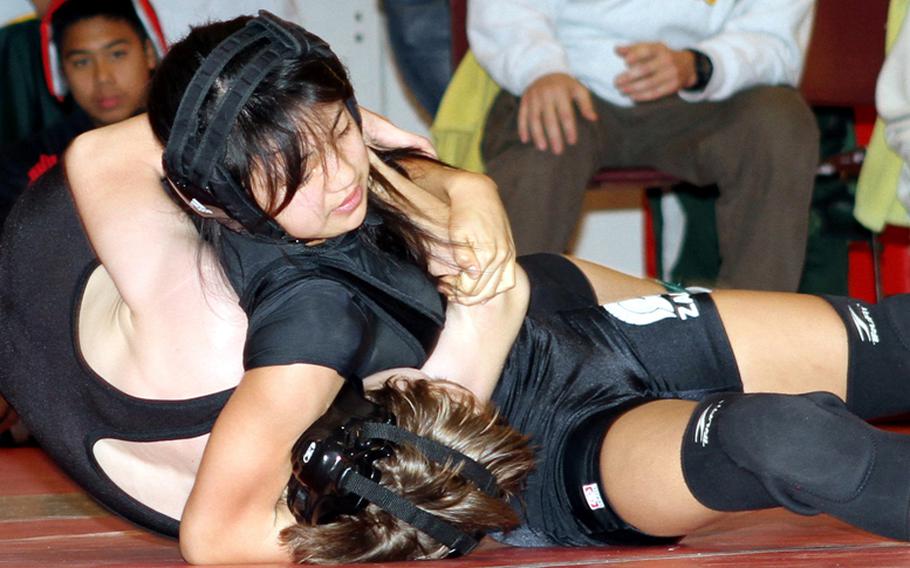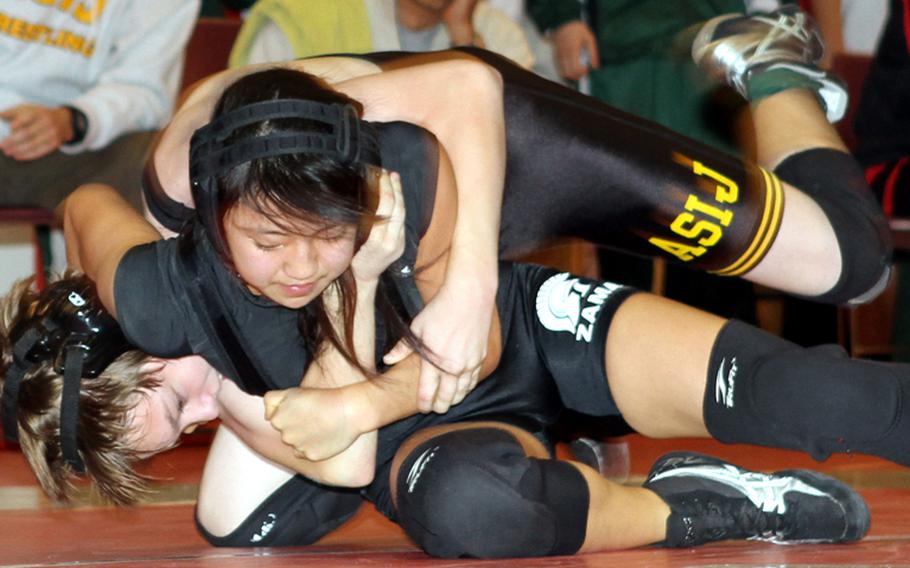 Stars and Stripes
YOKOSUKA NAVAL BASE, Japan – Senior 108-pounder Yurie Tanaka became just the third girl wrestler to win a gold medal in a Japan high school wrestling tournament on Saturday in the Japan preseason tournament at Nile C. Kinnick High School.
Tanaka used a head-in-arm hold on American School In Japan freshman Callan Murphy and pinned him in 1 minute, 35 seconds for the gold. She pinned Ryo Nagai of St. Mary's International in 38 seconds in the semifinal and Haruka Earney of Robert D. Edgren in 40 seconds in the quarterfinal.
"She's 200 percent better than last year," her first year on the varsity, said Zama coach Chris Iredale. Tanaka placed sixth in last season's Far East tournament at Camp Humphreys, South Korea.
Tanaka worked in the offseason with Iredale and a handful of other wrestlers. "She was the only girl who came," Iredale said. "She has really good balance and is really flexible. If you give her chance, she'll really come after you."
Similar to last year, Zama has three girl wrestlers on its roster this season, along with Robert D. Edgren, which pioneered girls wrestlers back in the late 1990s.
"She's a good wrestler," said Justin Edmonds, who coached the first girls weight-class winner in a Japan tournament, 101-pounder Alyssa Rodriguez, four seasons ago, and Jacquelin Steele, who won at 115 pounds last season; both tournaments were at Edgren.
"People keep pushing them to the side. They say they could get hurt. A guy can get hurt just as easily. I remember her (Tanaka) when she started. She's come a long way."
Saturday's tournament featured two reigning Far East tournament weight-class gold medalists. They produced mixed results.
Kinnick's two-time Far East champion Marcus Boehler began his season the way his 2009-10 season ended, with his bout undergoing a video review with a different result from last time.
St. Mary's International senior Kelly Langley decisioned Boehler 2-0, winning the first period 6-3, then getting a late point when the mat officials ruled that Boehler stepped out of bounds.
Kinnick coach Richard Huffer argued that it was Langley who stepped out first, forcing a third period. Several videos of the bout were reviewed, but the call stood, giving Langley the period 4-3.
"I'll show it on the mat next time. We'll see what happens," said Boehler, whose gold medal-winning 2-0 decision over Kubasaki's Nick Barker at last year's Far East was also video-reviewed.
The result was a wakeup, Boehler said. "I have to earn my spot. I have to practice harder. I'm not going to be able to just walk out there. I'm going to have to win it. I'm going to have to work for it."
Zama American's two-time Far East champion Michael Spencer left nothing to chance, meanwhile, pinning Shogo Higashi of Christian Academy Japan in 15 seconds.
St. Mary's and Yokota tied with 79 team points, but the Titans won the team title by outscoring the Panthers six gold medals to three. But Yokota was missing three starters, as were many teams, due to SAT testing and Junior ROTC rifle drilling at Camp Fuji.
"We know our work's cut out for us," Titans coach Ian Harlow said. "We'll take this. We're happy, but we have a lot of work to do."
Meanwhile, a new/old coach, Julian Harden, resumed the helm of Seoul American in its sweep of its two dual meets in the DODDS-Korea season-opening tri-meet at Daegu American. The Falcons beat Osan American, 48-2, and Daegu American, 45-3.
But it was far from a perfect performance by the Falcons, who return just three wrestlers from last season. Harden said his team needs to work on basic things such as shooting with the face up and learning how to sprawl when the other team's wrestlers get the upper hand.
"Each week, we're going to find something to improve and work on it, so we can do better next time," Harden said.
Harden won four Far East tournament team titles in his previous stint as head coach, which ended two years ago.