Taking camp to a new level
---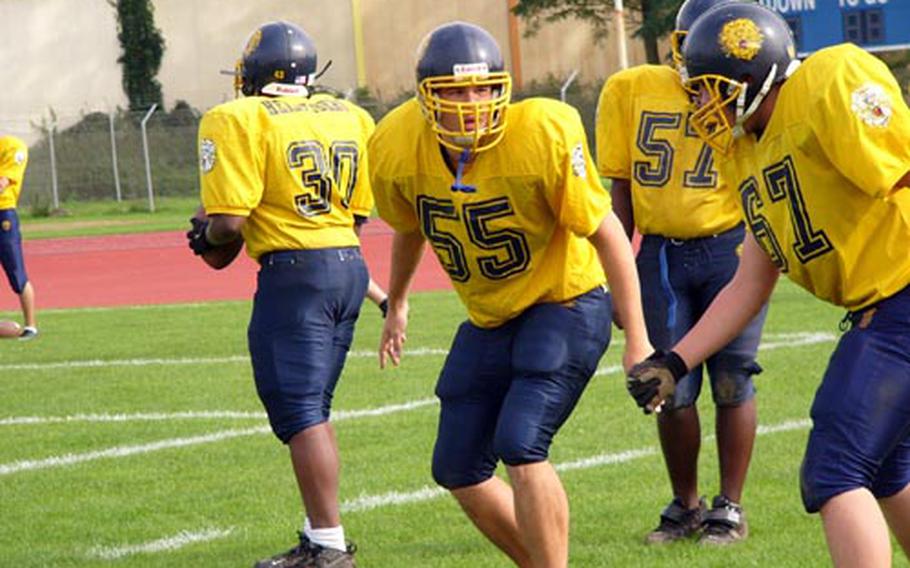 HEIDELBERG, Germany - Lots of high school football players spend their summers in camp.
Few of them, however, attend the sort of camp where Heidelberg senior center-defensive tackle Chip Dougherty spent nine weeks last summer.
Dougherty used his vacation to complete Army basic training as a member of the Florida National Guard.
"There were a bunch of reasons I joined the National Guard," the 6-foot-2, 205-pounder said prior to Tuesday's practice. "For one, I see all these people talking about claiming their rights. I want to earn mine."
Dougherty, a transfer from Vero Beach, Fla., said he also chose to join the Guard while still in high school as a way to help pay for college.
"I knew I was going to do it eventually," he said. "I thought about it and thought, 'Why not now?' "
The decision meant that Dougherty's summer job this year became learning to be a soldier. Next summer's spoken for, too. He will attend the Infantry School at Fort Benning Ga., after he graduates in June to learn to be an infantryman.
"A lot of people tell me they went to the beach during the summer," Dougherty said. "I tell them I got to shoot a Mark 19 (automatic grenade launcher) and fire grenades. It was a great experience."
In addition to the noisier aspects of his summer, Dougherty deepened the maturity which no doubt led him to join the Guard in the first place.
"It's exactly what my drill sergeant told me," Dougherty said. "He said that after basic, some of the things we used to do or that our friends and classmates do will annoy us. He was right. Now, when I see students disrespecting teachers or something like that, I get annoyed."
With that sort of a world view, Dougherty would be an instant hit with any football coach. Heidelberg's Brad Shahan is no exception.
"I wish we could have a whole team of kids like him," Shahan said as he attended to his legion of pre-practice tasks. "What he's shown here is that he does things right, things most kids wouldn't think of doing."
One of those right things is exercising leadership.
"He's a catalyst for us," summed up Heidelberg volunteer coach Sal Katz, himself a U.S. Army command sergeant major.
Dougherty, however, downplays any notion that he's a special type of leader, Army-trained or not.
"All the seniors are expected to be leaders," he said. "I try to put in my share of the leadership role that's on every senior. To my teammates, I'm still one of the guys."
Dougherty demonstrated his willingness to lead Tuesday as his teammates, some of whom had shown spotty concentration during the first portion of practice, waited to return to the field from a water break.
"We've got to stop pussyfooting around," Dougherty spontaneously exhorted them. "We have to get better every time we practice."
The team seemed to listen. Dougherty might be new, but he's also a soldier. And he came to Heidelberg from a football culture most of his teammates can only dream about.
"I played offensive line in a 6-A program in Florida," said Dougherty, who played his first game for Heidelberg in last Saturday's 38-0 victory over the Amsterdam Panthers. "The fan support is totally different. The whole town rallies behind the team. You go down the street and the McDonald's sign says, 'Go, Fighting Indians.' The whole town goes to the game."
The Lions don't make any McDonald's marquee signs and draw only a small portion of the Heidelberg Military Community to their games. Even so, they meet Doughtery's overriding criterion for a high school sports program. They play the game he loves.
"It's still football," he said. "It's still fun. I've got to play football."
---
---
---
---