Athlete of the Year - boys tennis
Tahirovic was unbeatable on the court - again
by
Mark Patton
November 9, 2011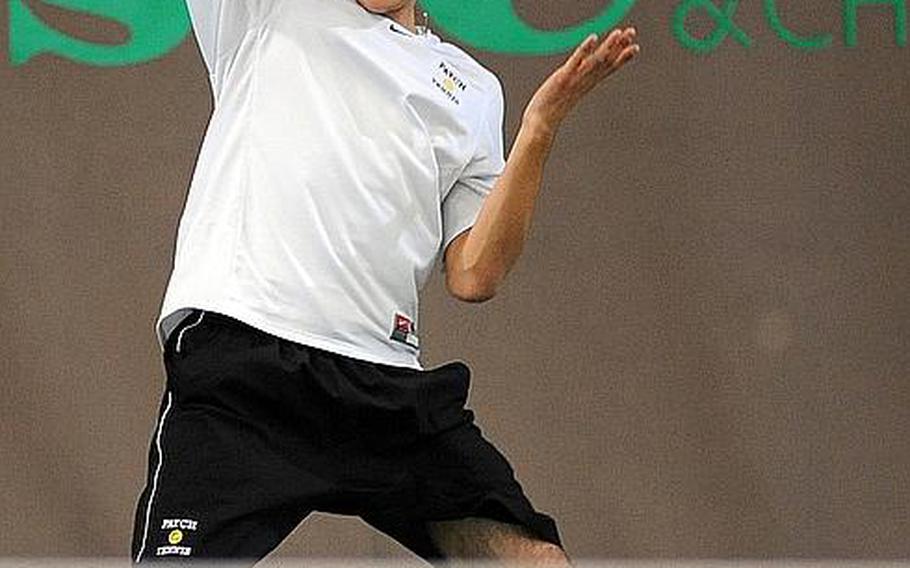 WIESBADEN, Germany — Ajdin Tahirovic is a name that inspires a mixture of fear and admiration from boys singles competitors in DODDS-Europe tennis.
It's easy to see why. After capturing his first European championship as a freshman, the 15-year-old Patch sophomore came into the 2011 DODDS-Europe tennis championships as the heavy favorite to repeat.
Standing in his way was Dimitrios Stavropoulos, a hard-charging freshman from SHAPE, who seemed just as capable as Tahirovic of drawing plenty of "oohs and aahs" from the fans.
Tahirovic said he was extra motivated for the championship match because he heard mumblings from the spectators that the SHAPE freshman might just do the unthinkable … knock Tahirovic off his throne.
"I told myself, let's prove it to them that they're wrong," Tahirovic said.
He did just that with a 6-4, 6-3 straight-set victory, helping him earn recognition as Stars and Stripes' Athlete of the Year for boys tennis in 2011.
The victory was the culmination of something he's been doing during his two years of DODDS-Europe tennis, overwhelming his opponents with a balanced attack and cunning strategy. The victory also gave him the distinction of not losing a single match during his freshman and sophomore campaigns.
Tahirovic said not having a loss under his belt in DODDS-Europe doesn't minimize his competition.
"I have a ton of respect for everybody I play, I always make friends with them, it doesn't matter," Tahirovic said.
The Bosnian-born Tahirovic first picked up a racquet at the ripe age of 5 as he played tennis with and tried to emulate one of his tennis idols: his father, Ismet.
"Every day when we were out there, I enjoyed it more and more," Tahirovic said. The enjoyment of the sport led him to start playing in tournaments as a kid when the family moved to Vermont.
Although his schedule is now jammed full of school, homework, tennis practice, tournaments and hanging out with friends, Tahirovic hasn't lost what he considers the most important part of his game: having fun.
It's a lesson that was driven home when he met former No. 1 ranked tennis star from Sweden, Mats Wilander.
Wilander told the Patch sophomore that if he has the talent and enjoys what he's doing, he'll win, but cautioned that the minute tennis become a job, that's when he'll lose.
Patch coach Walter Fritz said Tahirovic's talent, work ethic and desire are unrivaled and what really sets him apart is his willingness to help anyone on the team to improve their game.
"It's like having Federer at practice every day, it gives everybody a target to shot for," Fritz said, referencing one of Tahirovic's tennis idols.
Helping teammates is something Tahirovic says is important to him, because he enjoys helping others and wants to see the entire team succeed.
"Playing for the high school tennis team is a bunch of fun," Tahirovic said, adding that he loves to wear his Patch uniform around to show off his Panthers pride.
Tahirovic hopes to earn a college tennis scholarship and one day join the professional ranks.
"I was born to play tennis," Tahirovic said.
---
---
---