Taegu's Youngblood not just one of the boys
by
Dave Ornauer
September 22, 2005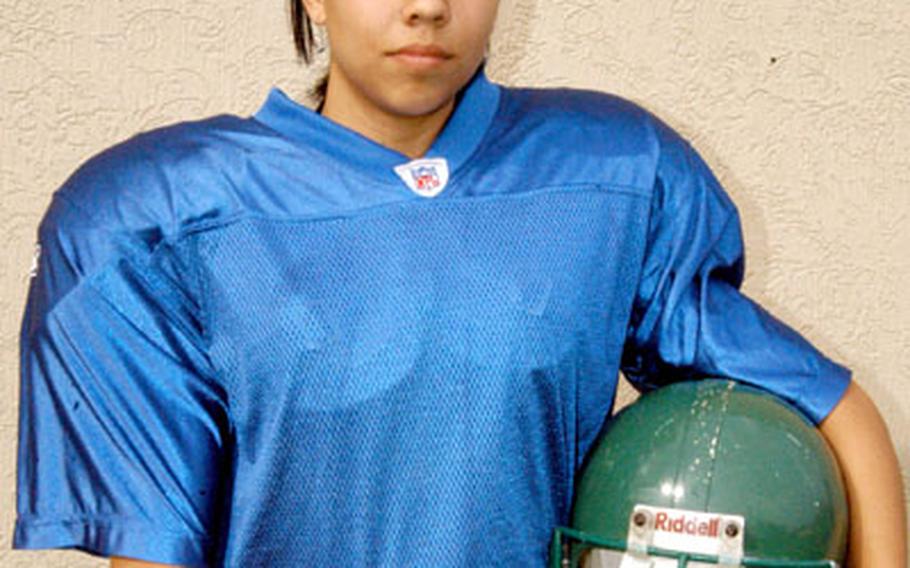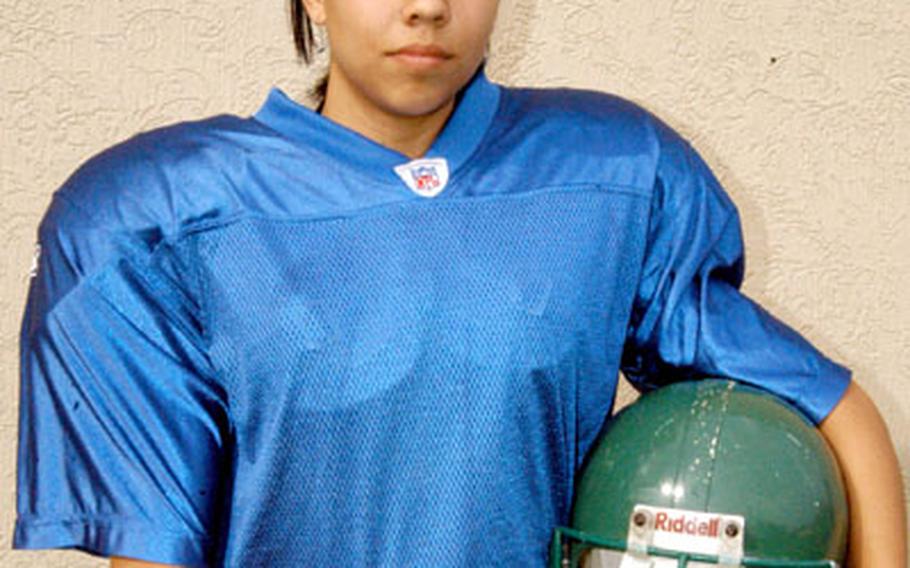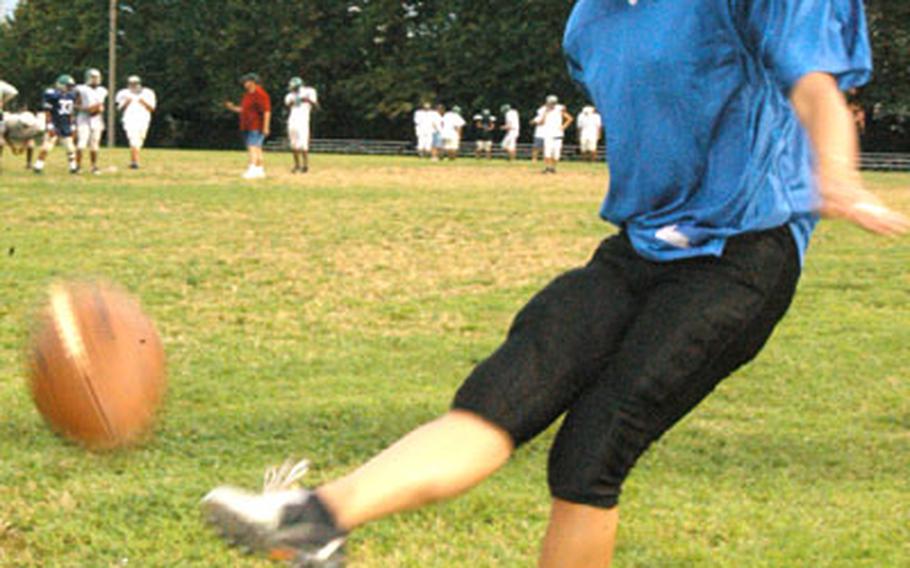 In the end, curiosity captivated the kicker. Senior Joanne Youngblood hadn't planned to suit up for the Taegu American High School football team, but team members twisted her arm — verbally, of course.
"As far as I could see, we didn't have anybody else in the school who could kick a football," said second-year Taegu coach George Speers, who lined up a handful of potential kickers, including Youngblood, last spring to see who could send a ball high and deep enough to score an extra point.
"One thing led to another," Speer said. "Whatever works."
Youngblood is proving able at point-after-touchdown kicks and showing good field-goal range.
"The biggest thing she's had to work on is the [defensive] rush. We had one kid block one of her extra points, and she picked it up immediately, getting to the ball and kicking it quicker," Speer said. "In 35 years of coaching, she is as accurate a PAT kicker as I have had."
Taegu last season got inside the opponents' 20-yard line — the "red zone" — 10 times and came away empty each time, Speer recalled. "Now we get in the red zone, we at least have a chance, a legitimate shot, at scoring. It makes a big difference."
"She's pretty good," said senior team captain Kory Grammer, who helped Speer in talking Youngblood into playing football. "We don't have anybody else who can kick like that. She's a good addition to the team."
Many girls have suited up for junior varsity teams but few have played for varsity squads.
"It seemed really interesting, the thought of wearing football pads and a helmet," Youngblood explained.
The Jacksonville, N.C., native arrived in Daegu in summer 2004. She has played soccer for eight years, and last spring she led the Warriors with 12 goals.
Youngblood sports a 3.0 grade-point average, scored 1,560 on her most recent SAT, enjoys clothes shopping, chemistry, earth science, Taco Bell and the Red Hot Chili Peppers.
She also displays a fierce competitiveness.
"She gets frustrated sometimes because she's not making 30- and 40-yard field goals," Speer said.
"She works hard," said girls soccer coach Sam Alsup, but "has little patience for those … who don't really want to compete."
"I get very frustrated," Youngblood said. "I just want everybody to do better. It doesn't matter whether it's on the football or soccer field. … I go all out."
One of her soccer foes of last spring, Brieanna Carroll of Pusan American, recalled how none of her teammates wanted to "mark" Youngblood "because she was so tough."
"Football will be a good fit" for Youngblood, said Carroll, who is running cross country for Pepperdine University in California.
Youngblood's attitude has helped her win over her teammates, they say.
"We're 100 percent comfortable with her being a football teammate," said junior team captain David Mengez. "We go to the shoppette, go to eat together, we talk about food, classes, teachers, other people, football, life."
Said Speer, whose Warriors haven't won a game since the 2002 season: "Most of the kids here, they want to win. Most of the team likes having a legitimate scoring threat.
"It doesn't matter to them if it's a boy or girl. I thought it would be more of an adjustment, but she's fit right in."
Youngblood will get her first game experience when the Warriors host Osan American at 2 p.m. Oct. 1 at Camp Walker's Kelly Field.
Speer plans to use her only on placement kicks, not kickoffs, where chances of her getting hurt would increase.
"I do have that worry," he said. "But this one is tougher than a boot. You never know. She's been a good addition. She's the least of my worries."