Taegu fielded a football team with some help from archrival Pusan
by
Dave Ornauer
October 30, 2003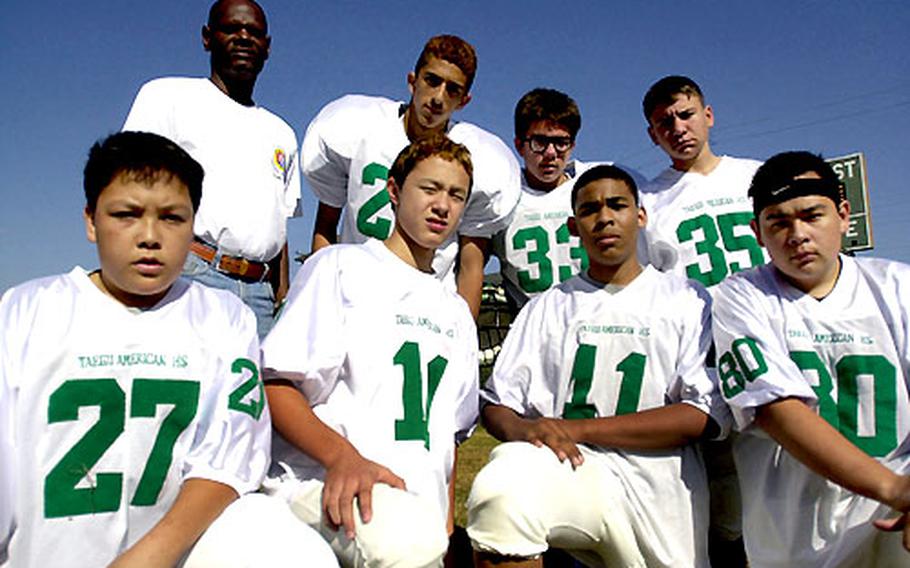 Sam Alsup faced a major quandary.
New to Taegu American School, he was handed the reins to the Warriors football team, which was to begin its first season under the Department of Defense Dependents Schools- Korea umbrella after 25 years within the 8th Army youth activities system.
But there weren't enough players to field a team. Alsup needed outside help.
About 90 minutes southeast of Taegu, Pusan American faced its own dilemma. A handful of students there wanted to don helmets, shoulder pads and spikes, but not enough for the school to field a team. Not without outside help.
A phone call from Pusan to Taegu solved both their problems — and created a rare alliance between two archrivals in the Korean-American Interscholastic Activities Conference.
Never before in the Pacific region had two DODDS programs pooled resources to form one team in any sport.
"We were having a hard time just getting to 11 players," Alsup said.
After practice began Aug. 25, he tried for four weeks to fill the roster before the Warriors' season opener Sept. 27 at Osan American. Once Pusan and Taegu hooked up, finding players wasn't a problem.
"One of my teachers asked if I wanted to join football," said senior Aaron Brunner, a first-year varsity player who lines up at nose guard. "I signed up, others signed up and that's how it started."
Robert Smith, a junior who joined the squad as a defensive end and fullback, was broached about the idea of playing for the Warriors during a 6-on-6 pickup game at a friend's birthday party.
"It just kind of snowballed," said Smith, who quit the Pusan American boys volleyball team to play football. "Volleyball isn't my game, anyway."
Alsup convinced the league and Osan to postpone their game until Nov. 1, giving the team more time to prepare for an Oct. 4 clash against Seoul American at Camp Walker.
They began the season with 12 players from Taegu American and nine from Pusan American. Those numbers have dwindled to 10 and seven.
The Pusan contingent, under Robert Dickson's direction, practices most days at Camp Hialeah and travels once or twice a week to Taegu to work out at Camp Walker's Kelly Field.
The team's season finale against Osan is set for Saturday. It's been a rough ride for the Warriors (0-3), who lost their opener 59-6 and have been outscored 157-26. But the team prefers to focus on its small gains.
"It's worth it," Brunner said. "I like playing football. I like playing the game. It's fun."
Added Smith, "We're just having fun, going out there and giving it our best."
But being part of this rare alliance hasn't been easy, particularly for three of Pusan's "Magnificent Seven," who not only face the commute to Taegu but live at Chinhae Naval Base, about an hour to the west of downtown Pusan.
A typical Taegu day for Brunner, Smith and freshman kicker-wide receiver Chris Rodriguez begins with a 6 a.m. wakeup at Chinhae. About 45 minutes later, they board a bus for school, which starts at 8 a.m.
"The hardest part is every day, having to bring all your equipment plus your school stuff," Rodriguez said.
On practice days, the players board a bus at 1:15 p.m. for the 90-minute ride to Taegu. That bus ride, Dickson said, is supposed to be "quiet time" for the players to study, read and do homework.
That's not to say it's quiet every time, Smith said.
Other players "get kind of annoying. I'm trying to listen to my CD player and do homework, and all these guys want to talk about is girls," he said. "But it's not so bad."
After a two-hour practice with their Taegu teammates, it's back on the bus for the return trip south. Some players don't get home until 8:30 or later.
"That gives us about an hour or two to study, do homework, wash up and go to sleep," Brunner said.
The schedule isn't easy for the players, but it's just as tough for the coaches trying to blend the two groups into one cohesive team.
"The biggest problem is we can't get them up here enough for practice," Alsup said. "It takes a lot of work and time to mesh things together when you're working together once or twice a week."
Though the rewards haven't shown on the scoreboard, they're there, players and coaches say.
"I admire them," Dickson said. "They put in a lot of hard work. They're learning a lot. … They've come a long way since the first game."
Said Rodriguez: "This is a chance for the two schools to come together and play a sport without the rivalry. We work pretty well together. There's unity on the team."
"There is a distinction among Taegu players and Pusan players," Alsup said, "but we've never had any problems. It hasn't been an issue."
The experience also has spawned talk Pusan might field its own team — which Camp Hialeah has not done since its youth services team folded in 1986.
"I'm sure in the near future, Taegu and Pusan will have enough for their own teams," Rodriguez said.
"That would be better," Alsup said, "to have two small teams competing with each other on a regular basis."
If it happens, they'll have a rare alliance to thank for it.
---
---
---