Taegu braces for July 4 Rumble on the ROK
by
Franklin Fisher
July 4, 2003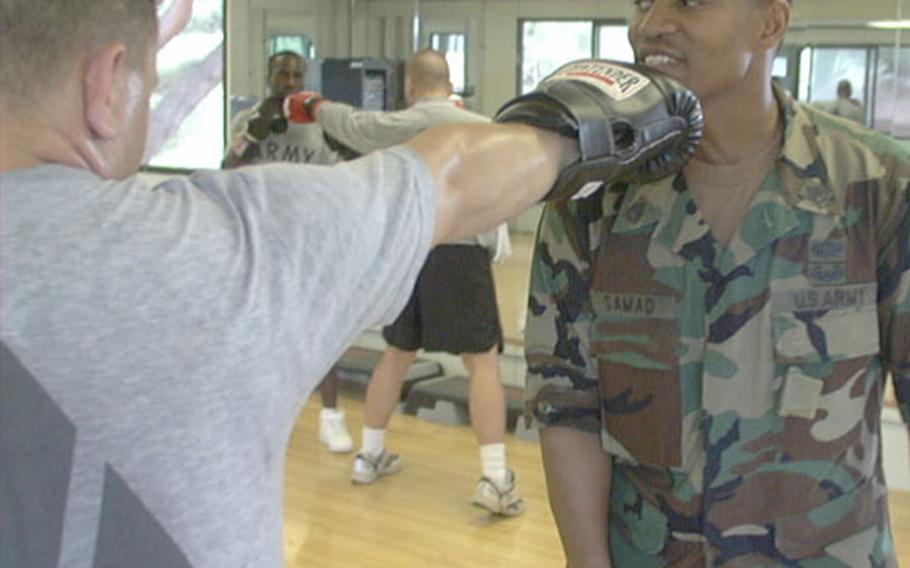 TAEGU, South Korea — With fighters coming from all over the peninsula, the Army in lower South Korea is set for its July 4th holiday boxing card Friday night on Camp Walker in Taegu.
Weather permitting, the Army plans to hold the 10-bout competition starting at 5 p.m. outdoors on Kelly Field.
They're calling it the Rumble on the ROK — for Republic of Korea. It's the second Taegu boxing event since the Army kicked off its Area IV boxing program March 8. That event drew a large, eager crowd despite minimal pre-fight publicity.
Twenty boxers from Army units in Taegu, Camp Carroll in Waegwan, and the 2nd Infantry Division are on the fight card, said Melvin Gaither, the Army's community recreation director at Camp Henry in Taegu.
"Man, the people I'm talking to are so excited — the community is ecstatic," said Darryl Chandler, manager at Camp Walker's Kelly Fitness Center. "I worked out today and I had at least nine people talk to me about the anticipation of the upcoming fight," he said.
In Taegu, coach Miguel Marquez has seen a change in his fighters as the fight has drawn nearer.
"Everybody's coming in very serious," he said. "Before it was just like going through the motions a little bit, but now ... I could see it in their eyes, they got that determination look on themselves."
The participants and number of bouts won't be officially set until Friday afternoon following the weigh-in and medical screening — which starts 10 a.m. at Kelly gym, Gaither said.
Each bout is to be three two-minute rounds.
The boxers aren't the only ones who say they're eager to see blows land.
Army Staff Sgt. Anthony Hembrick of the 2nd Infantry Division wants his coaching counterparts in Area IV to be ready to rumble. He's got six fighters signed up on the card — or as he put it in a recent e-mail to Stars and Stripes, "the best team in Korea will be coming down" to "put on a boxing show."
"I'm excited," Chandler said. "We got a lot of fighters and the community is excited." He said organizers hope "this program — by this time next year — will be known throughout the Far East," and that boxers from mainland Japan and Okinawa might take part in Area IV fight cards.
Fight organizers will move the bouts inside Kelly gym in case of rain, Gaither said.
Rumble on the ROK officials
Head Referee: Sok Chong-ku.
Chief Judge: Army Sgt. 1st Class Charles Ryan of the 19th Theater Support Command; Two others will alternate as judges and referees: Yoon Won-tog and Cho Sung-chol. Sok, Yoon, and Cho are members of the Korean Professional Referee's Assocegu-Kyungpuk branch.
Appeals jury: Melvin Gaither, Darryl Chandler.
Ring physician: Army Capt. Jeffrey Brooks. Medical Assistant: Army Sgt. Kevin Kennerly. Both are with the 168th Medical Battalion, Camp Walker.
Ring announcer: Army Master Sgt. Anthony Reed.
Coaches: Miguel Marquez, Taegu; Army Staff Sgt. Fareed Samad, Camp Carroll, Waegwan, South Korea; Army Staff Sgt. Charles Hembrick, 2nd Infantry Division.