Swords, Jacobs win USAREUR 10-Miler
by
Rusty Bryan
July 20, 2003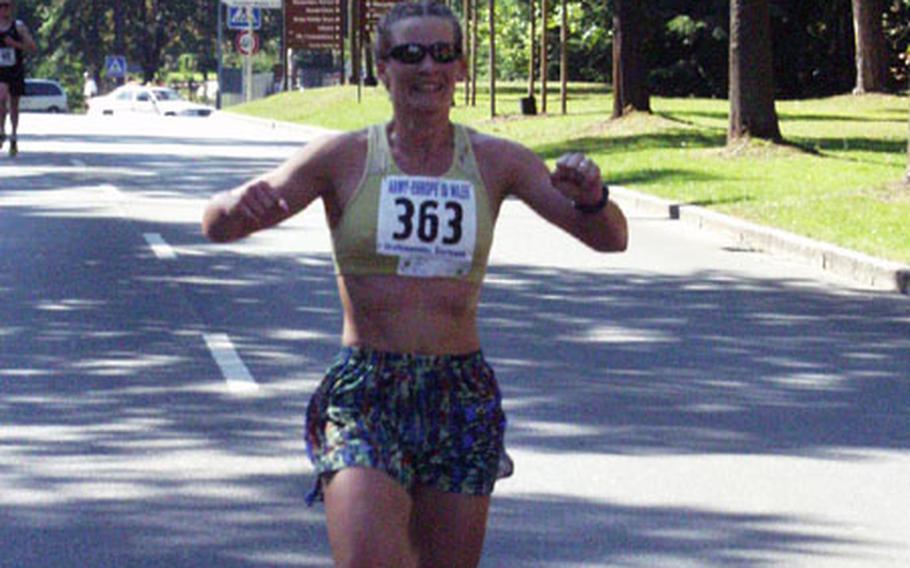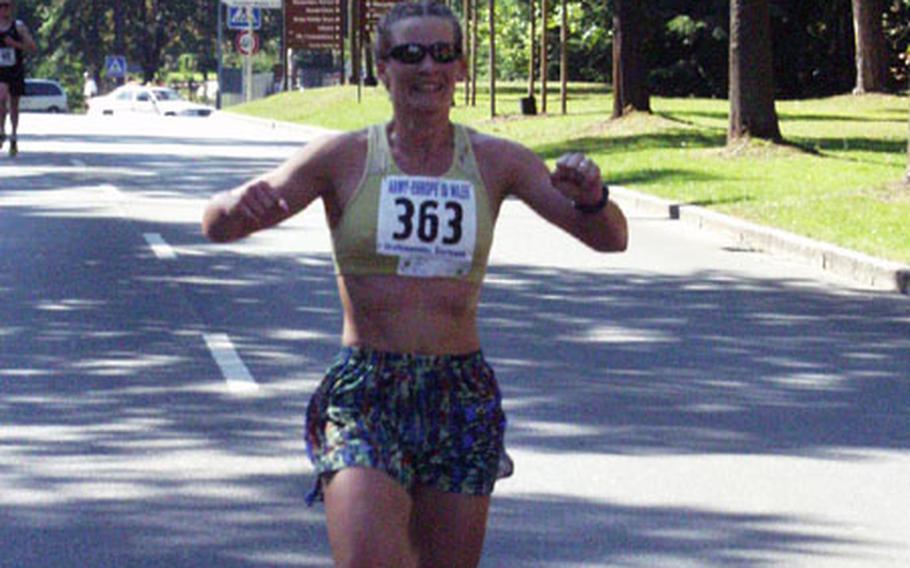 GRAFENWÖHR, Germany — Don't get two-time men's titlist Shannon Swords and women's champion Jessica Jacobs wrong. They're delighted to have won Saturday's USAREUR 10-Miler and berths on the Army in Europe's teams for October's Army 10-Miler in Washington, D.C., but both agreed Saturday's victories served mainly as workouts.
"I'm pointing toward the Marine Corps Marathon," said Swords, the Landstuhl, Germany-based All-Army cross-country runner, after blowing away the field in 53 minutes, 49.324 seconds. "That's the one I really want to win."
Jacobs' target is a bit closer than October's Marine Corps Marathon.
"This was just a jog," she said after cutting more than five minutes off her time here last year to win in 63:18.062. "I'm entered in the Ironman Switzerland Triathlon, a 2.4-mile swim, 112-mile bike ride and 26-mile run, next week in Zurich."
Despite her fast time under bright skies Saturday, Jacobs said she wasn't worried that running the 10-miler so close to the triathlon will sap her strength.
"When you're feeling good, you just keep going," she said. "As long as you stay within your splits, you'll be all right."
Those splits, which Jacobs had written on her left forearm, left last year's overall women's champion, Jacqueline Chen of Landstuhl, more than two minutes behind. Chen beat Jacobs by 19 seconds on the same course last year. Though she took more than two minutes off last year's time, it wasn't enough to beat Jacobs again.
"Jessica improved her time more," said Chen, who teamed with Jacobs to lead USAREUR to the women's team title in last October's Army 10-Miler. "She started faster and stayed ahead all the way."
Swords started quickly, too. Too quickly, as it turned out.
"I went out in 4:59," he said of his time for the first mile Saturday. "That was a little too fast. I backed off quickly."
Despite having "backed off," Swords beat runner-up Seth Langianese of Wiesbaden by 3:51.
Langianese said he enjoyed his first USAREUR 10-miler.
"It was awesome," he said. "I've never run a 10-mile race before."
He'll be running another 10-miler on Oct. 5, when the USAREUR teams composed of the eight fastest active-duty runners of each sex here take to the streets of Washington
Swords said he's looking for redemption in the nation's capital.
"I didn't run very well last year," he said. "This year, I want to run in the top 10 — that's my goal. It'll take a time of 51 or 52 minutes, but the course in D.C. is easier than this one."
It also features more incentives to run faster, he added.
"There are a lot more people cheering you on," he said, "and you're chasing and being chased by a lot more people."
Everyone will be chasing defending champions Chen, Jacobs and Co., but that's fine with the USAREUR women.
Judging from Saturday's times, the USAREUR women's best could be even better this year.
"We'll be just as tough a team as last year," said Mannheim's Janice Sharkey, who helped the 2002 team to victory and qualified to return to this year's team with a 76:33.647 Saturday, good for seventh place overall. "We've got to defend our title."