Surprising Edgren setting its sights on Far East gold in cross country
by
Dave Ornauer
October 28, 2004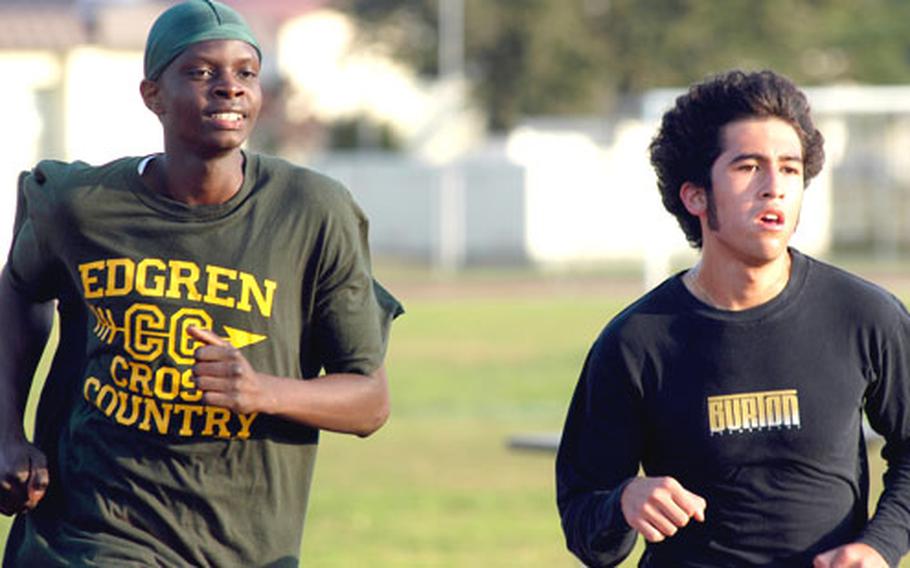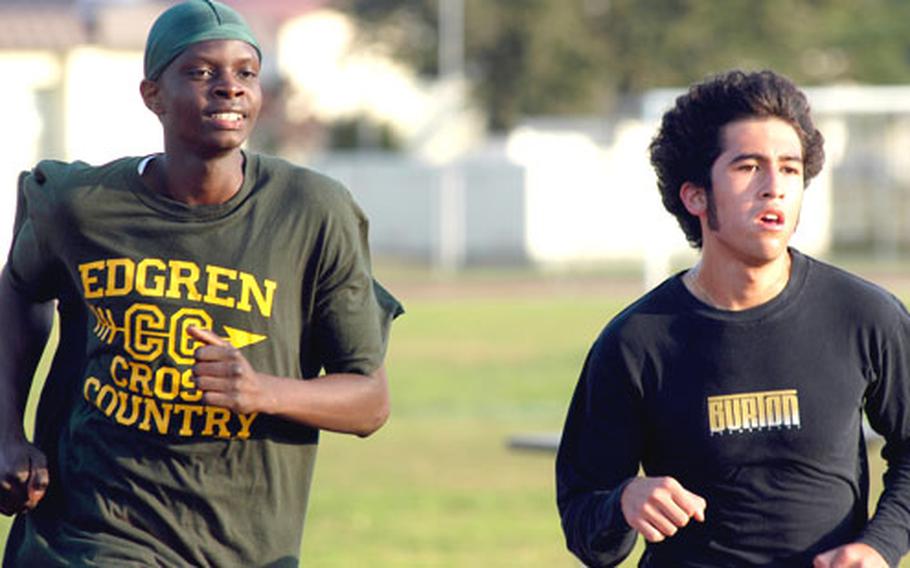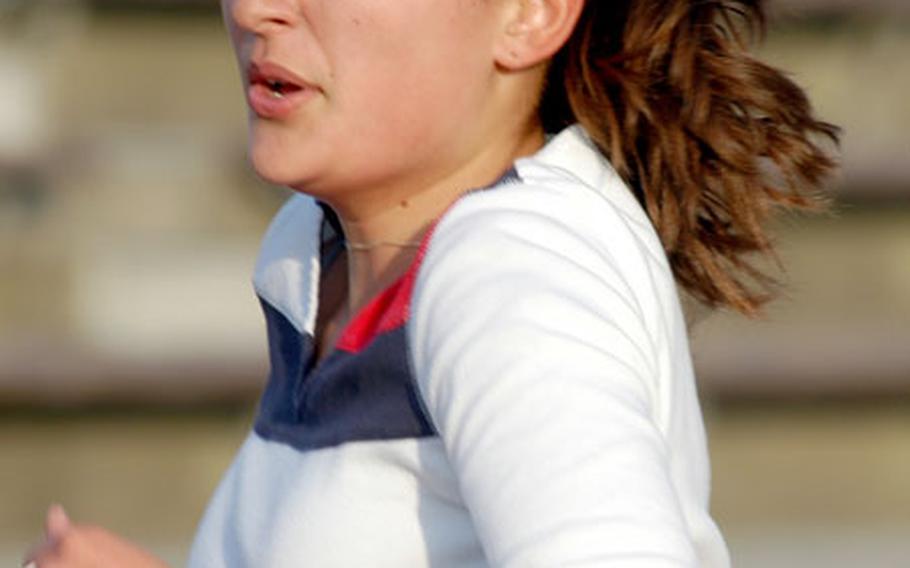 Edgren cross country coach Andre Thibert and his Eagles can be forgiven if they're dreaming big these days.
Their three marquee runners, juniors Peter Kamau and Daniel Sanchez and budding freshman Jade Thrasher, consistently have finished at the top among Department of Defense Dependents Schools-Japan runners this season.
With Edgren hosting the Far East championship meet next month at Misawa Air Base, they hope to achieve the ultimate: Far East gold, in either the individual 3.1-mile race or team relay.
"I'm so stoked," Thrasher said. "I just keep on telling the guys, 'We've got this. This is big. We have some top runners. We have to live up to those standards.'"
"Of course, I'm a little biased, but we're training and preparing for Jade, Daniel and Peter to be in the top five at Far East," said Thibert, in his second year as coach of the Eagles.
Heady stuff for a program long considered a DODDS-Pacific cross country doormat.
Thibert and his top three runners say they're hoping to form a foundation for the future. So far this season they appear ready to do just that.
Kamau, who transferred to Misawa in the fall from Pensacola Naval Air Station, Fla., finished first three times, second twice and third once among DODDS runners. His best 3.1-mile time is 17:33, set on Oct. 9 at Sasebo. That time is 41 seconds better than the top time of the 2002 Far East meet on Guam.
Sanchez had been Edgren's top male runner until Kamau arrived, but he still managed one victory, four thirds and a fourth against DODDS competition. He finished nine seconds behind Kamau at Sasebo.
Thrasher posted three firsts, a second, a third and a fifth in her six meets.
"I have never coached a freshman runner with as much maturity as her," Thibert said. Her personal-best 3.1-mile time is 21:56, and at the Oct. 16 DODDS-Japan finals at Tama, Thrasher ran the 2.1-mile course in 14:31, eight seconds better than her chief DODDS rival, Eri Eveland of Nile C. Kinnick.
Zama American's best boys runner in 16 years, Chris Cerrillo, took top honors in 16:15 on the 2.9-mile course, but Kamau (16:20) and Sanchez (16:30) were breathing down his back.
Edgren's opposition has noticed.
"This is certainly one of the strongest, if not the strongest team that they have ever fielded," said John Thek, who has coached the Yokota High team since 1978. "Coach Thibert certainly has the program headed in the right direction."
Whether that direction will lead to Far East gold depends on many things — starting with Edgren's opposition.
Battle-tested Kadena of Okinawa will enter Far East as defending team champion, boasting Jon Turner and his season-best 17:20 among boys, and defending Okinawa island girls champion Niki Kauzlarich, whose 19:37 is third-best in the Pacific this season.
Another threat on the girls side is Pusan American senior Brieanna Carroll, who ran a 19:35 earlier this season.
"We know where we stand with teams in Japan, but there's always a fear as a coach, when they [runners] see schools they've never seen," Thibert said. "The intimidation factor," the idea that new competitors are "automatically good because they wear a different uniform."
At this point, however, Edgren lacks the depth that often sustains championship bids.
"As a team, we're heavy at the top end," Thibert said of Kamau, Sanchez and Thrasher. "Cross country is really a team sport. Not that you have just the best runners, but a large amount of runners in the middle."
Champioship teams, he said, "will kill you in terms of their depth."
Edgren has the advantage of being the host team.
"We'll have the support of our families, our friends cheering us on," Thrasher said. "It will be something to make us do our best and run hard."
---
---
---