Suribens, E.J. King on march to Far East tennis titles
by
Dave Ornauer
October 19, 2006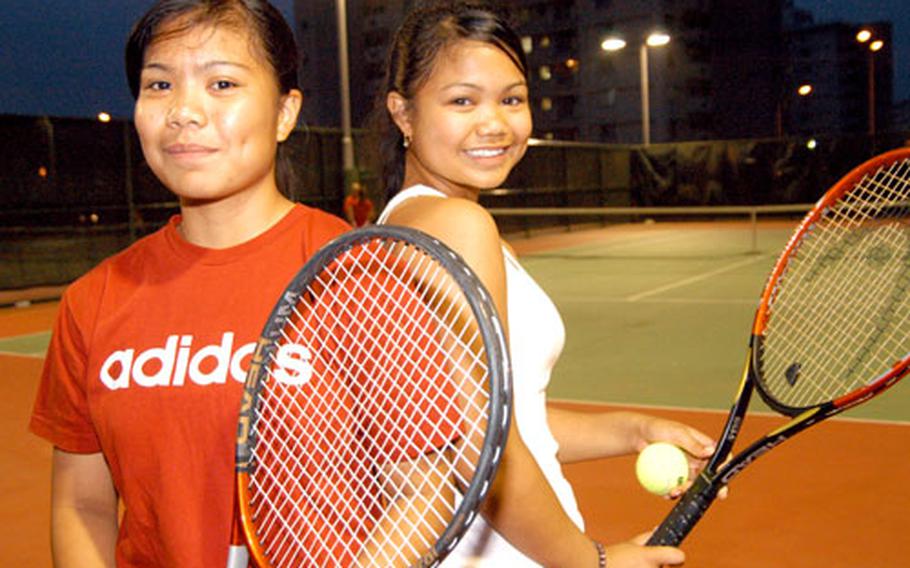 It's the sort of situation that likely has coach Andrew Bogen giving daily thanks to whatever powers helped bring him to the helm of the E.J. King Cobras girls tennis team. His roster includes:
Kristia Suriben, two-time defending Department of Defense Dependents Schools-Japan champion and defending Far East tournament singles and doubles champion.Freshman Rizalina Suriben, Kristia's sister.Transfers Melissa Williams from Kinnick and Chelsea Smith from South Carolina.They've won every team match this season.
"We're strong," Bogen said. "Really strong, all the way through. … I could bring six that could win" at Far East.
Said Kubasaki coach Rick Kendall: "If anybody can beat that girls team, I'll be amazed."
"They're the team to beat as far as girls are concerned," Kinnick coach Nicolas Hindie admitted. "They're solid at No. 1 singles, solid at No. 2, solid at doubles. None of the [mainland Japan] teams have a chance."
Leading the pack are the Suriben sisters, just 5 feet 3 but playing like giants. They're each 6-0 in their singles matches and 4-0 as a doubles team.
The elder Suriben beat Osan American's Amanda Reiff 6-1 for the Far East singles championship last year; she and Jemari Nimedez captured the doubles. And, she said, her game has improved.
"My serves have gotten stronger, my ground strokes are stronger and I'm going for more winning shots," Suriben said, adding that she worked on backspins, backhands and other technique during the summer.
"She's added power to her game," Hindie said, "a pretty powerful forehand, good slice backhand and she's not afraid to come to the net. A lot of girls in the league are afraid of that. That's an added dimension that puts her above everybody else."
"She plays so smart, she's so strong mentally when it comes to getting critical points," Kendall said. "She can find weaknesses and exploit them."
Riza's game concentrates more on the baseline. She said she aims for consistency.
"All my skills are balanced, not one thing is really better than another," Riza said. "When we play doubles, she usually plays the net and I play baseline."
Hindie called Riza's ground strokes better than those of her sister when Kristia was a freshman.
"If she continues to play, as the years progress, she can add more power to her game and pass her sister," Hindie said.
And tennis isn't even their primary sport, they say. Kristia is a two-time All-Far East Class A basketball tournament selection and a two-time DODDS-Japan softball all-star, and Riza plans to join Kristia on the hardwood and diamond this year.
"Basketball is still my year-round sport," Kristia said. "I do tennis because of my dad and, hey, I can play."
The sisters picked up rackets in their middle elementary school years largely due to Chief Petty Officer Cesar Suriben, who plays in tournaments on and off Sasebo Naval Base.
Consistency is the theme whenever he practices with them, Riza said: "Hit the ball back and forth without making mistakes. Good footwork. Always keep an eye on the ball and bending the knees."
Bogen also "works with us a lot on serves … teaching us about proper form," she said.
With the Far East tournament three weeks away, Nov. 6-10 at Guam's Ninete and Tiyan Tennis Centers, neither players nor coach say they're taking anything for granted.
"We're hoping to challenge" for individual and team gold medals, Riza said. "But it's not a given. We still have work to do."
Hindie hasn't yet seen either defending Far East team champion Seoul American or Kadena, the Okinawa Activities Council leader. Still, he likes the Cobras' chances. "Right now," he said, "I would put them up there."
---
---
---