Summer matches a spark for Kubasaki's Shaw
by
Dave Ornauer
November 29, 2007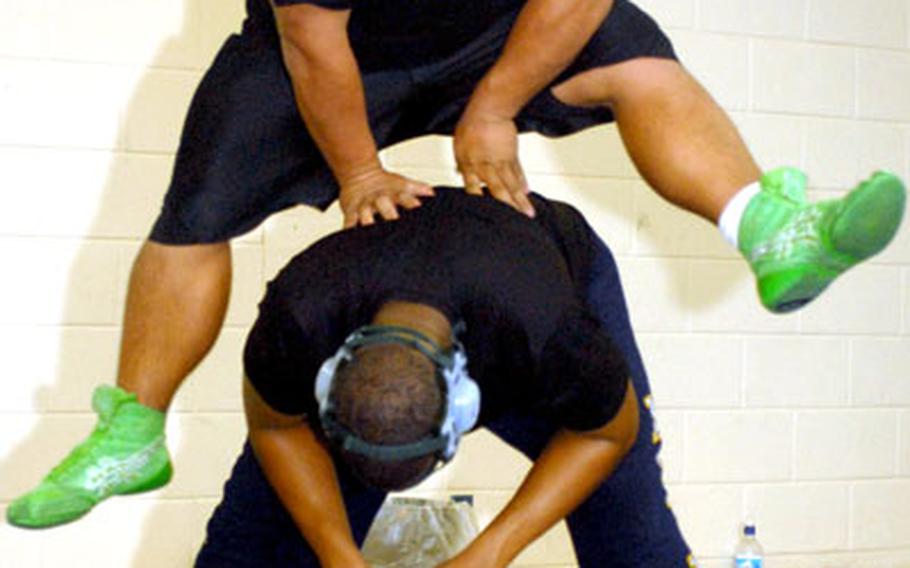 Bucky Shaw thought he was used to big settings, having competed in two Far East wrestling tournaments.
But very little could have prepared the Kubasaki senior heavyweight for the 2007 USA Wrestling cadet and junior national tournament, which took place in July in Fargo, N.D.
For starters, 2,212 boys and 194 girls were milling about the huge Fargodome — about 15 times what one might see at a Far East meet.
"Not something I was used to," Shaw said. "Hundreds of people there, 25 mats all going at once. It was awesome-looking. It just scared me, knowing that all that wrestling could go on in one day."
As if that wasn't enough, there was the education Shaw got on the mat. Twice a fourth-place Far East finisher, Shaw lost his two Greco-Roman and two freestyle bouts at Fargo, each in the 285-pound class:
¶ Shaw hung with Delaware's Adrian Tucker before losing by pin at 5:25 in the third period, then lost in 49 seconds to Eric Thompson of Iowa in freestyle.
¶ In Greco-Roman, Shaw stayed with Logan Atkins of Ohio, losing a 2-1 decision before Rob Bourke of Illinois pinned Shaw in 1:41.
"These wrestlers' ability was so way up there, and I'm on the mat with them," Shaw said. "I was overwhelmed, intimidated."
But as intimidating as the experience was, Shaw says it's done wonders for his skill and confidence levels entering the season. Kubasaki visits Kadena in the opener on Dec. 6.
Shaw referred to his experience as visiting the "Super Bowl" of young American wrestling – and he thinks he came away with a wealth of knowledge and confidence befitting such an event.
"I brought home some experience and some great new moves I can throw out there during Far East," he said. "And my whole state of mind is completely different. Just worry about your match and how you're going to wrestle. Don't worry about the crowd or other things. Just wrestle your match."
Shaw was one of nine athletes, under the direction of 11-time All-Armed Forces gold-medal wrestler Jacob Clark, competing under the banner Team Armed Forces, which began two years ago as Team Okinawa.
In tow were former Far East tournament Outstanding Wrestler Steve Courtney of Kubasaki and two-time Far East champ Jacob Bloom of Kadena, along with Max and Oscar Huntley of Quantico, Va. Clark was assisted by a cadre of fellow All-Marine wrestlers.
Together, they helped Shaw endure two weeks of rigorous training before the Fargo meet, and helped to encourage and motivate him during the weeklong tournament.
Being the team's lone heavyweight, he had to practice against Marines, Clark said.
"For two full weeks, he trained with members of the Marine Corps wrestling team and never backed down," Clark said, adding that Shaw never lost his sense of humor and was always quick with a joke.
"He'd put those jokes aside and trained like a madman. As soon as the final whistle blew, he was back to being 'Good ol' Bucky,' " Clark said.
"You can only get better. You can never stop learning," Shaw said of going through the Marine Corps and Fargo schools of hard knocks. "The best place to do that is against the best."
Bloom, Courtney and the Huntleys were always quick to lend a hand or a tip, Shaw said. "Steve told me to just wrestle my match and don't worry about the other mats," Shaw said. "Watching the poise of Steve, Max and Oscar, that helped me keep my poise on the mat."
Terry Chumley, Kubasaki's longtime coach who's mentoring Shaw for the third season, has noticed a change in Shaw in just the first few days of practice.
"He's more focused and confident," Chumley said, adding that Shaw passes what he learned at Fargo on to his teammates. "You can see he wants to be a champion."
Clark says Shaw took a lot away from Fargo — techniques he learned from national-class wrestlers, the level of training needed to compete against the nation's best, and the commitment and dedication needed to succeed.
"Hopefully, he walked away with a whole new level of expectations for himself," Clark said.
As a Fargo veteran, Bloom said Shaw will reap the same benefits he has.
"He'll be a lot more confident," Bloom said. "He'll be tougher. He'll be all-around better when he walks out there. It raises the bar for yourself. You've wrestled the top of the top at Fargo, and I can pass that on to my teammates so we can be the best again at Far East."
Shaw agreed with Bloom that the feeling of just having "been there, done that," competing against the best, gives him an extra edge.
"I've been to nationals. I've even hung with a couple of those guys," Shaw said. "So, when I step on the mat, I know that [opponents] haven't experienced what I have, where the competition is a lot higher."
The results, Clark said, should be worth their weight in gold at the Far East tournament, Feb. 13-16 at Camp Foster's Field House.
"I strongly believe … Bucky will have that Far East gold medal draped around his neck."