Subs step up in Yokota's win over Kubasaki
by
Dave Ornauer
September 21, 2009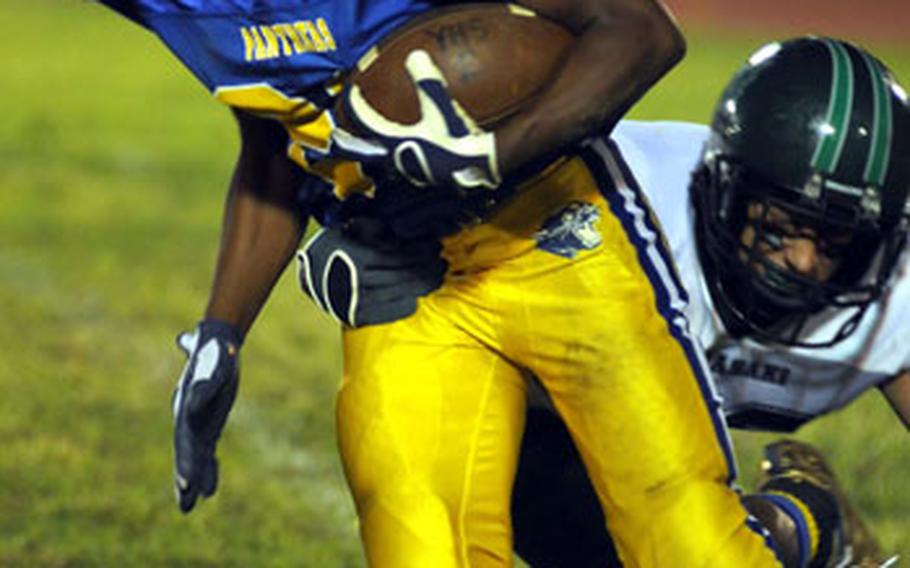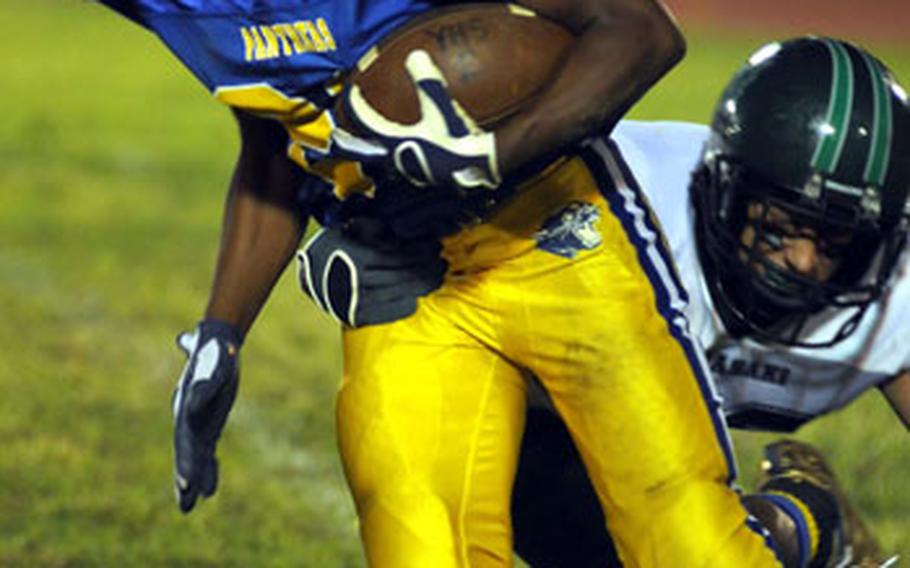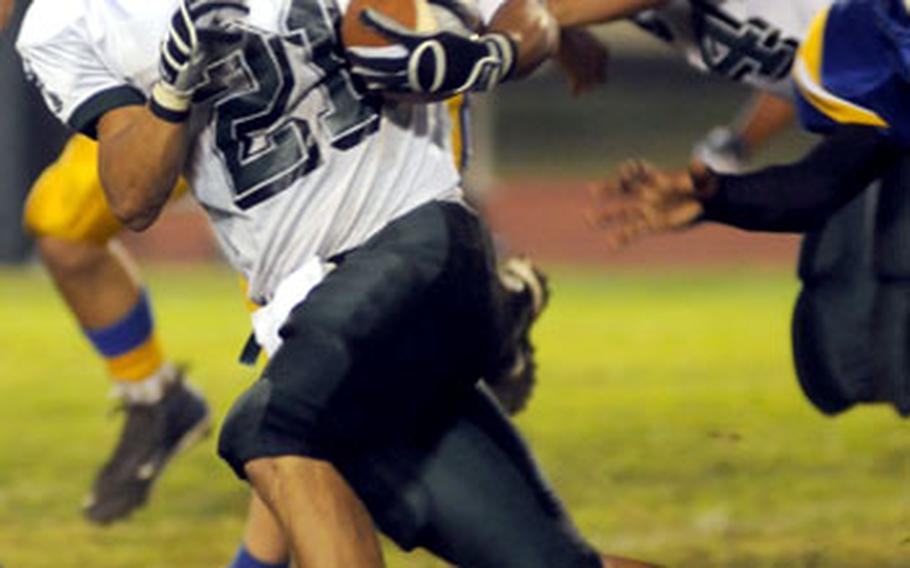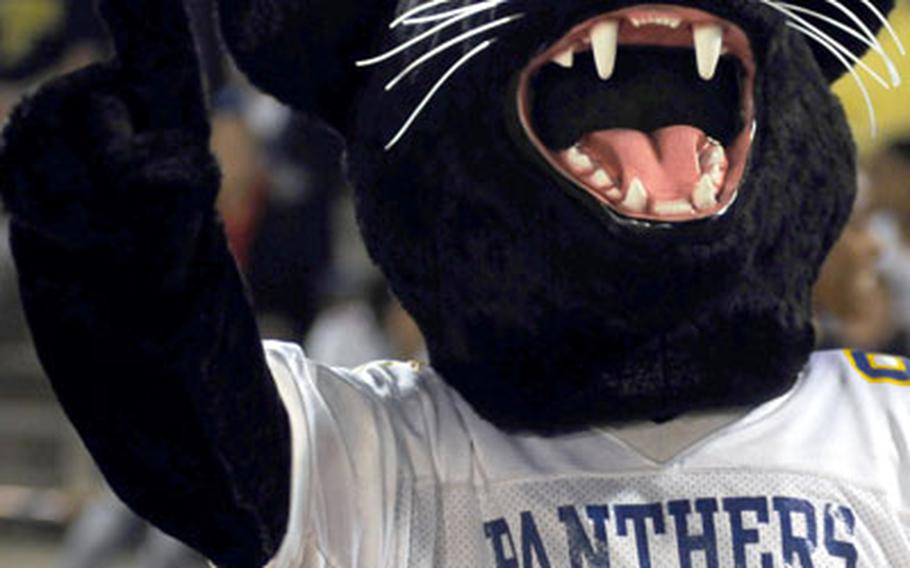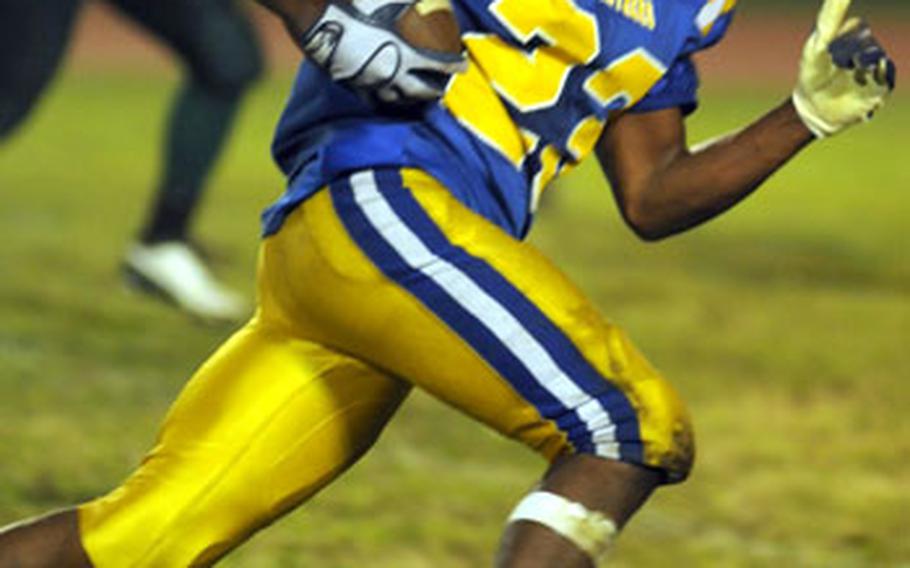 YOKOTA AIR BASE, Japan — Diminutive at 5 feet 5 and 125 pounds but a giant on the football field, senior two-way star Rainey Daley is what coach Tim Pujol terms "one of the toughest players for us to replace" in case of injury.
That's what Yokota did when Daley went down with a first-quarter ankle injury: Find players to plug in on offense, defense and special teams. Five players filled those spots, and Gerald McCloud scored two touchdowns as Yokota downed Kubasaki of Okinawa 21-7 on Saturday at Yokota's Bonk Field.
"It took a collective effort to replace the little 'Choo-Choo,' " Pujol said of Daley.
Seniors Ross Matsumoto and Anthony Mills spelled Daley on special teams, junior Gabe Huizar plugged in at middle linebacker, while senior Gabe Morrow slid over to defensive tackle in Huizar's spot, and senior Kevin Eckert ran nine times for 54 yards in Daley's fullback spot.
That was far from enough, Pujol said, particularly after a second quarter in which the Panthers (4-0) turned the ball over on three straight possessions and appeared listless at times.
"Kubasaki came out with an energy to play the game. I didn't see that in our guys" in the second quarter, Pujol said. "In the third quarter, they came through with energy and emotion. It looked like a different team."
McCloud paced the Panthers with 55 yards on 13 carries. Bradley Forbes had 35 yards on 14 attempts. DeEric Harvin was just 4-for-10 for 24 yards, and Yokota was held to a season-low 189 yards.
McCloud scored on runs of 5 and 35 yards to snap a 7-7 halftime tie. Harvin hit Forbes with a 2-yard first-quarter TD pass, only to watch the Dragons (0-3) promptly tie it on Josh Bales' 8-yard scoring run.
The Dragons did little beyond that. Bales led both teams with 83 yards on 16 carries, but the Dragons managed just 90 net offensive yards. Jalah Patton intercepted two passes and Michael Colon recovered a fumble for Kubasaki.
"We came back nicely, got some points to get it even and forced errors on their part," Kubasaki coach Fred Bales said. "We just didn't capitalize. Mental errors and ball security, things we've been working on. … We made too many mistakes to win tonight. We have to work to eliminate those mistakes."
Yokota took a 2-1 lead in the annual interconference series..
Yokota next hosts Nile C. Kinnick on Friday. A victory would give the Panthers a berth in the Class AA playoff semifinal Nov. 9 on Okinawa. Kubasaki has the week off and will travel Oct. 3 to Kinnick for another non-conference game.
---
---
---
---