Sublousky brings 'laulima' from Hawaii to unbeaten Ramstein
---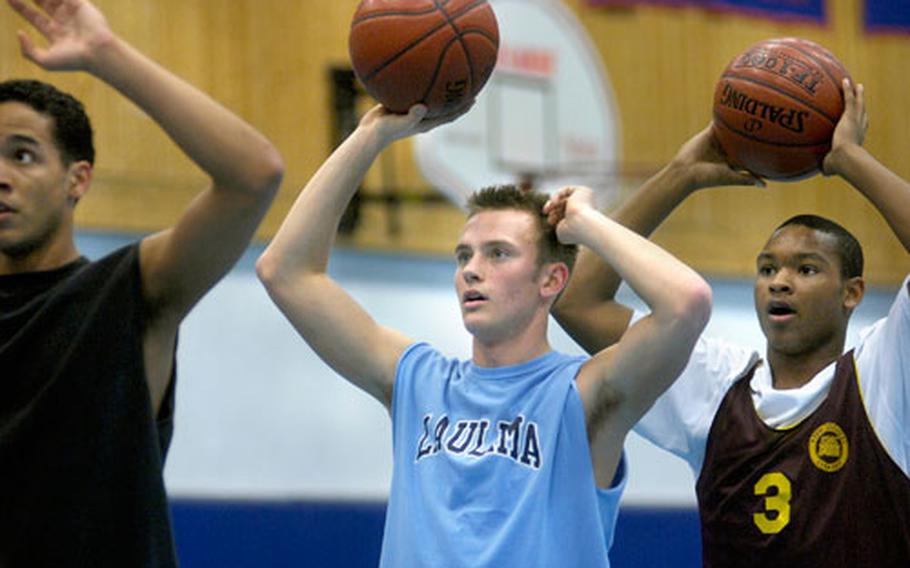 As the Ramstein boys basketball team breaks its pregame huddle, the players don't bark out "victory," "teamwork" or "defense" as most teams do.
Rather, the undefeated Royals (8-0) break their huddle with "laulima." It's a Hawaiian word meaning "many hands working together." It's not something you'd expect American teens playing basketball in Germany to yell, much less know how to pronounce.
Scott Sublousky, Ramstein's leading scorer, brought the "laulima" concept to the team from his days as an eighth-grader playing hoops in Hawaii. The 18-year-old senior routinely wears a "laulima" shirt to Ramstein's practices, as he did on a recent Thursday.
The Air Force brat born in Nebraska has lived around the world, including Hawaii, Colorado and now Ramstein, where he arrived in time to play his junior year.
"Coming over here, I told the guys about [laulima], and they thought it was pretty cool," said Sublousky, who is also a standout on the football field and in the classroom.
"We've got that for our motivation piece. Every time before a game we'll say 'laulima.' We'll say that really loud. ... It's kind of a bonding-type thing."
Sublousky was voted to the DODDS all-Europe football team for the second straight year in 2007, and he holds a 3.8 grade-point average. He recently earned an academic and basketball scholarship to the University of Colorado at Colorado Springs.
Whether through bonding, great play or "laulima," Ramstein has pulled out two tight games this season in which Sublousky has shined.
On Saturday, he scored a season-high 38 points, including two clutch free throws, to secure an 88-83 victory at Patch.
With around two minutes left, Ramstein was up 86-72. Then Patch went on a tear during its next four possessions, knocking down three three-pointers and a two-point basket. With three seconds left, Sublousky was fouled on the inbounds play, putting him on the foul line for a one-and-one situation. He drained both free throws to ice the game.
During the game, Sublousky also sank five three-pointers.
"Scott played a really strong game," Ramstein head coach Len Tarnowski said.
Sublousky also provided some late-game heroics Dec. 18 against defending Division I boys basketball champs Heidelberg. The 6-foot, 165-pound guard nailed two free throws in the final minute for two of his 31 points in a 60-59 Ramstein victory.
It was a victory he really wanted: In last year's February title game, Heidelberg beat Ramstein by three points.
"I came into the game with so much built up inside of me from last year's championship game," he said.
"I didn't have my best performance [in the title game]. I promised myself the next day that I'd get in the gym and start working for next year…. In basketball, I really wanted to get at them. I definitely brought my 'A' game [for the rematch], and also my teammates. I couldn't have done it without them."
Not only is Sublousky the most talented player on the Ramstein team, he's also the hardest worker, Tarnowski said.
"It's the best player working the hardest to improve weaker parts of his game," Tarnowski said. "What else do you want as a coach?"
---
---
---
---