Stuttgart youth to play in Stateside game
by
Rusty Bryan
November 9, 2011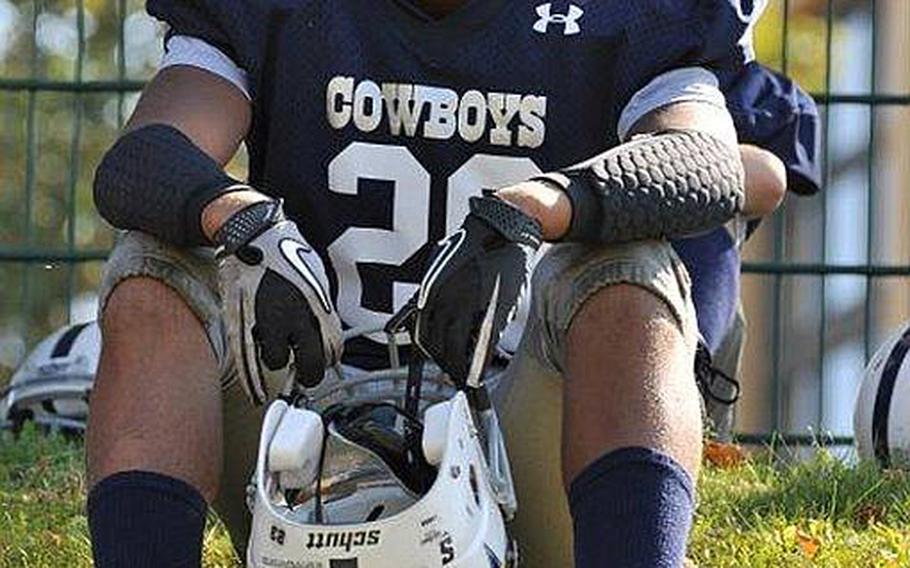 All of Europe's football all-stars won't be on the field at Grefenwöhr for Saturday night's DODDS-Europe Blue Chip game.
Stuttgart eighth-grader Kingston Davis isn't old enough to make the high school all-star rosters, but he's an all-star nonetheless. He's the first Europe-based player selected for the Football University's 2012 Eastbay Youth All-America game.
Davis, 14, a 5-foot-11-inch, 175-pound linebacker, was chosen for the national Eastbay event for eighth-graders through the efforts of local volunteer James McKee and former Wiesbaden resident Angel Dore.
McKee runs a youth sports organization called Back2Basics, designed to help youths - especially military community youngsters - make the most of their talents. McKee said his organization mentors athletes, develops their talents and improves their conditioning and provides them with international competition with an eye toward getting them athletic scholarships to U.S. colleges.
He said his organization has placed five athletes in college so far, including Dore's daughter Taylor, a Wiesbaden grad who's playing softball at the University of Maine.
McKee, an active-duty airman, said he established his credentials with U.S. sports authorities by taking basketball teams composed of local youths to annual sports festivals in Austria.
The success of Back2Basics teams there, especially against basketball teams which traveled from the U.S. to play in the festivals, led McKee and Dore, his assistant director, to expand their activities to bowling, soccer, baseball and football, and led the Football University, which also runs the U.S. Army All-America Game for high school blue-chippers in San Antonio, to listen when he suggested they pick Davis for the Eastbay game. It's scheduled for Jan. 8 at the Alamodome in San Antonio.
"This is the first time the selection committee has gone outside the U.S.," McKee said. "They wanted lots of film and statistics on him."
Davis, McKee said, is perfect as the first Transatlantic pick by FBU, an invitation-only organization.
"He's an ideal kid," McKee said. "He works out all the time and his IQ is unbelievable when it comes to football. He has great parents, too. He's polite and never causes trouble."
FBU will be flying Angel Dore from Florida to Germany to present Davis with his All-American jersey, McKee said.
McKee said the time and effort he devoted to the Davis selection was well worth it.
"I'm up until 2-3 a.m. most nights talking to coaches in the States," he said. "But things like this have to be done to wake others up over here that this can be done – if you're willing to make the effort."
---
---
---