D-I girls soccer
Stuttgart wins shootout to take back crown
by
Dan Stoutamire
May 24, 2018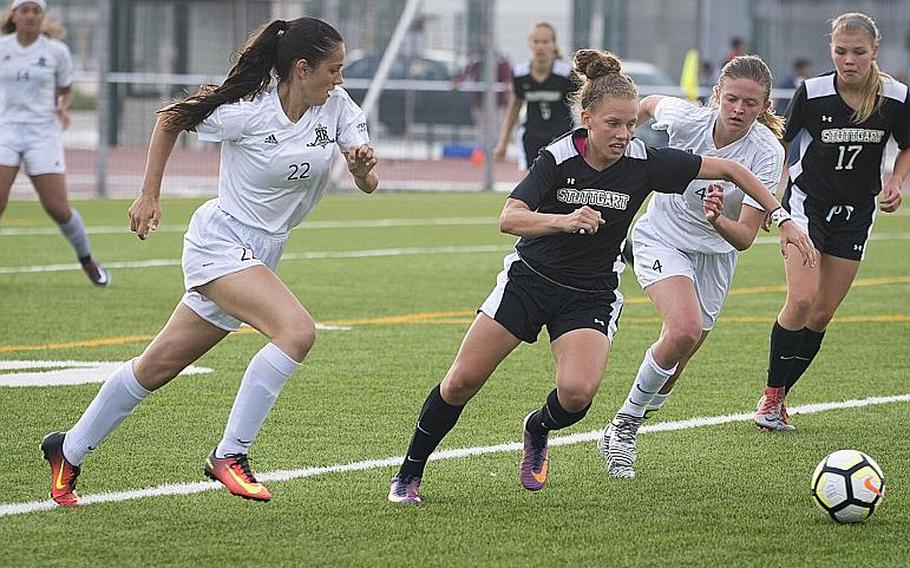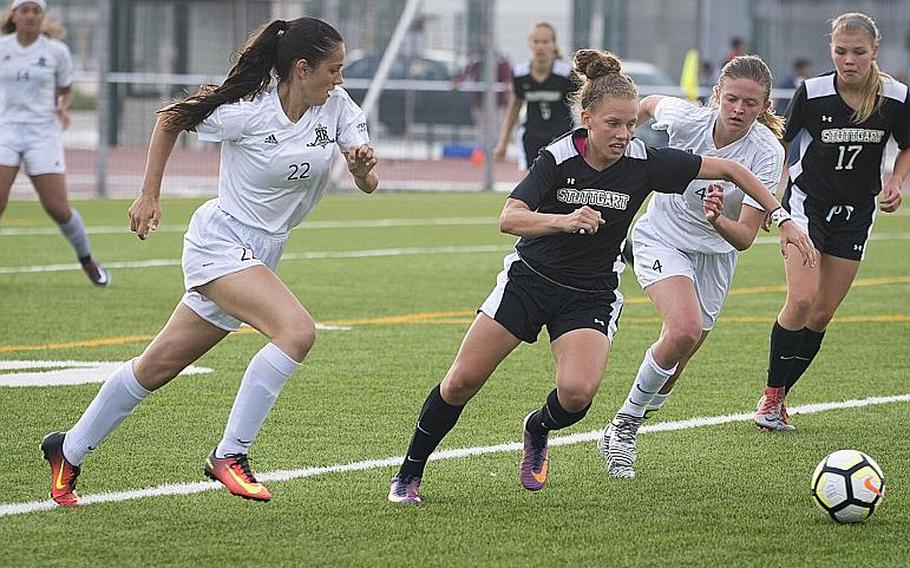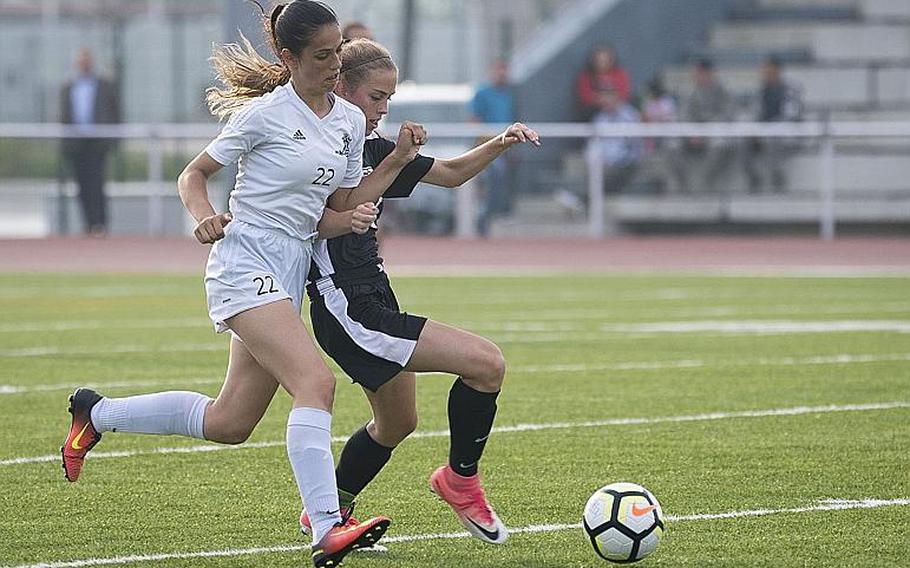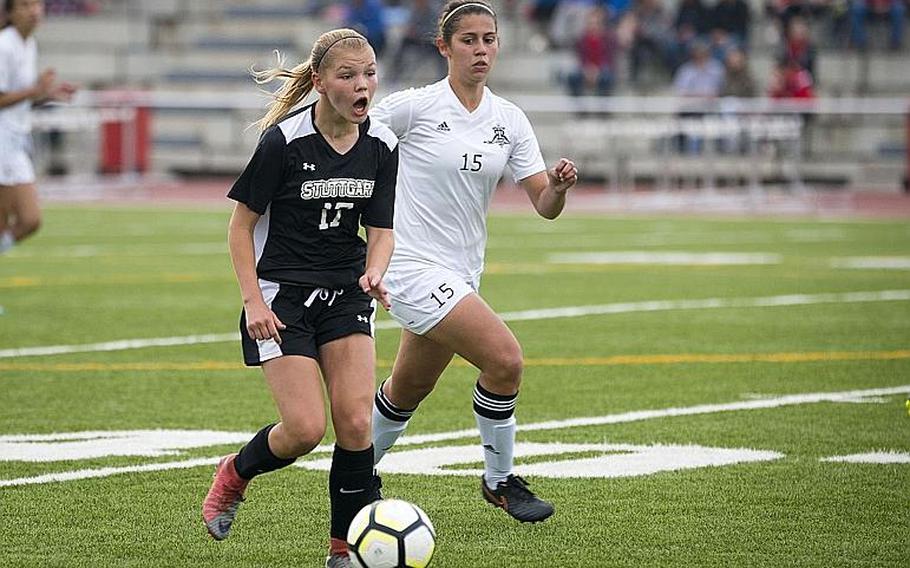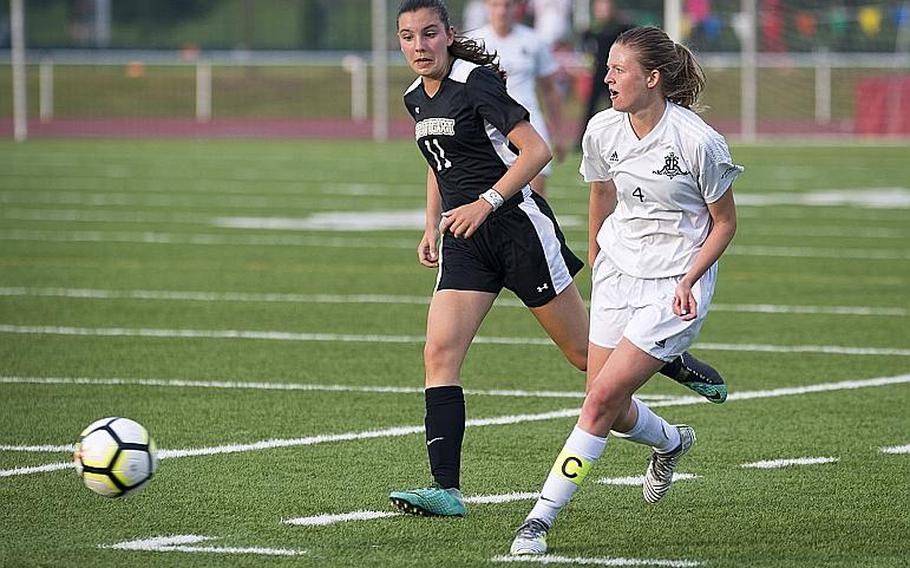 KAISERSLAUTERN, Germany — This time, they were prepared.
For the second consecutive year, the DODEA-Europe girls' Division I soccer title game came down to penalty kicks.
For the second consecutive year, the Stuttgart Panthers found themselves selecting five shooters and preparing their goalie.
This time, they came out winners, defeating a tough Ramstein team 1-0 (6-5 on penalties) when keeper Sammie Kellogg palmed away Jaelynn Galindo's shot, exorcising the demons of the 2017 final when the Panthers fell to Wiesbaden.
"We work on penalty kicks every practice and I told them at the beginning of the season that you've got to be ready to do it, to build our goalie's confidence and build our shooters' confidence," coach Bill Ratcliff said. "I know that's why we lost last year, on penalty kicks, and I was determined that if it came down to it this year we wouldn't lose on them."
The game itself was shortened to two 30-minute halves, rather than the usual 40, due to lightning delays earlier in the day. Extra time was also scrapped in favor of immediate penalty kicks in event of a tie.
It was a tale of two halves, with the Panthers – without star winger Emily Smith due to injury – coming out strong and asserting themselves in midfield, with Camille Pereira and Annika Seifart both coming close to scoring, only to be denied by Ramstein keeper Morgan Lewis.
In the second period, Ramstein grew into the game, and Kellogg had to scramble to keep out Aurora Davis, who looked to pounce on a rebound early in the half.
Striker Haley Deome put a volley narrowly over from a corner kick, and Rocio Fernandez produced a great turn and cross, but no one was at the back post for the Royals. Stuttgart had a chance of its own when Adan Maher won the ball back and crossed for Callie McGurk, whose shot was saved by Lewis.
The game deadlocked at 0-0 after an hour, penalties were imminent.
"About a minute left in the game I thought, 'This is it,'" Kellogg said. "I was kind of freaking out but at the same time I was prepared."
Both teams made three of their first five shots, Ramstein's Elizabeth Noel making a crucial kick to tie things up at three. Each of the next four takers – two from each team – made their next shots before Kellogg saved from Galindo. McGurk made the final, decisive shot for the Panthers.
"It feels amazing, to come back from that," Stuttgart's Madison Barta said. "It's hard to explain, it's just amazing. We were hoping to score in the game; that didn't happen, but we played our hearts out, came together as a family and left everything on the field."
It was a tough loss for Ramstein, which along with Stuttgart entered the contest with only a tie to the other squad marring a perfect record.
"We always pushed each other, it was so much fun," fullback Brittany Cunningham said. "I told the team to walk away with no what-ifs, we played a solid game."
Twitter: @DKS_Stripes