D-I girls final
Stuttgart staves off Naples to remain atop heap
---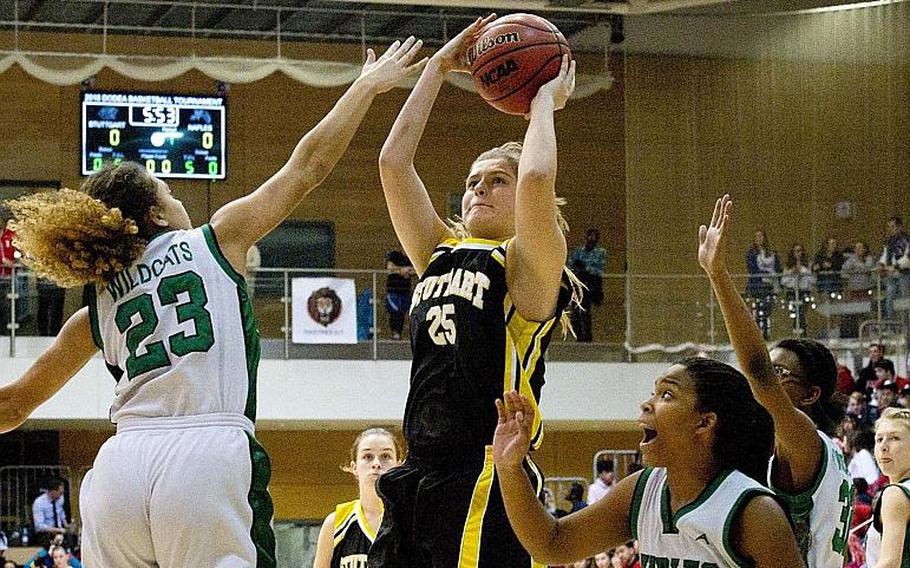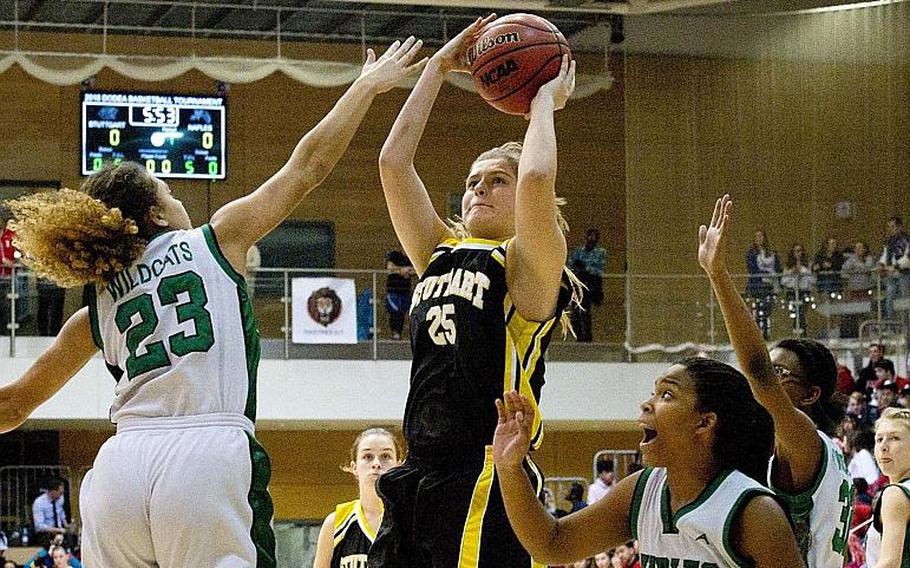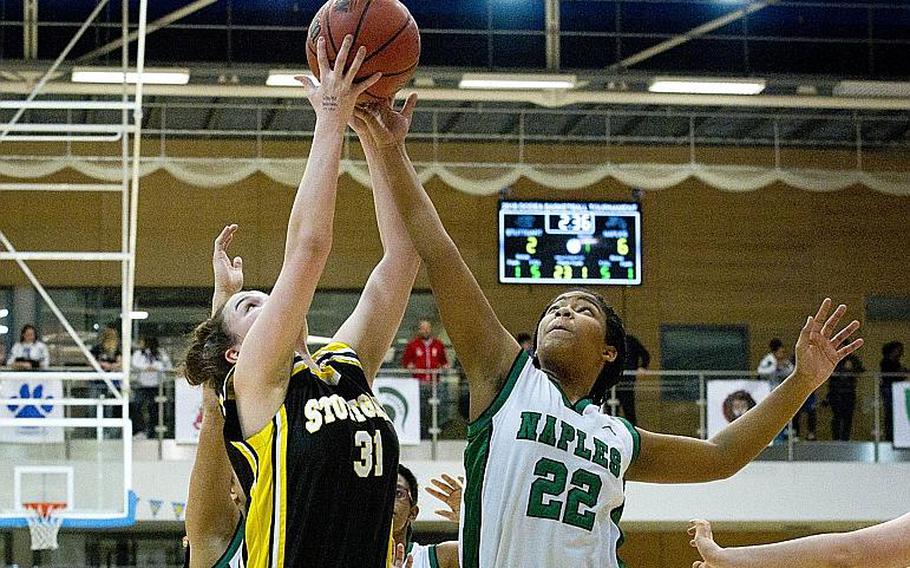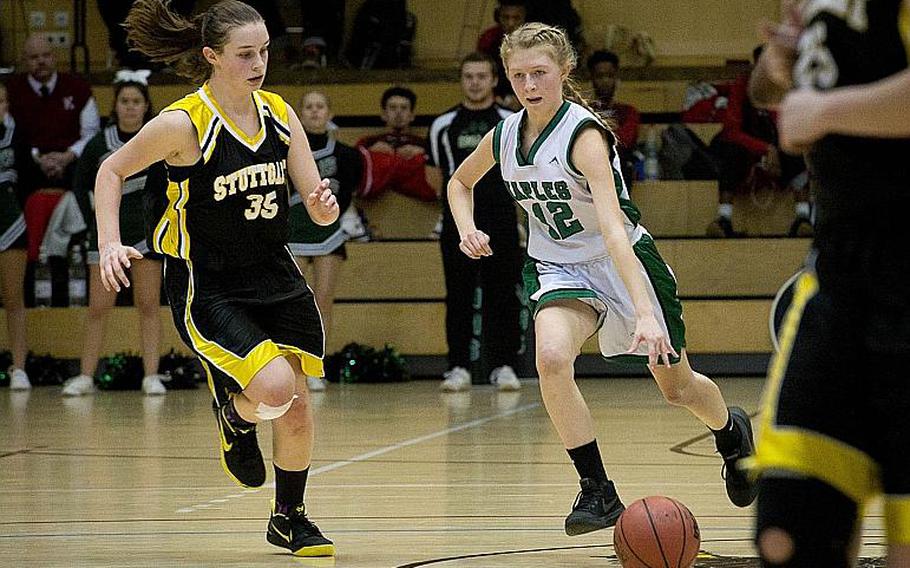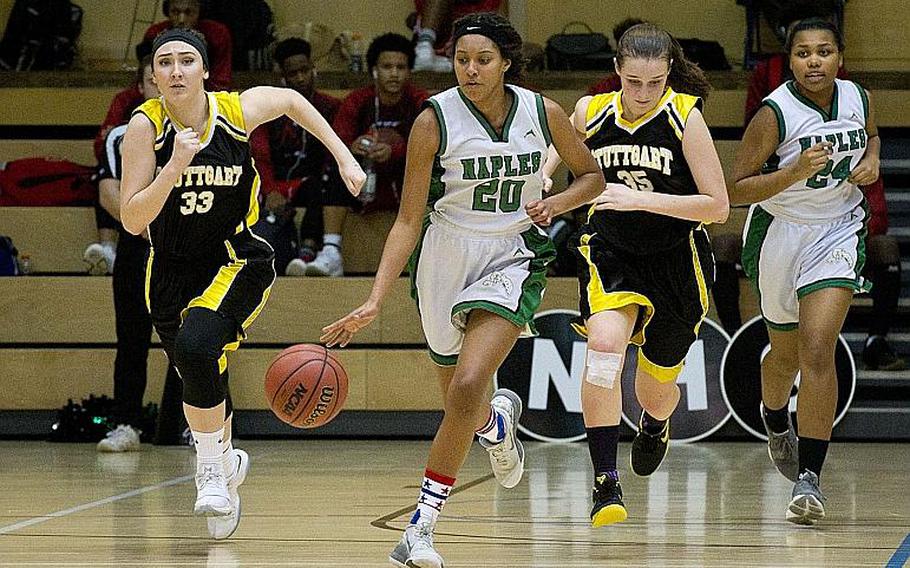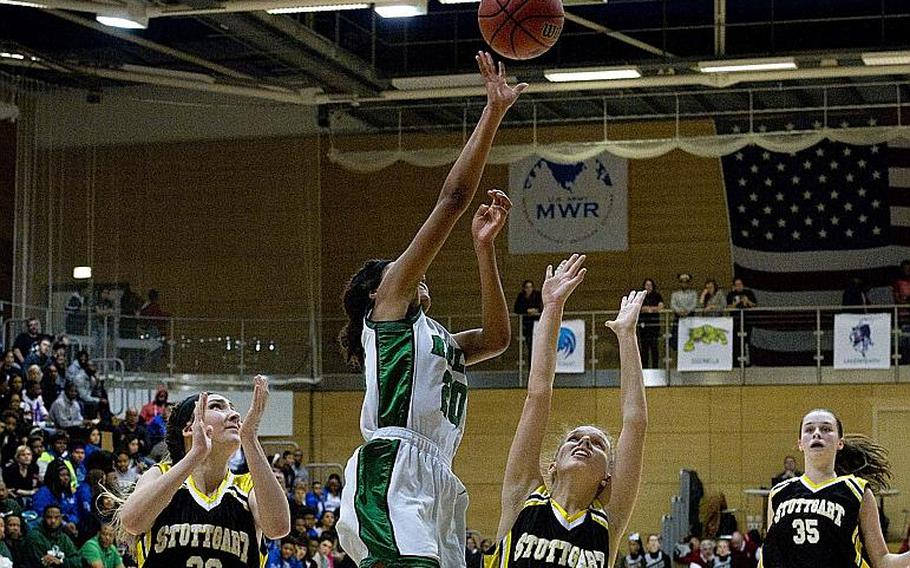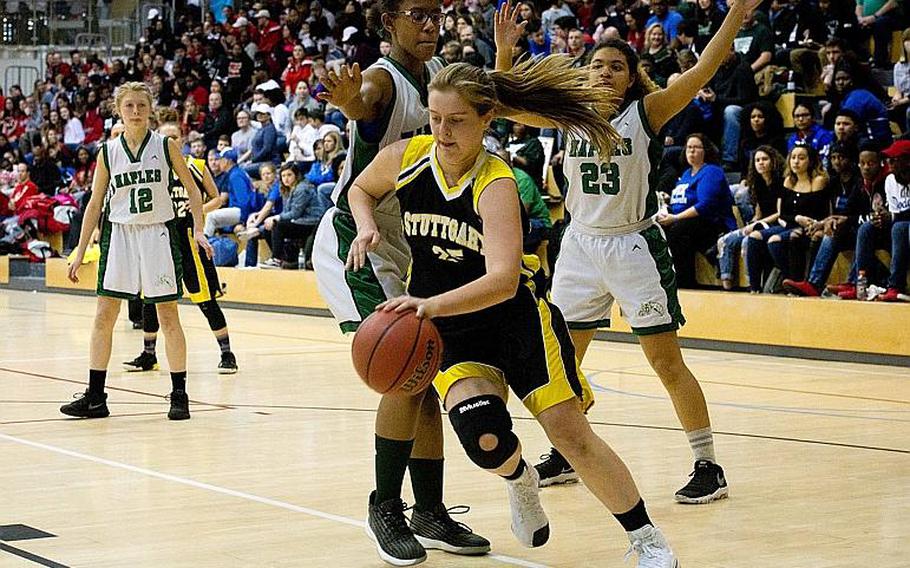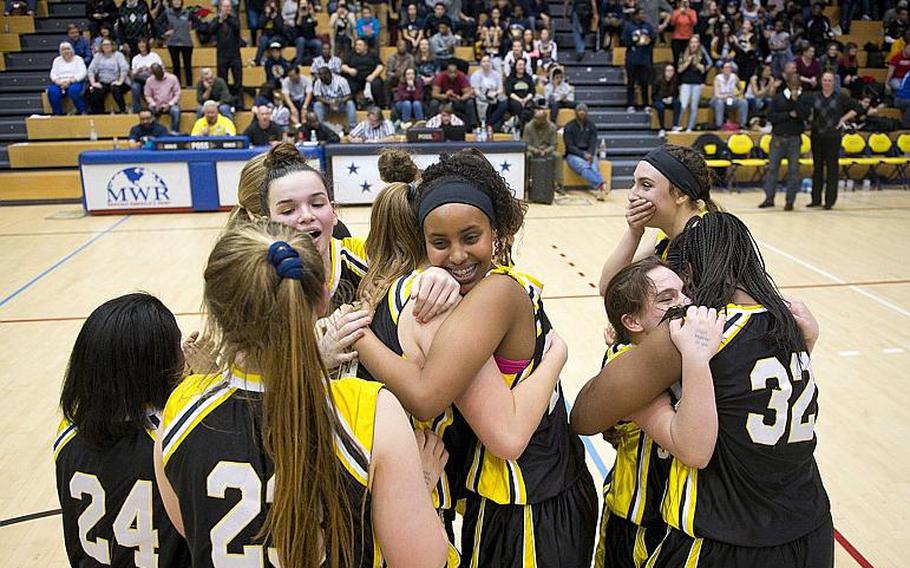 WIESBADEN, Germany -- The Stuttgart Panthers successfully defended their DODEA-Europe Division I girls basketball championship Saturday at Clay Kaserne Fitness Center, using an overwhelming run out of the halftime locker room to knock off the top-seeded Naples Wildcats 31-25.
Stuttgart fell behind immediately to start the game, but gradually clawed back and eventually ahead. Panther freshman Skye DaSilva Mathis snagged an offensive rebound and stepped into a putback shot that gave her team a 14-8 lead midway through the second quarter. But Stuttgart failed to build on its lead and settled for a 14-10 advantage at the break.
Neither the early deficit nor the second-quarter lull had an impact on the Panthers' confidence, freshman guard Claire Troiano said.
"We all had our spirits up," Troiano said. "We were all hyping each other up, making sure that we stayed positive."
In fact, the Panthers talked amongst themselves at halftime independent of head coach Robin Hess and hatched a plan to put the game out of reach. Senior post Ally Taylor described the impromptu meeting as a "conversation about what we needed to do."
Then Stuttgart went out and did it.
The Panthers held Naples to a single basket in the third quarter and poured in 10 points of their own for a substantial 24-12 lead entering the final eight minutes. That proved the decisive blow, as the Wildcats cut the deficit no lower than eight until an inconsequential last-second hoop.
"Pure determination," Hess said. "These girls wanted it."
Naples coach Tim Smith pointed to his team's failure to hold its early lead and struggles against Stuttgart's core of interior players as reasons for his team's loss. But more than anything, the Wildcats suffered one key shortcoming Saturday.
"We just couldn't shoot," Smith said.
Naples entered the tournament as an undefeated No. 1 seed. While some previous regional powerhouses had faltered against the consolidated competition found at the tournament, the Wildcats came into Wiesbaden with the look of a legitimate contender, thanks in part to December wins over Stuttgart and Vilseck, both eventual elimination-round participants, in neutral-court December meetings at Vicenza.
The Wildcats took a preliminary loss to Kaiserslautern, but survived pool play on a tiebreaker and advanced to its first big-school title game with a rousing 39-31 comeback win over Ramstein in a Friday semifinal.
Smith considers all that a success regardless of Saturday's outcome.
"Our kids have really done a great job," Smith said. "We wanted to win this, of course, but we had a great season."
Stuttgart cruised through the 2016-17 regular season and postseason without a loss, culminating with a 36-8 trouncing of rival Ramstein. Success did not come so readily this winter, as regular-season losses to Naples and Ramstein dropped the Panthers to the second tournament seed and the more difficult pool. But Stuttgart rounded into championship form in Wiesbaden, rollicking through the preliminary round and gritting out a 25-21 semifinal defeat of Vilseck.
For Stuttgart, that 39-35 loss to Naples on Dec. 9 proved a defining moment in its season.
"It was a huge motivator for our entire team," Taylor said. "We really cracked down and started working really, really hard. I think that allowed us to progress."
The game represented the second time in three years a recent Division II call-up from Italy has played in the Division I girls title game. Ramstein beat Vicenza in overtime in the 2015-16 final. The Naples boys nearly pulled off the feat last year before settling for third place after a semifinal loss to host Wiesbaden.
Taylor led all scorers Saturday with 12 points, while Troiano added seven. Freshman point guard Roxanne Sasse paced the Wildcats with eight points.
Twitter: @broomestripes
---
---
---
---