Wrestling preview
Stuttgart, Ramstein renew rivalry on the mat
by
Gregory Broome
December 5, 2019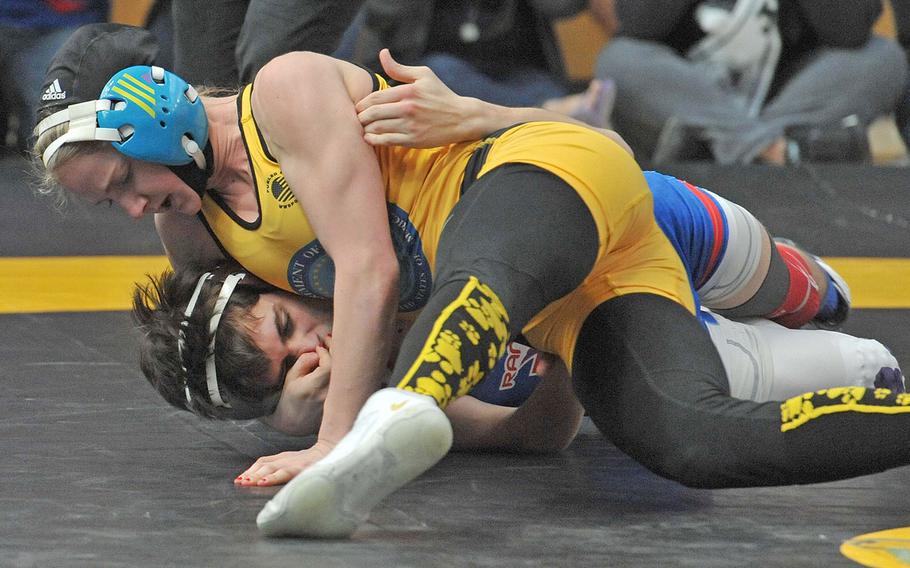 There's an old sports saying that a rivalry isn't really a rivalry if the same team always wins.
That's not the case in DODEA-Europe wrestling. While the Stuttgart Panthers have won the last six Division I team championships, their ongoing feud with the perennial runner-up Ramstein Royals is one of the organization's best in any sport.
Stuttgart will begin its pursuit of another European championship Saturday as it hosts one of three meets scheduled for the season's opening day. Ramstein will be in attendance for the proceedings, along with fellow Division I contenders Kaiserslautern and Vilseck. Lakenheath welcomes six schools to its northern meet, meanwhile, and Aviano plays host to the southern schools.
The reigning champion Panthers have considerable work to do to retain their title, as they won't field any defending individual champions this winter.
"It is going to be a tough year and we will be working hard with what we have," Panthers coach Norm Matzke said. "Either way we are going to have fun."
But that's not to say they don't have championship-caliber talent. Junior McKinley Fielding will again attempt to become DODEA-Europe's first female wrestling champion, making another run at the 106-pound crown after two consecutive runner-up finishes. Freshman Brogan Fielding figures to make an immediate impact of his own as the latest member of the family grappling dynasty at Stuttgart.
Returning runner-up Christian Just and 2019 third-place finishers Carter Hanes and David Segalla also figure prominently in the Panthers' plans to repeat.
The Royals will counter with a pair of defending champions in Conner Mackie and Teddy Ward headlining a remarkably deep roster that also includes 2019 second-place finishers Matthew Oreskovich, Christian Griffith and Gabe Davis. Ramstein coach Thomas Wright said 77 students tried out for the team, enough for the Royals to field three wrestlers at each of the 14 weight classes.
Such depth goes a long way at the European tournament, and it will be difficult for any Division I team to challenge the Panthers and Royals in that regard. Wiesbaden will make a go of it behind former champion Atreyu Allen and a core of 16 returning wrestlers; 2019 third-place finisher Vilseck has a pair of elite performers in Johnathan Alvarado and Hyrum Draper, but the Falcons' upward mobility is limited by a small roster size.
Rota has the inside track on a Division II repeat. The Admirals boast a 30-wrestler roster, 16 returnees and a strong core of contenders in Jacob Rivera, Philip Rivera and Brenon Colvin.
Former Division II challenger Spangdahlem is the early Division III favorite behind sophomore 120-pounder Carson Hicks, who burst on the DODEA-Europe scene last winter with a dominant run to the 113-pound championship. He's part of a trio of formidable young Sentinels at the lighter weight classes along with sophomore Brenden Castillo at 126 pounds and promising freshman Skyler Hickman at 106.
broome.gregory@stripes.com Twitter: @broomestripes