Stunner Saturday: USFJ-AFL division leaders take tumble
by
Dave Ornauer
June 19, 2010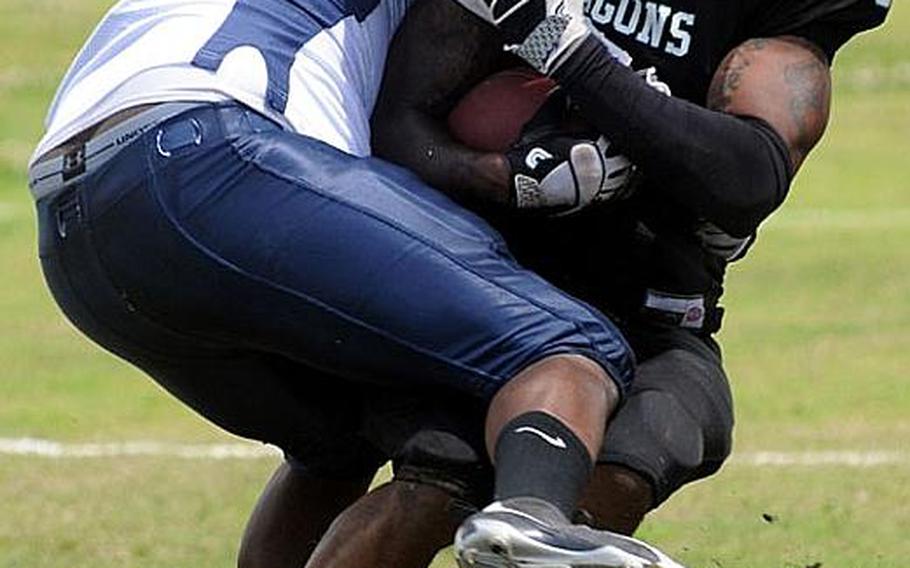 KADENA AIR BASE, Okinawa — Two of the league's also-rans sent the U.S. Forces Japan-American Football League's division leaders tumbling on Saturday, turning the chase for playoff berths into a wide-open battle:
• Emanuel Griffin ran for 184 yards and two touchdowns, and Kadena's defense forced five turnovers and nine sacks as the Dragons (2-2), last in the South Division, upended North-leading Yokota 40-28, Kadena's best offensive performance in four years.
• Rookie receiver Roger Veal caught the game-winning touchdown pass with 20.9 seconds left, capping a fourth quarter in which he caught five passes for 144 yards as defending league champion Foster (4-2) handed South Division-leading Joint Task Force its first loss in four games 20-13.
Yokota fell to 3-2 after opening with three straight wins; the Warriors host Misawa on Saturday, with the winner taking the North title. All three South playoff berths are up for grabs, to be decided Saturday and July 3 when Kadena meets Joint Task Force in successive weeks.
"It makes things a lot more interesting," Kadena coach Will Cupp said. "It's good to be back in the hunt."
Veal had been exhorting his teammates on the sideline to "give me the ball" in the first half.
"That was our plan, to make him hungry; now, he's ready to eat," Foster quarterback Frank Bryant said.
Kadena 40, Yokota 28 — Griffin snapped a 22-22 halftime deadlock with a career-long 81-yard touchdown run early in the third quarter, then increased the gap to 34-22 with an 8-yarder. Tim Lawson ran 39 yards for a score, and Xian Goldbolt caught a 14-yard touchdown pass.
On defense, Julien Duncan and Chris Ross returned interceptions for touchdowns. Jonathan Clay recorded 2½ sacks — giving him 5½ the last two games — plus a fumble recovery. Mike Christensen had two sacks, one for a safety, and a fumble recovery, and Nate Larkin had two sacks.
"It's good that those three stepped up," Cupp said of Larkin, Clay and Griffin, who finished with 288 all-purpose yards. "Hopefully, we can get their performance to energize a lot more members of the team."
Yokota's Fredrick Guild caught a 37-yard touchdown pass, James Stay returned a fumble and Anthony Fichera an interception for touchdowns, Ryan Jones ran for a score, Quinn Floyd recovered two fumbles, and Ernie Carrasco blocked a field goal and intercepted a pass.
Foster 20, Joint Task Force 13 — Bryant erupted for 272 second-half yards passing, including touchdown strikes of 12 yards to Marvel Thompson, 5 yards to Corey Moore and the 5-yard game-winner to Veal.
"He always wants the ball," Moore said of Veal, adding that he and Veal "got into it" after one series, and then Moore told Bryant: "He wants it? Let's give it to him. And we gave it to him, and that's what happened."
Veal finished with 174 yards on nine catches. Moore had 15 yards on four catches, and Damion Peterson and Rickey Shorter combined to catch four passes for 72 yards.
Early on, a season sweep by the Wolfpack seemed in the cards, thanks to Joseph Huewitt. He caught touchdown passes of 40 and 10 yards to put JTF ahead 13-0 in the third quarter, then halted a Foster drive with a clutch fourth-quarter interception.
Josh Adkins had two Wolfpack sacks. Quarterback Mike Geddie was 4-for-11 for 113 yards and ran 16 times for 31 yards.
ornauerd@pstripes.osd.mil
---
---
---
---