Student-athletes finding their way to U.S.
---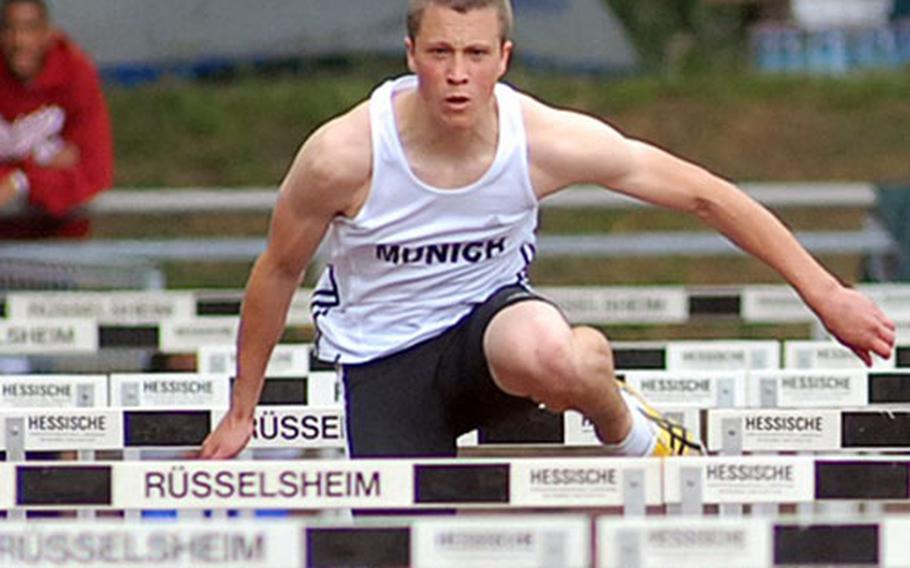 RELATED STORY:DODDS-Europe athletes flocking to Iowa college
Europe-based student-athletes who think their remoteness means "game over" when it comes to getting college offers from the States can draw comfort from Munich International School alums Tyler Brown, Kevin Durr and Jimmy Reed.
Longtime buddies, these three sons of staff and faculty members of the Marshall Center in Garmisch, Germany, despite being outside the mainstream even of the U.S. sports scene in Europe, will be performing for NCAA Division I colleges this fall.
"I'm really excited to bring my game to the next level," said Brown, a 2008 grad who'll resume his academic career this fall as a scholarship soccer player at the University of Massachusetts. "The A-10 Conference had two teams in the Top 25 last year."
Durr, who was selected for the U.S. national under-16 soccer team two seasons ago, chose to accept an offer to play for the Air Force Academy rather than one to join older brother Stefan on the James Madison University varsity. The brothers most recently played together in the spring as starters, along with Brown, on the FC Garmisch men's team.
"It was a good option for me," Durr, who graduated last month, said of choosing the Air Force. "I'm fluent in German and will get a chance to try foreign area studies at the academy."
Reed, also a 2009 grad who lettered in soccer, track and (how's this for an idea, DODDS?) Alpine skiing, will focus on track when he enrolls at the University of Maine this fall.
The 2007 DODDS-Europe and the 2008 International Schools Sports Tournament champion in the 110-meter hurdles, Reed will seek to reclaim the school record in the event for his family. His father, Ben, once held the mark.
"It's funny how it works," Reed, who ran the 110 in a hand-timed, unofficial DODDS-Europe-record-tying 14.40 seconds at Ansbach in May, said by telephone from the States. "Initially, I never gave (going to Maine) any thought, even though my parents and my sister went there. In the end, though, Maine was the only school that talked to me about running track."
Exemplifying the comparatively exotic childhoods of today's military children, all three will be virtual immigrants when they return to the U.S.
Brown is a veteran of youth soccer in the Ukraine and Uzbekistan, where he endured the bruises and bumps of the East European-Central Asian game.
"It wasn't soccer," he chuckled. "It was really physical. But my defense benefited immensely from the experience."
So did his education.
"I'm planning to major in Russian or East European studies," the center midfielder said. "Education is No. 1 with me."
Durr, a midfielder, probably surrendered his chance to play professional soccer by accepting the five-year duty commitment that comes with an academy education.
But he has his reasons. "I'd like to be a fighter pilot," he said.
Durr said he expects to feel a bit foreign when he goes to the States this summer, but Reed has a different take on the experience.
"It'll be a lot different from Germany," he said, "but I've always liked the States. I'll be happy here."
---
---
---
---