Stormy weather was wild card of Far Easts
by
Dave Ornauer
May 3, 2004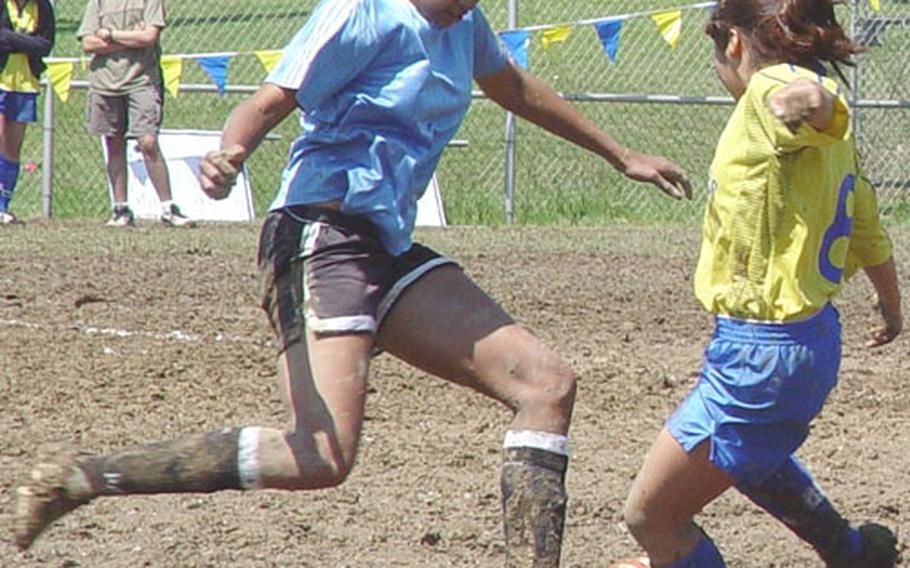 Sharon Goodman had a bad feeling as she arrived at Zama American High School Tuesday and saw the schools' students milling about outside on the football field.
High wind and heavy rain were already threatening to turn Day 2 of the Far East Girls Class AA soccer tournament into a mudfest. A bomb threat forced the school to follow its evacuation plan and send students onto Trojans Field, one of two fields used for tournament play. For Goodman, the tournament director, the delay only added to concerns prompted by wet conditions.
"I was wondering what to do about round-robin games," she said.
Such was Mother Nature's starring role in an unusual Far East Soccer Tournament week. Two days of rain in Korea and one in the Tokyo area turned fields into quagmires and forced Girls Class A Tournament organizers to revamp their preliminary-round schedules. The Boys Class AA and Class A tournaments went on as scheduled.
But not in the seven years DODDS-Pacific has sponsored Far East soccer tournaments had weather put such a huge stamp on events.
"Not only did the ball not go anywhere, you practically sunk your legs in, trying to kick it," said junior striker Brieanna Carroll of Korea's Pusan American Panthers. "And your feet would get stuck. You could barely run. A lot of times, the ball would stop dead right in front of the goal."
In Pusan's 1-0 semifinal victory over Osan American, played Wednesday under sunny skies but with mud everywhere, "I had five shots like that, wide-open shots that would just stop and now go anywhere," Carroll said.
Faced with the possibility of not finishing the tournament because of deteriorating field conditions, organizers slashed the round-robin schedule from three to two games per team. Single-elimination playoff seedings were based on the first day of pool play.
"That put us back on track but we lost all the Tuesday morning games everybody was going to play," said Pusan American athletic director Laird Small, who served as the Class A tournament co-director. "But we decided that was the lesser of two evils."
Back at Zama, Goodman's hopes of squeezing in all the Day 2 games were dashed when the threat of lightning prompted base command to halt play at 4:35 p.m. Goodman was left with eight matches to make up and just six referees — who were available only after 1 p.m. each day.
She decided to scrap the second day of pool play, basing single-elimination playoff seedings on Monday's play.
"Some of the coaches weren't happy," Goodman said. "They were cooperative but some had other ideas."
For some teams, the decision had big consequences. Nile C. Kinnick tied Seoul American for the top spot in Pool A but ended up with the second seed based on goal differential. The Red Devils had to face eventual tournament champion Kadena in the semifinals rather than the championship.
"Of course, we'd rather have been out there in the finals but that's the way the cookie crumbles," coach Nico Hindie said.
The scheduling of Wednesday's Girls Class A final for immediately after the second semifinal hurt Pusan American. The Panthers dethroned two-time champion Osan American 1-0, but an hour later had to face Faith Academy of the Philippines, whose players had almost three hours' rest. The Panthers lost 7-0, their worst loss of the season.
Faith "had an advantage," Carroll said. Had Pusan played the first semifinal, "it would have made a lot of difference. We could have rested, put new clothes on, not be so cold and we would have been able to watch them, think a lot more about how to approach the game."
Small agreed, saying, "Ideally, that was not enough time. The Pusan kids were really dragging."
With Pusan slated to host the tournament again next year, Small said he and co-director Gary Canner are examinging the possibility of playing the semifinals in the morning and the championship in the evening.
They'll also consider renting the auxiliary field at Sajik Stadium in downtown Pusan.