BOYS SOCCER PREVIEW
Stingy Ramstein set to defend DODEA-Europe boys soccer championship
---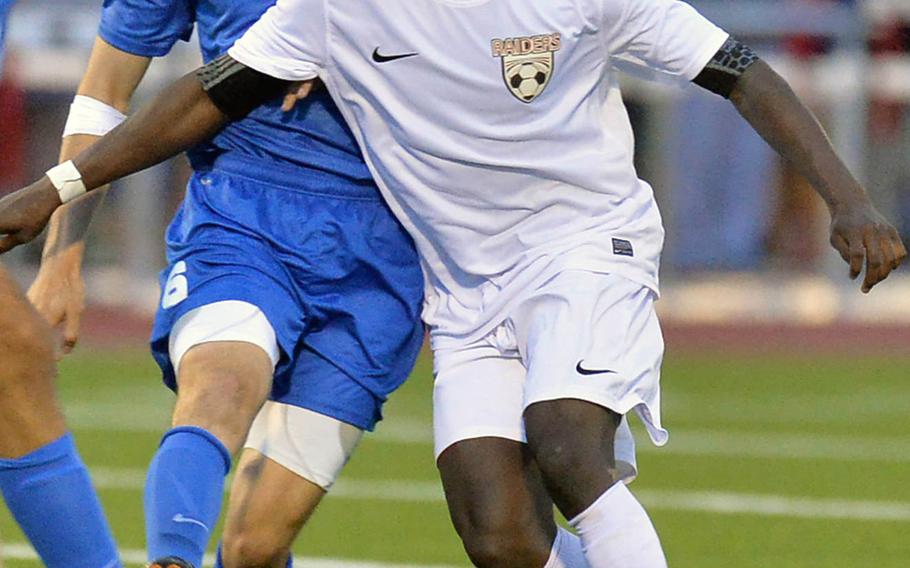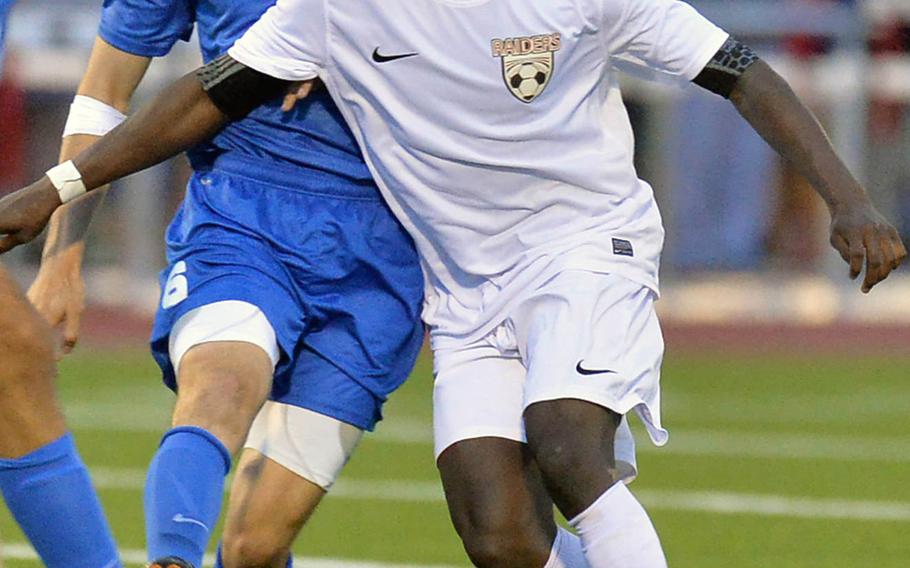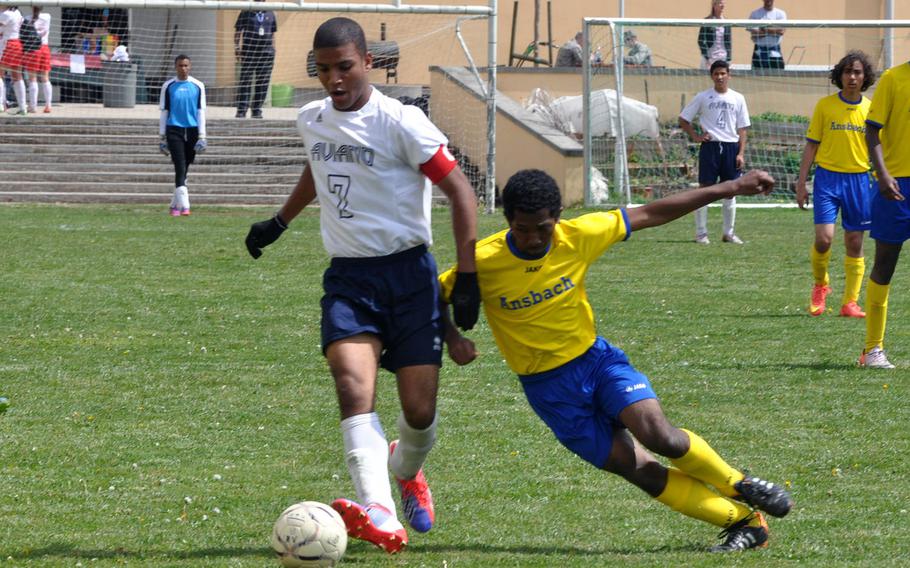 Simmering rivalries are set to heat up again as the 2016 DODEA-Europe boys soccer season kicks off this weekend.
The Friday-Saturday action is found mostly in Italy, where six teams across all three divisions will see action. A game apiece in England, Belgium and Germany round out the light opening-weekend schedule, just two months removed from the European championship tournament set for May 18-21 in the Kaiserslautern Military Community.
Division I The Ramstein Royals are on a streak of two straight Division I championships, but they might prefer to say they're on a two-year streak of preventing the rest of Division I from winning those titles.
Ramstein has ratcheted up the defensive pressure over the course of its title reign, an effort that reached its apex in last year's 1-0 victory over International School of Brussels. That shutout followed a regular season in which the Royals yielded just five goals across seven games, and a tournament run in which they were scored on just once.
Coach Dominik Ludes promises more of the same this spring, and he's got the personnel to do it. On a roster with 13 returning players, including eight starters, Ludes singled out center back Antonio Oduber and midfielders Conner Ullian and Nick Meza — all 2015 first-team All-Europe selections — as keys to the Royals' continued success.
But the teams that Ramstein has frustrated over the last two seasons are eager to shrug off the Royals' oppressive reign.
ISB, the last team other than Ramstein to win a European title, figures to remain a key player in the large-school race under coach Philippe Kaisin. But the Raiders, aside from their impressive track record, will remain something of an enigma for much of the spring, playing just one game before spring break and avoiding a rematch with Ramstein until May 14, the final day of the regular season.
Kaiserslautern and Wiesbaden, both 2015 semifinalists, return experienced squads eager to capture the crown that has so far eluded them.
Junior striker Alexander Dexter, the reigning Stars and Stripes boys soccer Athlete of the Year, and seniors Ryan Rimmler and Shelton Carter top a Kaiserslautern squad that has been on the cusp of a championship breakthrough for the entirety of Ramstein's title run. The Raiders lost to the Royals in the 2014 title game and were ousted by ISB in a rugged 2015 semifinal.
Wiesbaden packs a promising mix of youth and experience as it seeks to improve on last year's fourth-place finish. Forward Asante Lattimore and midfielder Eric Arnold, both seniors, lead a Warrior roster featuring three freshmen and five sophomores among its 17 players.
While each of last year's final four will be tough to supplant, Division I packs several teams with the potential to do exactly that.
Naples has nine seniors, including star forward Davide di Costanza, among its 14 returning players. A new Wildcat coaching staff, led by athletic director Dirk Lambertson, is determined to improve on last year's early postseason exit.
Stuttgart returns established talent at several key positions, including defender Tyler Kearny, midfielder Daniel Bacskai and wing Judge Morgan, providing what coach Eugene Macadagum described as "leadership and chemistry." The Panthers are coming off a strong 6-1 regular season a year ago and will draw motivation from the stinging 1-0 loss to ISB that ended their tournament run in the preliminary round last spring.
Lakenheath, Vicenza, Vilseck and SHAPE will look to scrape their way into contention after struggling in 2015.
Division II Last season was one of momentous change for DODEA-Europe's middle-class soccer programs.
First, realignment cleared the crowded bracket of teams at both extremes, shuffling large schools like Naples to Division I and small ones like Baumholder to Division III.
Then, upstart contender Bahrain wrested the title from Marymount, ending a half-decade dynasty with a dramatic 5-4 shootout victory in the European title match.
The fallout from that upheaval now represents the new status quo in Division II. The streamlined field suggests opportunity for all, even as Bahrain and Marymount present a formidable pair of roadblocks.
The question, then, is what's the next development?
Seasoned Division II contenders, such as AFNORTH and Black Forest Academy, hope to provide the answer. Both schools went undefeated in divisional play last regular season, and each followed that up with a solid run to the semifinal round. BFA is in particularly strong position for a resurgence, returning senior defensive specialist Jason Kragt among eight incumbent starters.
Meanwhile, mid-tier teams like Hohenfels, Aviano, American Overseas School of Rome and Bitburg will attempt to hammer their way into the tournament's elimination rounds.
Hohenfels has a healthy 16 varsity players back from last year's 6-2 squad, including standout forward Kiernan Blouin. Seniors Lorenzo King and Shawn McElwee headline a group of 10 returnees for a tight-knit Aviano group. Bitburg coach Sinan Yucel said the Barons enjoyed "a good turnout" this year, giving the small program more depth than it usually enjoys.
While those longstanding divisional hopefuls are ready another assault, threats also loom from the geographic fringes of Division II. Reigning Division III champion Florence moves up to test the titans of its new division, while Rota will try to extend its emerging DODEA-Europe athletic prowess to the soccer pitch.
Division III The small-school soccer ranks have thinned in the past year, revealing a 2016 field that returns just two of its four 2015 semifinalists.
Florence's move up to Division II leaves the Division III championship vacant, and the closure of Menwith Hill removes a challenger from the chase. That leaves runner-up Sigonella, which boasts senior midfielder Dylan Van Wynsberghe among six returning varsity starters, and third-place Alconbury as the top incumbent contenders.
The Brussels Brigands, just weeks removed from a dramatic boys basketball championship, will look for a similar breakthrough on grass behind the same core group of athletes. Brothers Michael DeFazio and Dominick DeFazio, junior striker Tim Wilkinson and sophomore sweeper Callum Proulx provide what coach Chuck Drouillard calls a "solid base that we can build around."
An almost entirely new roster will carry Baumholder's playoff hopes, while Ansbach, which swapped spots with Florence in a small realignment earlier this school year, will try its luck at the small-school level after a winless 2015 at Division II.
broome.gregory@stripes.com Twitter: @broomestripes
---
---
---
---