Steelers and Seahawks fans party it up on Super, uh, Monday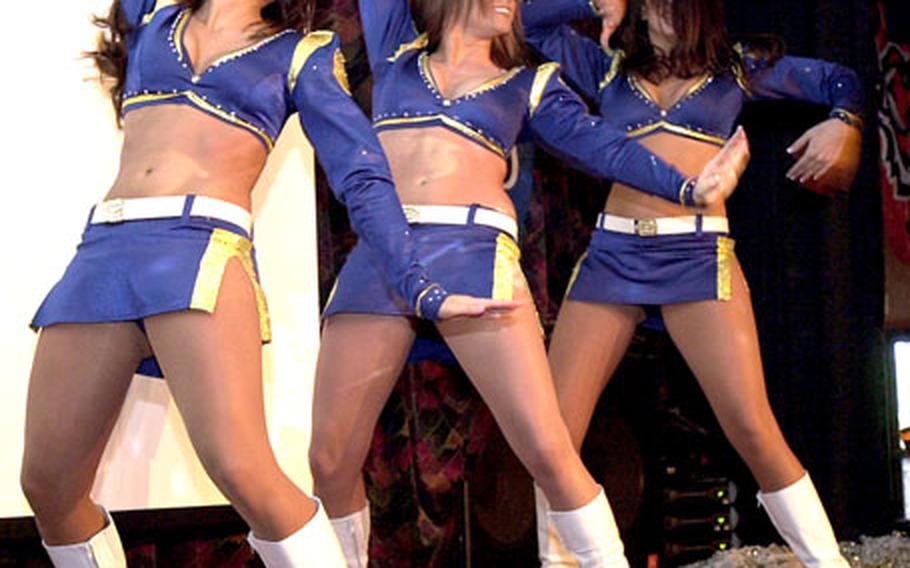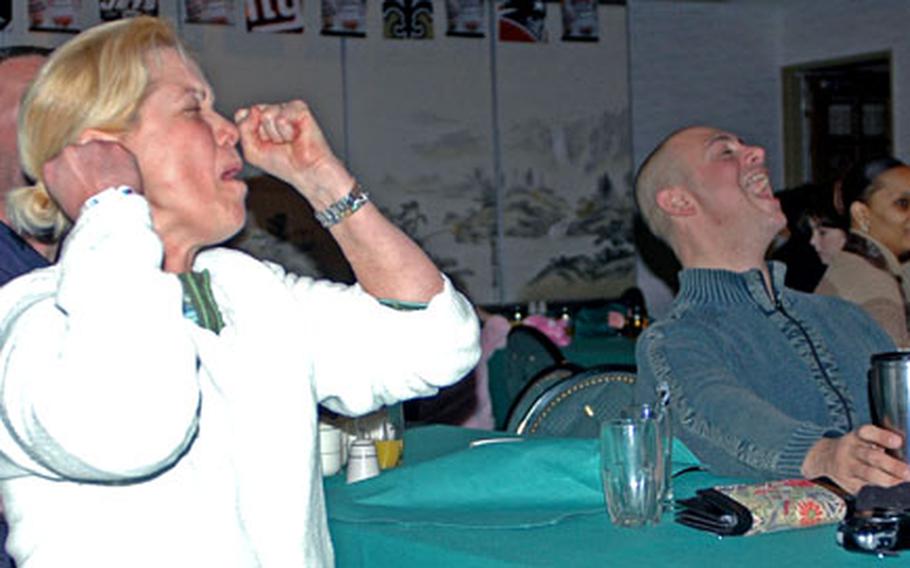 Pittsburgh Steelers fans jumped up, hands in the air, and roared.
Wide receiver Antwaan Randle El had just thrown a 43-yard touchdown pass to Hines Ward with 9:04 to play, sealing a 21-10 victory over the Seattle Seahawks in the Super Bowl.
For Pittsburgh fans, sporting Steelers black-and-gold jerseys and waving "Terrible Towels," the celebration had just begun inside Camp Zama's Community Club.
"It's all over but lights out," proclaimed Army Master Sgt. Mark Sanders, a Pittsburgh native decked out in Steelers garb. "That's all she wrote."
He was joined by fans from Singapore to Seoul who turned out Monday morning at base clubs and community centers throughout the region, along with handfuls of Oakland Raiders and St. Louis Rams cheerleaders, to take part in what arguably is the world's biggest one-day sporting event.
Despite the time difference — kickoff was at 8:25 a.m. Monday Japan and Korea time — bases and commands gave leeway for most service members and civilians to enjoy the day.
The presence of the Oakland Raiderettes, who fanned out to major Japan bases, and St. Louis Rams cheerleaders, who appeared on bases in South Korea and Okinawa, was "icing on the cake," said Bob McKeta of Zama's Morale, Welfare and Recreation marketing office.
"There's always interest in the Super Bowl, but if you get a name attraction, that adds so much to it," McKeta said. The cheerleader visits were sponsored by base MWR and services divisions and Armed Forces Entertainment.
"Outstanding," Army Sgt. Chris Davis of Zama's 88th Military Police said as he received an autograph from a Raiderette. "It's nice to have that kind of support from the States for the soldiers stationed here."
Two of the Oakland cheerleaders, Lori O'Dell and Tiffany Buenaventura, grew up as Army dependents.
"I have nothing but the highest respect for the military and their family members," said O'Dell, whose father, retired Army Staff Sgt. Randy O'Dell, fought with the 9th Infantry in Vietnam in 1967.
"It's more personal for me," said Buenaventura, whose father, Army Sgt. 1st Class Andres Buenaventura, runs a recruiting detachment in their hometown of Antioch, Calif. "I feel very honored and privileged to come here. Knowing what it's like to be away from loved ones, to be gone for six months at a time, it's nice to give back."
As kickoff approached, fans of both teams at Rocker NCO Club on Okinawa's Kadena Air Base spent time posturing and taunting. The crowd of 250 or so displayed a large number of Steelers jerseys.
Staff Sgt. Erik Marsaln of Kadena's 718th Civil Engineering Squadron went a step further, decked out in pants covered with the Steelers' logo, a jersey with the No. 43 of All-Pro safety Troy Polamalu, a jester-style Pittsburgh hat and even a Polamalu-style wig sporting long curls.
"I got lucky," Marsaln said. "I ordered the wig online and it just came in last Thursday afternoon."
Only a handful of Seahawks jerseys, all featuring NFL MVP Shaun Alexander's No. 37, were in view at Zama. "I had to FedEx mine here," said avowed Seahawks fan Staff Sgt. Jeff Waye of U.S. Army Japan at Zama.
As the game wore on, fans exchanged good-natured trash talk.
Bill Hafemeister, a Department of Defense Dependents Schools employee of Kadena Middle School wearing No. 37, boldly predicted that Alexander was "definitely going to get 100 yards, and I'll give him two touchdowns."
"Not against my boys — my 'flyin' Hawai'ian,'" Marsaln rejoined, referring to Polamalu. "It's going to be Pittsburgh, man. One for the thumb," referring to a fifth Pittsburgh Super Bowl championship ring.
Much the same give and take occured at Sasebo Naval Base's Harbor View Club in Japan, where fans were equally enthusiastic about their teams.
Chief Warrant Officer 2nd Class Shawn Parson, a Pittsburgh native, alternately flailed his arms, bolted from his chair and hoarsely shouted cheers when the Steelers' offense scored or the defense stymied the Seahawks' offense.
Lt. Cmdr. Lisa Braun, a Seahawks fan, and Petty Officer Don Acker, a Steelers supporter, joyously raised their arms in cheers throughout. When Acker crowed, Braun frowned; when Braun thrust a celebratory fist in the air, Acker scratched his head.
Contests included a "King of the Quarter" drawing at Zama, in which two winners sat flanked by Raiderettes during the second and fourth quarters. The Raiderettes also got five GIs on stage to "learn how to be a Raiderette" and engage in a dance-off for more prizes.
After a tight first half, the Steelers broke out solidly when Willie Parker rambled 75 yards for a touchdown, the longest run in Super Bowl history.
"I told you Parker was going to break a big run," said Marsaln, who at halftime predicted Parker, Ward and Polamalu each would make big plays.
"I called it! I called it!" Sanders exulted after Parker's breakaway run.
The Seahawks clawed back on Matt Hasselbeck's scoring pass to Jerramy Stevens.
Steelers fan Sgt. Tracy Syndab admitted to feeling "kind of sick" when watching that play at the Main Post Club on Yongsan Garrison in Seoul. Though hailing from South Carolina, most of his family consists of Steelers fans — except his son, an avowed Dallas Cowboys fan.
"If we lose, I'm sure he'll be calling me up," Syndab said.
It turned out there was no need, thanks to the Randle El-to-Ward gadget play.
Finally, as the game and Seahawks' misery ended, Sanders tipped his hat to his opponents.
"They (Seahawks) came and put up a fight, but we're used to running through No.1 teams," Sanders said. "We did it in the AFC, and we felt we had to do it to the NFC."
Seattle native Leslie Lovata, a Yongsan Garrison civilian, recognized her team for coming as far as it has this year, the fresh loss notwithstanding.
"Seahawks fans have been waiting for this for years," Lovata said. "Just getting into the playoffs is a big deal."
Stars and Stripes staff writers Erik Slavin, Greg Tyler, Fred Zimmerman and Dave Ornauer contributed to this report.