Steal ends Yokota boys' title dreams
---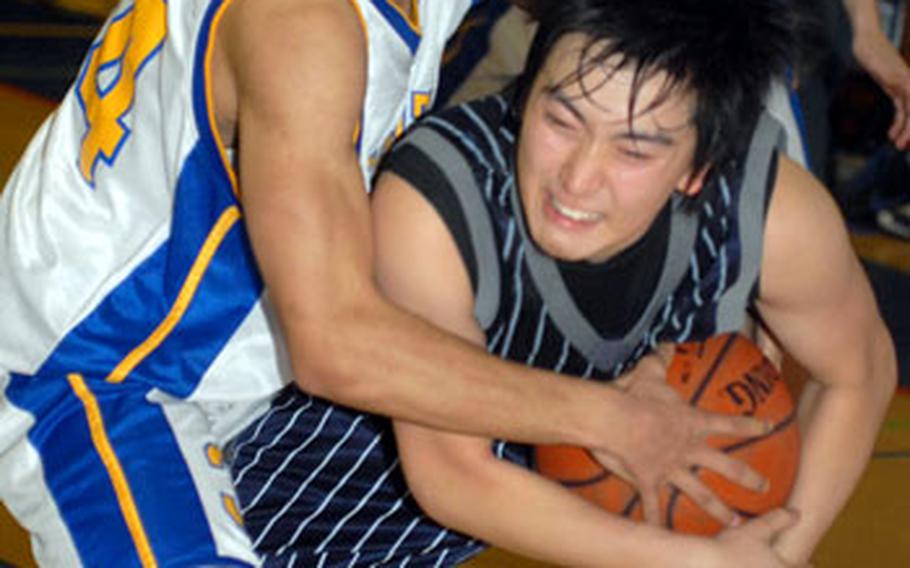 YOKOTA AIR BASE, Japan — Loose basketballs tend to spell trouble.
But to St. Mary's International senior Hayato Nishi, the loose ball in front of him in the closing seconds of Saturday's championship game spelled opportunity with a capital O.
"I just wanted the ball in my hands. I wanted to take control of the game," Nishi said of his steal with 12.4 seconds left that helped seal the Titans' 35-33 victory over host Yokota in the 60th Far East High School Boys Class AA Basketball Tournament title game.
St. Mary's captured its third Class AA title this decade, but its first since 2002 and the first one the Titans clinched on Kanto Plain soil.
"It's amazing. It's awesome. I can't put it into words right now," Nishi said.
The heartbroken Panthers lost for just the second time this season. They were the 20th host team to reach the final since 1982, but have lost all five of their opportunities on their home court. Overall, they're 1-7 in finals appearances since 1982.
"Give credit to St. Mary's. They peaked at the right time. They deserve the banner," Yokota coach Paul Ettl said of the Titans, who entered Far East 14-12 on the season and went 1-2 in pool play before winning their last three games.
The championship was a chess match of the highest order, featuring six ties and eight lead changes, most coming in the fourth quarter. Neither team led by more than the Titans did, 7-2 early in the first quarter on Amritpal Warraich's three-point goal.
Unlike St. Mary's two regular-season losses to Yokota, "we did not turn the ball over," Titans coach Fred Sava said. During the season, "They go to a press every time we play them, we throw it away four or five times, game over. This time we didn't … we got them into a half-court game and St. Mary's can play anybody in a half-court game. And we got lucky, and they didn't."
Fortune smiled on the Titans in the most fundamental of areas — the foul line, where St. Mary's shot 12-for-16 to Yokota's 7-for-15.
"Things didn't fall our way tonight," Yokota junior DeEric Harvin said. "It seemed like they made more shots than we could hit."
"We had trouble shooting. We missed a lot of opportunities early," Ettl said. "We shoot free throws well all season, and tonight we didn't. We also made some critical mental mistakes in the last couple of minutes."
One came with 1:30 left when Yokota, leading 33-31, was trying to run out the clock. Keron Brown missed a shot in the lane, St. Mary's Toni Taniguchi rebounded, was fouled and hit both free throws.
"We didn't want that shot," Ettl said. "We were trying to run it out."
Sean Durham's foul shot with 24.2 seconds left broke the tie and set up Nishi's heroics. Nishi hit a foul shot for the final margin. Brown's 40-foot game-winning three-point attempt rimmed out at the buzzer.
"It looked good to me, but it came up short," Brown said. "I'm proud of our effort, but I'm not proud of the outcome."
---
---
---
---