Home Team
Sport's mental aspect tough on young golfers
---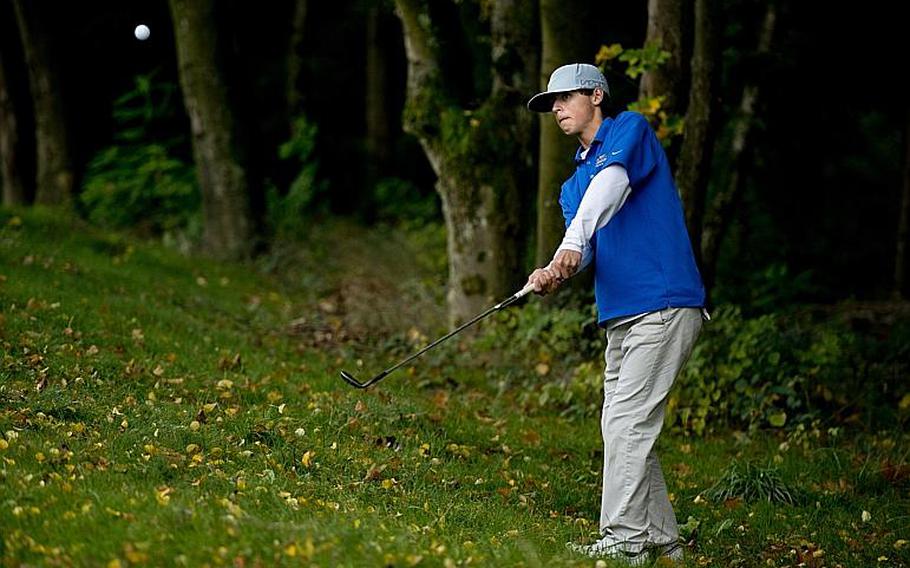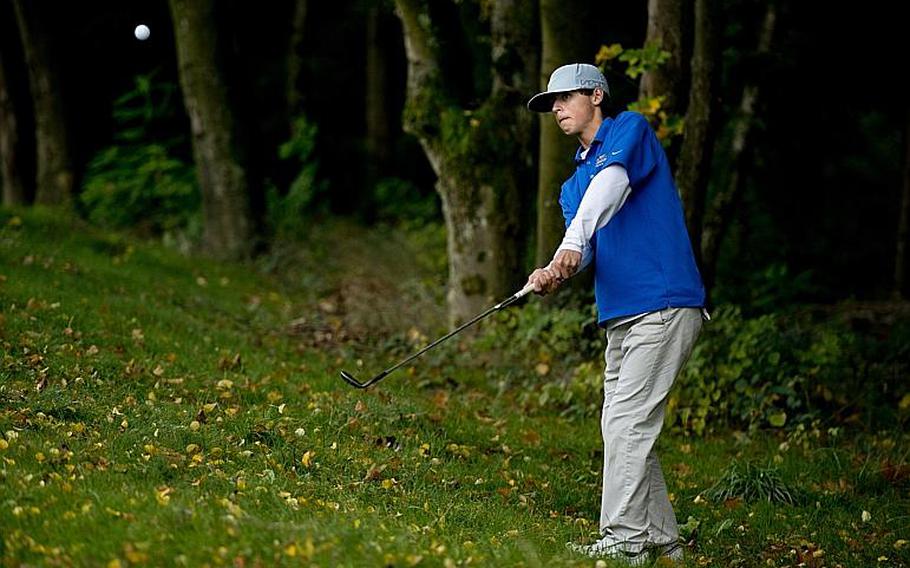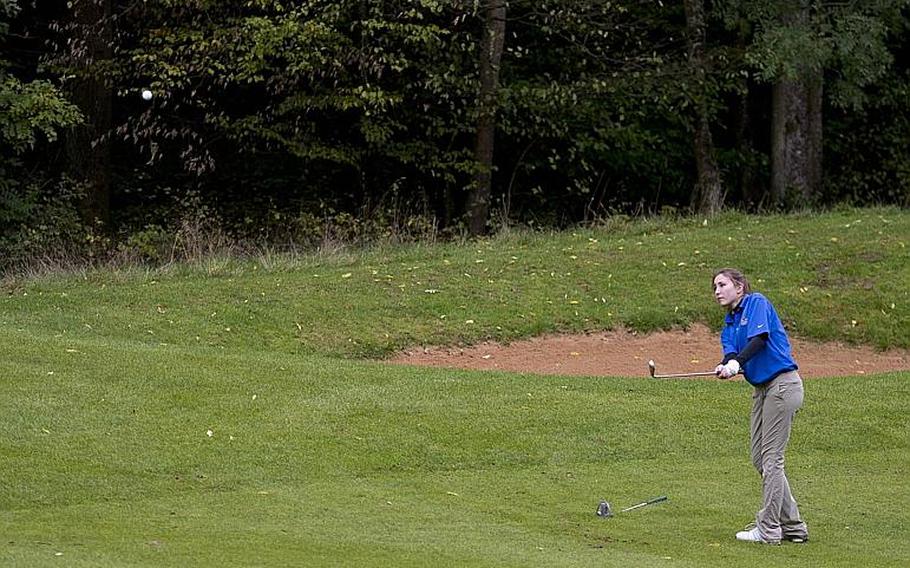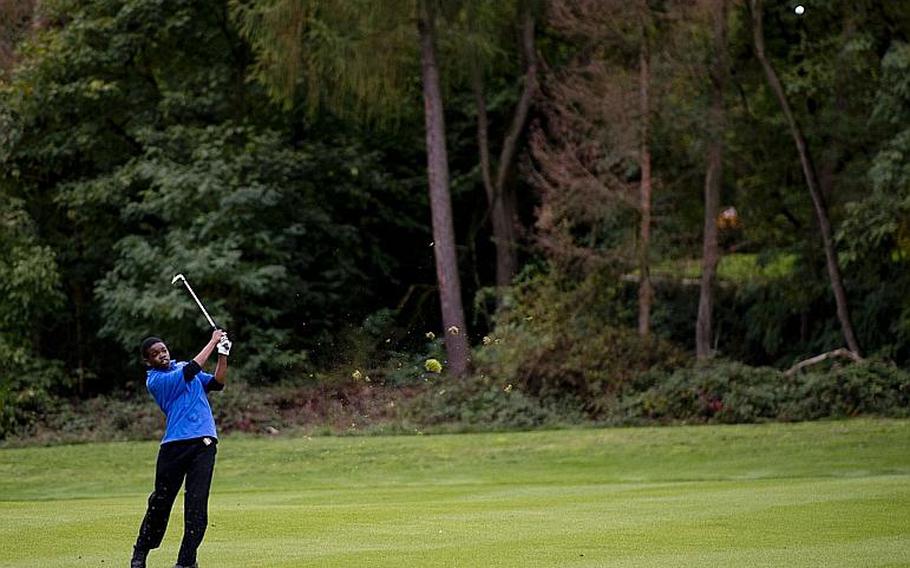 WIESBADEN, Germany – For some, the goal is to be more serious. For others, it's to lighten up. The elusive sweet spot lies somewhere in between, and might never be pinpointed exactly.
Such is the complicated mental game of golf, a facet of the sport every bit as challenging as the physical acts of driving, chipping and putting. And on Wednesday, in the first round of the two-day 2015 DODDS-Europe golf championship tournament, both extremes could be witnessed on just one three-person team.
When the tournament pairings were announced earlier in the week, freshman boys Trey Bowles and Javian Rouse of the Bitburg Barons were thrilled to find that they were placed in the same four-player group. But that youthful exuberance was quickly tempered by the decidedly mature realization that too much fun could be counterproductive in such a competitive setting.
"I was kind of happy, but I was also kind of like, 'Oh no," Bowles said. "Because me and him, we kind of mess around a lot. We like playing together because we actually know each other really well."
In a rarity for the transitive military-kid set, Bowles and Rouse have been friends for a decade, dating back to when both were stationed at Tyndall Air Force Base in the panhandle of Florida. They arrived at Bitburg within about a year of each other, and on Wednesday, remarkably, found themselves in the same foursome contending for a European championship.
Both freshmen suffered and recovered from a few shaky moments on the big stage Wednesday.
"At first, I was kind of nervous," Rouse said. "Playing with my boy Trey, it helps. He motivates me, I motivate him."
If they're in need of further guidance, Bowles and Rouse can turn to the slightly more seasoned sophomore Leigha Daryanani. But while she's a willing and supportive teammate, Daryanani has her own psychological hurdles to overcome.
Last year, Wiesbaden senior Jenna Eidem was the presumptive favorite to end her historic prep career with a fourth straight European title. That's exactly how it turned out, as Eidem beat the field by 42 Stableford points over 36 holes.
Unburdened by a realistic chance of winning, the then-freshman Daryanani was free to swing freely. Her runner-up finish, though well behind Eidem, set her up as a rising contender in DODDS-Europe golf.
But Daryanani is an upstart no longer. She entered 2015 as a championship favorite along with fellow sophomore Jasmin Acker, the Kaiserslautern standout she edged by a point for second place in 2014. She's not ashamed to admit she's feeling the pressure this fall.
"Last year I definitely wasn't as nervous," Daryanani said Wednesday. "This year it's like, actually for real."
Daryanani has adjusted by trying to slow the game down, breaking the stressful situation into a series of simple, straightforward swings.
"I'm focusing more on each time I hit the ball, and the fundamentals and basics," Daryanani said.
That's exactly what her coach suggested entering the tournament.
Dean DeFraties, who took over coaching the Bitburg program this year along with wife Penny DeFraties, counseled his three young golfers to "stay within their swing."
"Just perform as well as they could and have a great time," he said. "Try to settle them down."
That advice applied particularly to Daryanani as she shouldered the weight of championship expectations. Ironically, doing so requires rediscovering the carefree attitude she enjoyed as a pressure-free freshman – the same freedom her teammates Bowles and Rouse are enjoying in their own tournament debuts.
"You just need to relax and enjoy it," Dean DeFraties recalled telling Daryanani before the tournament. "Don't worry about what they score. Worry about your score."
Twitter: @broomestripes
---
---
---
---