Wrestling athlete of year
Spencer didn't just win; he dominated
---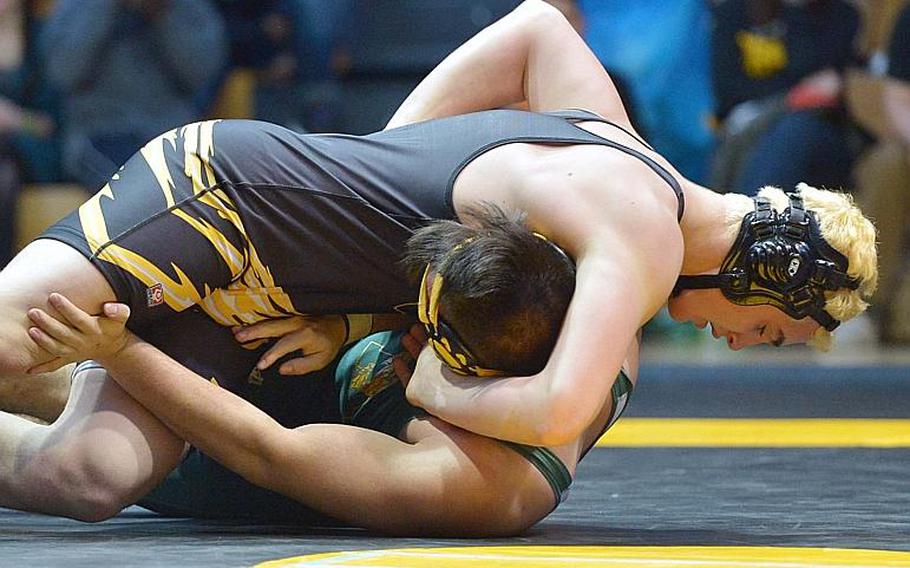 Rarely has a DODEA-Europe wrestling coach looked more at ease than when one of his charges lined up across from Stuttgart's Eli Spencer this season.
Aside from injury, nothing bad could really happen. A quick pinfall loss to Spencer, the Stars and Stripes wrestling Athlete of the Year for the second consecutive season, isn't a disaster. Every second the wrestler's shoulders were off the mat was a small victory. Tousle the young man's hair, offer some encouraging words and move on to more winnable matches. The beaten wrestler probably doesn't need much consolation, because disappointment requires the hope of a better outcome
Spencer, as a reigning European champion and one of the centerpieces of a Stuttgart team that needed every available point to retain its Division I title, entered each match burdened by tremendous expectations of success. But he found a way to subdue them as decisively as any of his external opponents. In his last DODEA-Europe championship meet, the "jitters" he'd felt in prior tournaments had been replaced by self-assured senior swagger.
"I think I got a lot better mentally," Spencer said. "I came in with the confidence I needed.
"I wasn't as scared to go out there and do it."
In the absence of a DODEA-Europe opponent capable of beating him, or even extending him to a full-time decision, Spencer spent this winter as a Panther battling largely against himself.
Often his pins came in less than a minute; when they didn't, it was generally because he and his coaches wanted him to log more mat time and work on technique. He finished 29-0 on the year, all by pinfall, and with a second straight European title at 195 pounds.
While his live matches weren't competitive, Spencer was pushed in practice by Panther coaches and training partners, as well as a local German program.
And then there are the workouts with his father, Ronald Spencer, Jr., himself an accomplished wrestler. In an effort to avoid eventual burnout, Eli said his father slowed his entry into the sport until he was well into middle school, then eschewed a typical youth sports program in favor of a year and a half of pure training before the younger Spencer's first live match.
Now that Spencer's on the verge of a collegiate career - he said he's leaning towards a potential opportunity to walk on at Division I Arizona State - they've stepped up the training. Spencer runs with his father each morning, then puts in 90 minutes in the weight room, all designed to build strength, endurance, agility and explosive athleticism for the formidable bouts in Spencer's future.
And as new opportunities and challenges arise, Spencer is far from being burnt out. He loves the sport more than ever.
"It's a game of chess with your body," Spencer said, quoting a favorite maxim of Stuttgart coach Norm Matzke. "I think it's the most amazing sport."
It certainly is when you do it as well as Spencer.
Twitter: @broomestripes
---
---
---
---