Spencer, Blackstock lead Zama to victory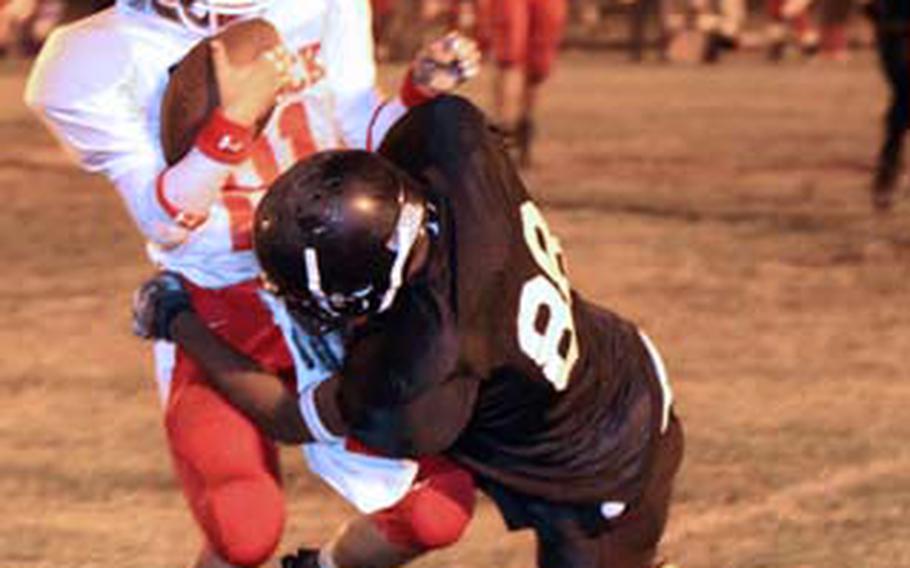 Zama American came back for its second victory in three games. Nile C. Kinnick came away from Friday's game showing its first signs of life this season.
Ryan Blackstock scored four times, including the game-winning TD early in the third quarter, as the Trojans rallied from a 19-6 first-quarter deficit to defeat the winless Red Devils 41-27 at Naval Air Facility Atsugi's Reid Memorial Stadium.
Despite the loss, this was far from the Kinnick team that had been outscored 151-12 in its first three games.
"They got a good team over there," Zama coach Steven Merrell said. "We tried to tell the kids they had to be ready to play. It's good to come away on top. But we have a lot of things to work on."
Elsewhere, Hayden Jardine tossed two touchdown passes, but American School In Japan (3-0) was held to season lows in rushing yards and points in a 23-13 home victory over Robert D. Edgren (1-3) at ASIJ's Mustang Valley.
Zama 41, Kinnick 27: At Naval Air Facility Atsugi, Japan, the Trojans showed their rushing game clearly doesn't need polish. Zama has run for 1,171 yards, by far the most in school history after three games.
Blackstock scored on runs of 45, 35, 28 and 16 yards, finishing with 177 on 14 carries. Michael Spencer returned from a knee injury to run 4 and 12 yards for TDs. He rushed 16 times for 133 yards.
At the outset, it appeared as if Kinnick might finally taste victory. Elijah Gamble returned the opening kick 85 yards for a touchdown and added a 3-yard TD run. He rushed 14 times for 78 yards.
Adam Cason fell on a bad Zama punt snap in the Trojans' end zone, and freshman quarterback Channing Meyer capped Kinnick's scoring with a 6-yard pass to John Allen.
Meyer went 16-for-25 for 130 yards. Allen had five catches for 51 yards and Taylor Myers three receptions for 50 yards.
"That freshman quarterback, he's all right," Kinnick coach Gary Wilson said. "The team was proud of how they played. We have a ton of work to do. But we became a team today."
ASIJ 23, Edgren 13: At Tokyo, Jardine, a sophomore, went 7-for-11 for 157 yards, including TD passes of 58 yards to Hamish Denham and 15 yards to senior brother Thomas Jardine. Denham also kicked a 31-yard fourth-quarter field goal to cap the scoring.
Alex Busam, who scored on a 2-yard run, was held to a season-low 52 yards on 10 carries, and his "Thunder and Lightning" partner, Andrew Stern, had just 10 yards on three carries.
The Eagles outgained the Mustangs 288-238 and held ASIJ to just 81 rushing yards. But Edgren came away empty on three second-half trips deep into ASIJ territory and Matt Linder dropped a sure TD pass from James Ervin.
"We have some things we need to work on, to improve on," Eagles coach Chris Waite said. "We'll go back to the drawing table, try to regroup."
Ja'Maal Dennis ran 2 yards for an Eagles touchdown and John Benavides went 1 yard for the other. Dennis ran 25 times for 102 yards. Linder recovered a fumble and intercepted a pass and had 69 yards on three catches. Ervin went 7-for-15 for 98 yards.
---
---
---
---