Sparks fly at July 4th boxing card
by
Franklin Fisher
July 7, 2003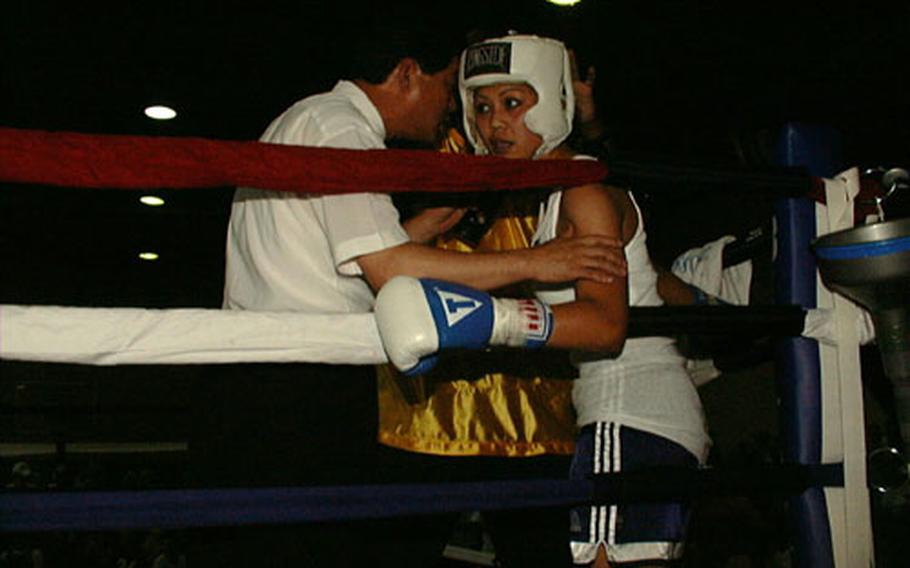 TAEGU, South Korea — With nearly a thousand spectators roaring with excitement, the Army held a blood-spattered July 4th fight card on which boxers overwhelmed their opponents like floodwater bursting through a dam.
The nine-bout card at Camp Walker's Kelly Fitness Center drew between 800 and 1,000 spectators — the biggest turnout in recent memory for an on-post recreational event and easily double the crowd for a similar boxing event last March.
The Army called the event the Rumble on the ROK, with ROK standing for Republic of Korea. It drew Army fighters from as far north as Camp Casey in Tongduchon.
The bleachers and folding chairs quickly filled with specators — enlisted servicemembers, male and female, officers, government civilians, babies in strollers and Korean guests. The crowd was eager from the start.
"Throw the right — c'mon!" one fan called out during a bout. "Let that right go, baby."
"Let him punch himself out," another shouted. "He tired already. He tired already. Don't let him rest."
The crowd was especially fired up over two of the night's bouts — a heavyweight matchup between Sgt. Jeremiah Jones (195 pounds) of the 19th Theater Support Command and Pvt. Gregory Thomas (179) of the 377th Medical company; and a middleweight bout between Sgt. Robert Flores (159) of the 728th Military Police Batallion and Pfc. Jon Andersen (165) of the 307th Signal Battalion at Camp Carroll in Waegwan.
From the opening bell of the eighth bout, Jones began the boxing equivalent of a carpet-bombing, releasing a steady rain of blows on Thomas and throwing him into retreat.
Jones dropped the bloodied Thomas to the canvas near the end of the round, but the bell interrupted the onslaught.
Thomas seemed undaunted at the start of the second round and came at Jones with speed and fury. The rally was short-lived.
Jones opened another barrage, and after two more knockdowns was declared winner by knockout in his first fight.
For Flores, it was a night of redemption. He lost his debut fight on March 8 at Kelly gym when the Army held its first boxing card for Area IV, its lower South Korea district. Flores dedicated himself to earning a victory ever since, an opportunity that arrived Friday against Anderson.
Although Flores and Andersen charged each other in the first round, each seemed more focused on trying to measure the other for an opening. Andersen was the first to exploit one. He threw a straight hard right that caught Flores on the nose.
"I thought he was going to throw a left jab," Flores said, "so I moved to his right and that's when he got me. I couldn't see for about 10 or 15 seconds — I couldn't see a clear picture. I was just trying to set him up for the second round."
Nevertheless, the judges scored the first round for Flores.
But the second round was another matter. Both fighters moved quickly to the attack, and though both landed some decent early blows, Flores began to dominate.
He soon had Andersen on the ropes, and that's when he said he sensed that Andersen was suddenly unsure of himself and that now was the moment to pour it on.
Flores did, Andersen fell, and the crowd roared. Andersen struggled up, his knees buckling, then went down again. By now the crowd was on its feet, screaming.
Ringside physician Maj. Jeffrey Brooks ordered the fight stopped.
"He was buckling his knees," said Brooks, of the 168th Medical Battalion at Camp Walker. "He couldn't get up. I don't think he would have got up on his own. He was dazed good. His pupils were dilated. He wasn't really responding to my questions."
Taegu boxing coach Miguel Marquez coached both Flores and Jones, and said he may start grooming both for wider competition.
"I'm gonna probably take 'em to 8th Army," said Marquez. "Jeremiah Jones and Robert Flores. These are definitely my two personal picks for the 8th Army" peninsula-wide competition.