DODDS-Europe All-Star game
South gets some revenge by topping North
by
Gregory Broome
November 10, 2012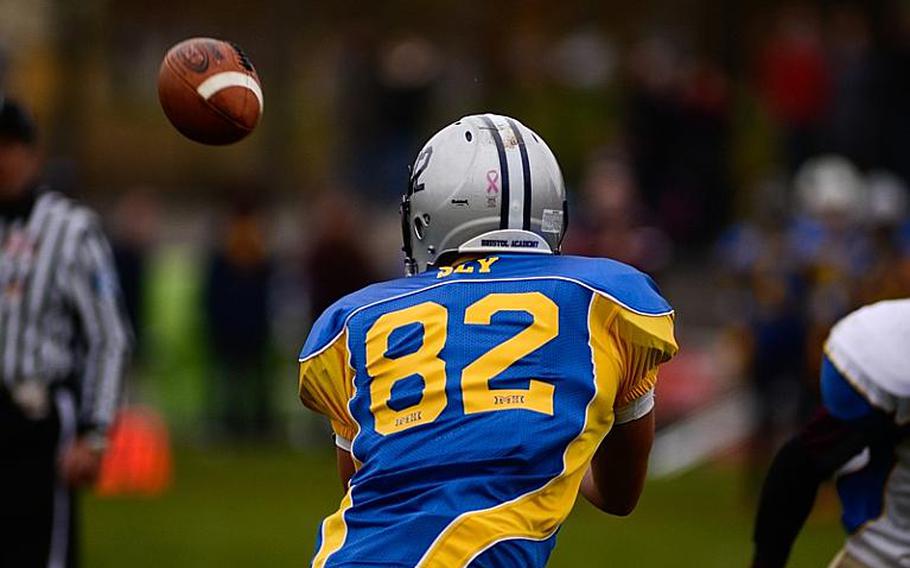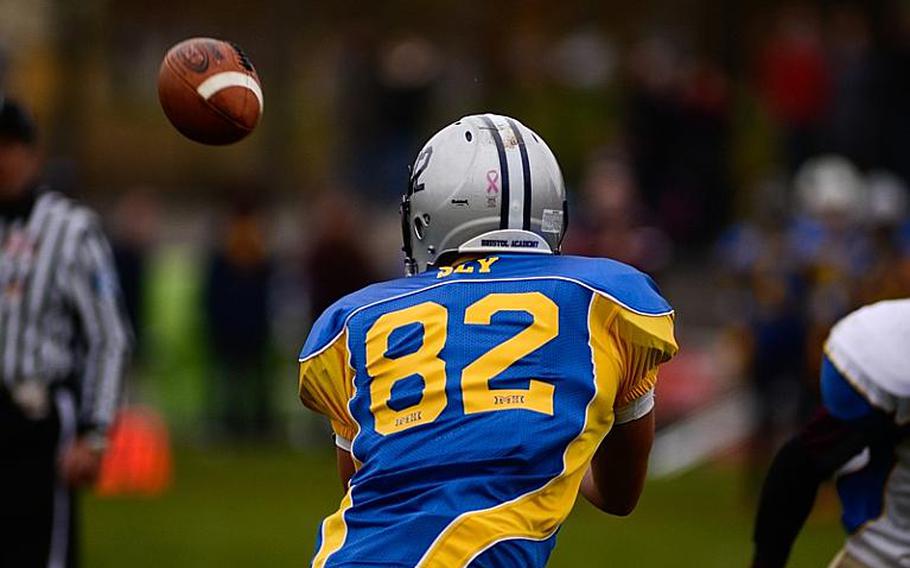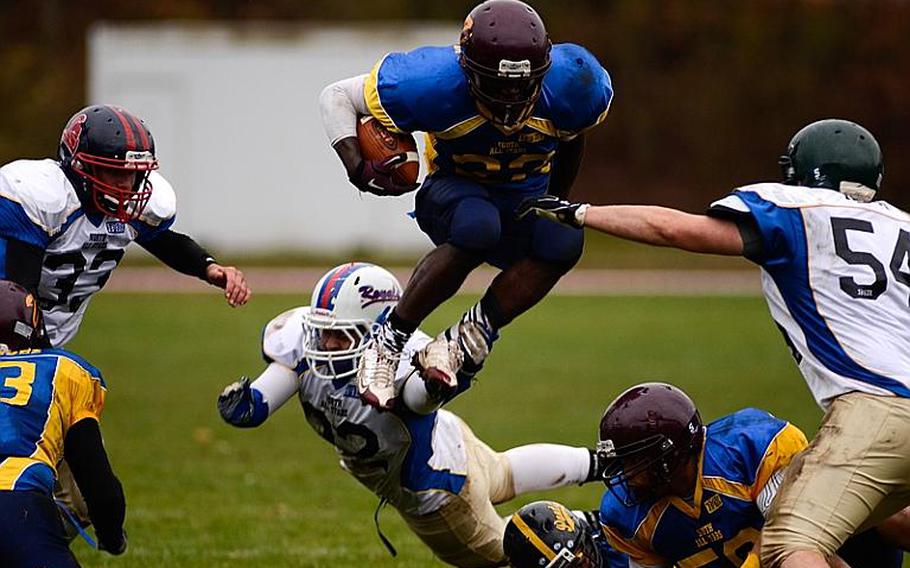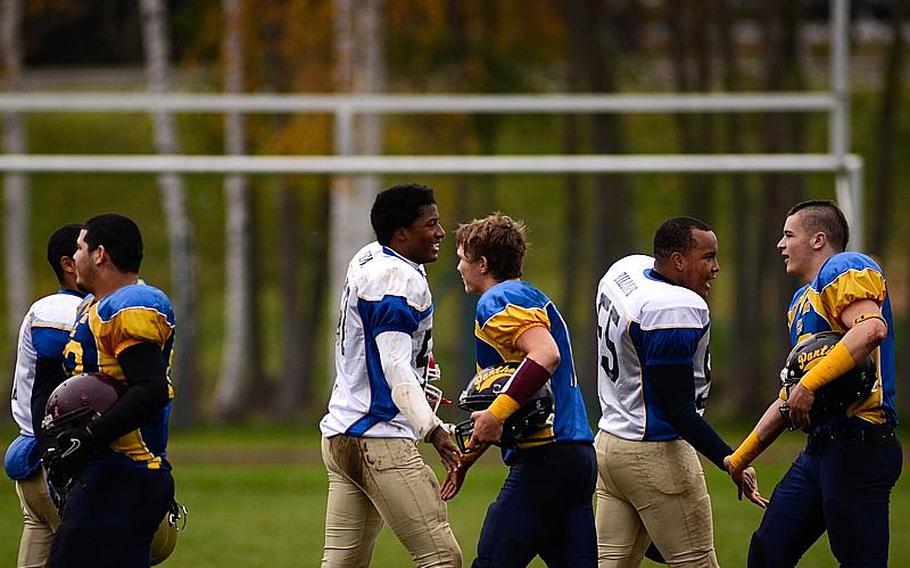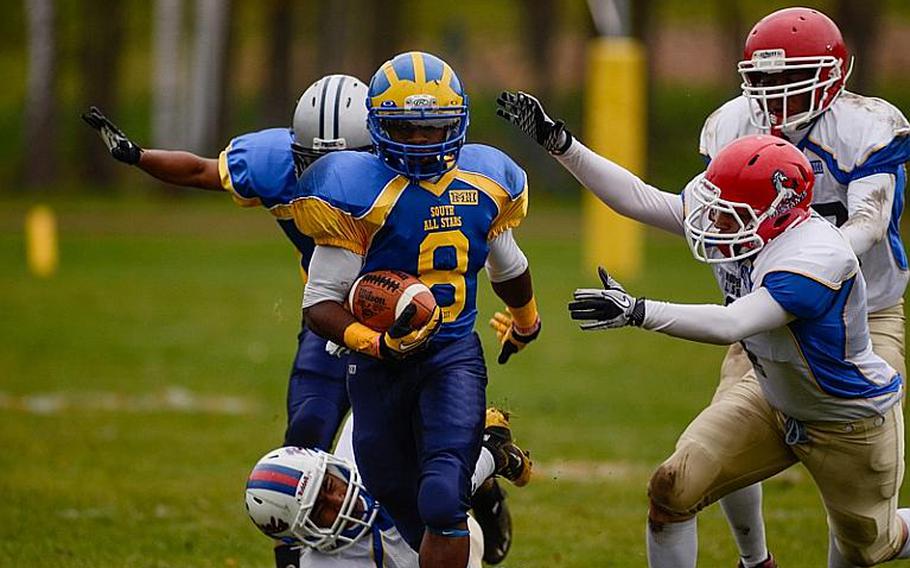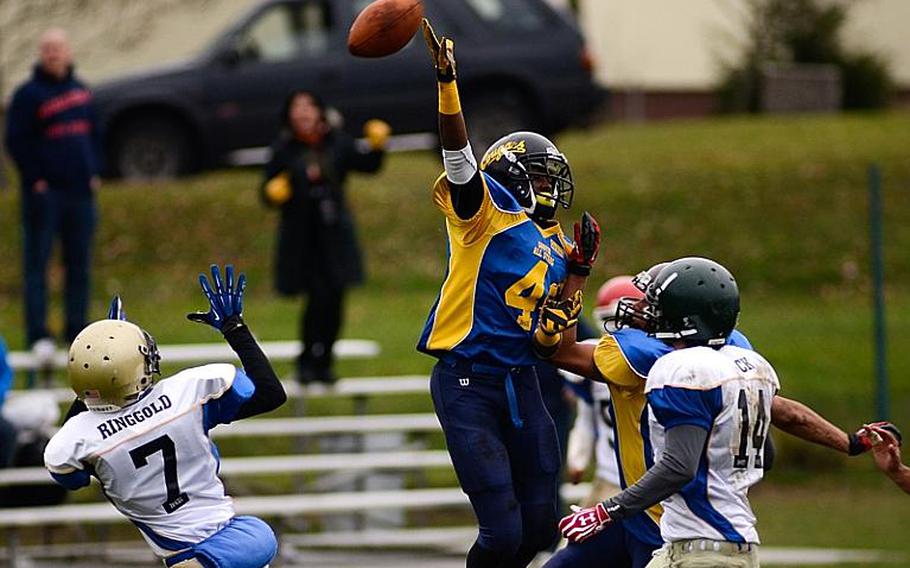 VILSECK, Germany – Still stinging from Super Six disappointments, members of the South squad kicked off Saturday's DODDS-Europe Football All-Star Game with revenge on their minds.
And revenge they got.
An inspired South team hammered the loaded North All-Stars 29-10 in the annual postseason exhibition, the second such event in as many seasons after a 30-year hiatus.
The South routed a North team stacked with players from each of the three European divisional champions crowned last weekend in Baumholder. Division I winner Ramstein, Division II champion Bitburg and Division III victor Baumholder were all featured prominently on the North, while players from respective runners-up - Patch, Naples and Rota - helped populate the South roster.
"We didn't consider ourselves underdogs," said Ansbach head coach Marcus George, the man at the helm of the South coaching staff.
Conflicting coaching styles, unfamiliar teammates and foreign offensive sets often threaten to fling football all-star games into chaos. George said he avoided that fate with a streamlined playbook that emphasized his team's speed at the skill positions.
"We just kept it simple, bottom line, and worked on execution," George said. "We made sure we were giving our kids something they could do in a short time."
After yielding an early North field goal to Sigonella senior Peter Mark Swisshelm, the South deployed its deceptively sophisticated attack. The accomplished Naples passing connection struck the first major blow in the second quarter as quarterback Joe Pitts lofted a perfectly-placed arc to teammate Isaiah Wesby for a 58-yard score.
"That was me and Joe's money play all year long," said Wesby. "Right when we called it, I knew Joe was probably going to go to me so I just prepared myself."
Pitts added an 11-yard scramble in the first half's final seconds, beating three North defenders to the pylon and establishing a 14-3 South lead at intermission. The second half offered more of the same as Ansbach quarterback Jake Voorhees found Bristol Academy's Jack Sly for an 11-yard touchdown pass three minutes into the third quarter. Baumholder quarterback Ben McDaniels fought back for the North with a 10-yard scoring run, but Carlton Campbell of host Vilseck ended the conversation with a 10-yard charge of his own, growing the lead past two touchdowns with 10 minutes to play.
"We sort of felt it as a revenge game more than anything," Pitts said. "We weren't going to go out and play dirty, we just wanted to go out and put it on them and show them that we're all good out here and we can all play."
Ramstein and North head coach Carlos Amponin acknowledged as much as he looked over a postgame scene of vintage prep sportsmanship. The whole of both rosters and coaching staffs gathered at midfield for a shared celebration of their all-star status and, for many, the official conclusions of their esteemed prep football careers.
"It's always nice to win a football game, but that's kind of not what we're here for," the Royals coach said. "We talked about it all week – you gotta have fun."