Some wrestling teams reaping dividends from new heavyweight class
by
Dave Ornauer
January 15, 2004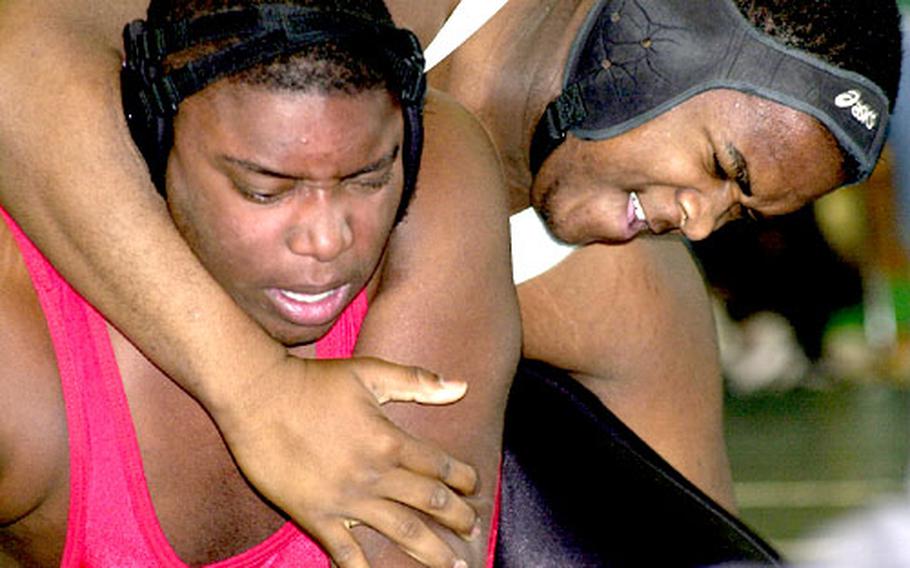 Saturday's result out of Misawa Air Base was somewhat surprising, given the recent history of Zama American High School wrestling.
Though outscored 106-58 by Nile C. Kinnick, the Trojans took second in last weekend's Department of Defense Dependents Schools-Japan tournament at Robert D. Edgren High — their best finish in a regular-season tournament in 14 years.
"We did really well," Zama coach Ian Harlow said. "I was happy with the way we wrestled."
Was it a sign of a renaissance for a Zama program that brought only 10 wrestlers to Misawa, where others carried twice as many or more?
Long the doormat of the Japan League and Kanto Plain Association of Secondary Schools, the Trojans haven't produced a gold-medal winner in the Far East tournament since the 1980s. Their last team crown came in 1982.
But there's reason for optimism. Sophomore David Burnett, a 245-pounder in the new heavyweight division added to competitive leagues in Japan, South Korea and Okinawa this season, is unbeaten through three dual meets and three tournaments.
"I think David has an excellent shot" at a Far East gold medal, said Harlow, 29, in his second season with the Trojans after spending several years at Oklahoma schools.
"As the year progresses, you'll see he's in more control, he's relaxed, he's determined when he goes out and wrestles. That's what we're pushing for. We'd like to see him win this year and next year, to give Zama two titles in two years."
At least in Japan, Burnett has emerged as the top dog in the new heavyweight division, which many see as a fresh avenue for wrestlers who might have been too heavy for the sport in the past.
Until last season, there were 12 weight classes in Japan, South Korea and Okinawa: 101, 108, 115, 122, 129, 135, 141, 148, 158, 168, 180 and a heavyweight division unlimited in the 1980s but capped at 250 pounds in 1991.
Now, there's a 215-pound weight class and a heavyweight division topping out at 275.
Pete Carter, Harlow's predecessor two years ago and his assistant last season, began lobbying DODDS-Japan District Superintendent Bruce Derr in fall 2001 to add a 13th weight class for outsized wrestlers.
DODDS-Pacific Far East Activities Council chief Don Hobbs said the class was added as a safety measure for the regular season in Japan, South Korea and Okinawa.
"We might have a situation where somebody weighing 191 to 200 has to wrestle somebody 250," he said.
Although the measure remains "under consideration" for next month's Far East tournament at Yokota Air Base, it has gained "almost unanimous" support from Far East coaches, Hobbs said, along with the endorsement of Derr, a former Zama American coach.
"Pete really started something here," Derr said, recalling how Carter's visit eventually prompted DODDS-Pacific to put it in the FEAC agenda last winter. "You can be 7-foot-5 and play basketball like Yao Ming, but a kid can't participate in wrestling because he's too big.
"Pete came here with a legitimate concern. The timing was right. I'm for it. It opens opportunities, instead of having to say, 'Sorry, son, you're just a little too big.'"
Kubasaki coach Terry Chumley, whose team has captured a Far East-record 18 championships, doesn't share that view.
"I liked the old system better," she said, saying the new weight favors large schools and hurts smaller schools such as Osan American in South Korea and E.J. King in Japan, who typically don't field full teams and must surrender a weight class to larger programs in dual meets and tournaments.
"Most high school boys who are over 250 pounds aren't in great shape. And having it hurts the smaller schools who have trouble filling the other weight classes. I'm not upset that it happened. I just think the old system was better."
More vocal in his opposition was Chumley's predecessor, Jeff Pellaton, who coached Kubasaki to 13 Far East championships before leaving the school for a new job.
Pellaton recalled the 1991 Far East tournament, which featured three heavyweight divisions, including an "unlimited" category with just one wrestler, who, "ate pizza and drank water so he wouldn't have to wrestle anyone and won 12 points for his team."
Derr remembered that season as well.
"It became a joke instead of working well," he said. "We have a kid stuffing himself to get a gold medal? What's wrong with that picture?"
Burnett views the new weight class as a "big plus for me" and plans to remain relentless in his bid for a Far East title.
Harlow and Burnett's personal assistant, Scott Haag, are "always pushing me hard," Burnett said. "The competition out here is also pushing me to do better. I just have to focus and train really hard."
In Burnett, Harlow sees hope not just for a long-awaited gold medal but rejuvenation for his entire team.
"It's going to help our program," said Harlow, the first coach at Zama since 1990 to return for a second season. "Kids will see that — that we do have kids who can compete with other schools and would want to come out."