Volleyball preview
Some new faces, but familiar powers expected to battle again
by
Rusty Bryan
September 15, 2011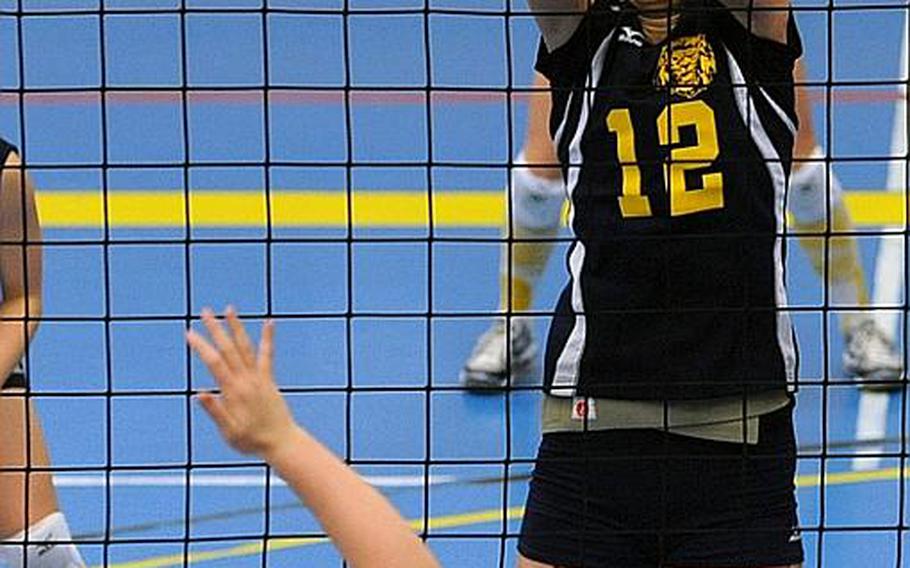 Some things old and some things new will ring in the high school volleyball season which tips off in earnest tomorrow in Italy and with jamborees north of the Alps.
Both time frames involve coaches and players who'll write the book on the 2011 season which ends Nov. 3-5 with the European championships for girls at the Kaiserslautern Military Community. The boys, for whom volleyball is offered only in the Mediterranean Region, will gather in Aviano those same days for the Mediterranean championships.
Europe-wide attention, however, will focus on the girls, where several new head coaches – Erin Markus at Ramstein, Linda Steil at Heidelberg, Angie Miller at Alconbury, Jamie Coate at Bamberg , John Kern at Hohenfels, Wanda Gardner at Menwith Hill, and Julia Byler at Naples, to name a few, are taking over at some of the continent's most storied programs.
In the new-old department, Europe volleyball guru Hans Hillestad returns to Aviano, and in the more-of-the-same-only probably better-category, All-Europeans Aspen Luna and Yesenia Solis of D-III champion Rota, Rebecca Luna and Allison Gunsch of Heidelberg and Mariah Morris of D-I champion Vilseck are back for another go.
Here's a division-by-division look at the contenders, courtesy of Vilseck coach Brian Swenty, who saw some 140 players who'll be taking to the court this season at a volleyball skills camp he organized and ran last month:
Division I"Ramstein, Heidelberg, and Vilseck will likely be battling it out for the top spots again this year, but no can really be counted out in Division I.
"Ramstein welcomes new coach Erin Markus, who has a wealth of volleyball experience. Juniors Sarah Syzbist (OH/MB) and Kelsey Freeman (OH / MB) look to anchor a nucleus of skilled players which includes a very good libero, Sade Upshaw, fresh off the PCS plane. They are young but will be very tough for years to come.
"One of the best outside hitters in Europe will be Heidelberg senior Alison Gunsch. She leads a cadre of experienced seniors.
As for his own defending champs, Swenty reported, "we return a strong nucleus of seniors…Morris returns at OH in addition to Taylor Hall (setter). I believe Taylor could be one of the best setters in Europe this year with strong hands, a deft jump float serve, and good decision making. Other returners include MB/OH Sidni Beaulieu-Hains, OH Deraj' McClinton and OH Tahtiana Williams. All were members of last year's championship team so they know what it takes to achieve success."
Division IIAlthough Black Forest Academy is the three-time defending champion, the bakers-dozen field of D-II teams is always tough to figure.
"As in most years, it is difficult to say who will come out on top," Swenty wrote. "…longtime BFA stalwart coach, Pat Woodward, is not coaching this year so we shall see how they fare.
"Hans Hillstead, returning from the U.S .after a coaching hiatus (he was the assistant coach at Mt. Olive College) is back as co-coach of the Aviano Saints, so look for them to be competitive. Vicenza returns an excellent group of talented girls – Tia Juliano, Alex Frank, Natalie Lovelace, and others. Bitburg has a good group of athletes as well and could be a contender."
Division III"Although Division III schools are small, there are athletes who would start on anyone's team. Aspen Luna, sophomore OH from Rota is a prime example. She is still ripping jump serves and will help Rota repeat as D-III champions.
"Bamberg, with a large portion of its population moving to Schweinfurt, is a big question mark. Assistant coach Jamie Coate, a former setter at Georgia Tech, takes over the head coaching job but will have her work cut out for her."
Everyone gets started tomorrow, but north of the Alps the gatherings are jamborees at Brussels, Heidelberg, Lakenheath, Vilseck and Wiesbaden. In Italy, regular Region IV showdowns have Aviano at the International School of Florence, American Overseas School of Rome at Marymount International School of Rome, Vicenza at the American School of Milan and Naples at Sigonella.