Some DODDS athletes seek recruiting services' help in getting college scholarships
by
Rusty Bryan
April 7, 2006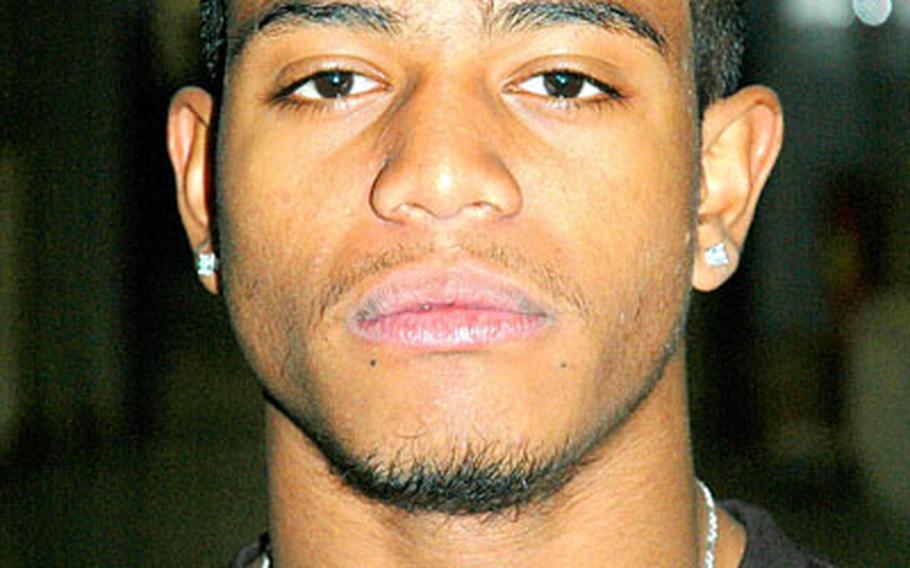 HEIDELBERG, Germany — Heidelberg's two-time All-Europe running back Lewis Allen is hoping for a college football scholarship this fall.
Trouble is, as hundreds of promising military community athletes before him have discovered, Allen's over here and the scholarships are back there. To bring them together, Allen looked for help from someone who's overcome the same barrier.
Enter Greg Peel, who — along with his partner Andre Baldwin — founded The Athletic Group, a college athletic recruiting service, five years ago.
"My dad was career military," Peel said by telephone from the company's headquarters in Columbia, Md. "We traveled throughout the world. When it came time to go to college, we didn't know what to do."
Peel, ill-positioned for an athletic grant, instead used an Army ROTC scholarship, which allowed him to go to school, run track and earn a commission.
Still, Peel figured, there's no reason that athletes who are outside normal recruiting circles should miss out on athletic awards. After five years in the Army and five more in corporate America, Peel launched TAG, a service he believes is vastly different from the scores of other recruiting firms.
"Andre and I are both former college athletes," Peel said. "Our strategy is to prepare the parents to deal with college recruiting. We hook them up with our data base, College Sports Connector, and let them pick the schools their athlete might want to attend."
The parents, including Allen's, are then left to call the schools and ask the coaches if they're interested in recruiting their son or daughter.
"If the coach says yes, we prepare a video and send it to him," Peel said. "That way, the videos go only to coaches who want to see them."
Peel's agency charges clients between $500 and $1,000, depending on level of service selected. For that price, Peel edits a video for each client and provides his data base and follow-up services. Clients also receive academic and SAT advice and are eligible to attend major recruiting combines.
Evelyn Allen, Lewis' mother, said she believes she got her money's worth.
"It's not free," she said, "but Greg's done a good job."
Peel said he's marketing the 5-9, 165-pound Allen to Division II schools — "frankly because of his size" — and even though such programs generally don't offer full scholarships, they can provide attractive packages.
College costs about $18,000 per year, Peel said, adding that two of his clients recently received $10,000 in athletic grants and another $5,000 in academic awards. "So the out-of-pocket cost is only about $3,000," he said.
But Marcus George, coach of perennial DODDS-Europe football powerhouse Ansbach, calls the recruiting services worthless.
"Basically, those services are a get-rich scheme," said George, who once spent time in the athletic department at Auburn University. "Everything you pay them to do, you can do for yourself for free."
George said recruiting firms generally use an appearance of effort to conceal their ineffectiveness.
"What these services do is send out a general mailing to various colleges," George said, citing his experience at Auburn. "The colleges put the athletes into their database and send them a letter. The services look like they're doing a bang-up job when the customer gets letters from all these schools. What they don't tell you is that a major college will send out as many as 5,000 letters inviting players to send in videotapes."
Hopefuls might as well spend their money on lottery tickets.
"At Auburn, we'd send out 3,000 to 5,000 letters knowing we're going to sign 20 people," George said. "And we've known who those 20 are since they were freshmen and sophomores."
The bottom line?
"I do have experience with several DODDS athletes who've used these services," George said, "and not one got an offer. Several people have paid big bucks and gotten nothing for it."
Peel says his recruiting service is different, because parents help target which coaches are interested.
Such targeting is vital, he said.
"All the coaches tell us that if they get a mailing from someone they can't identify, they throw them away," he said.
Once the coach gives the OK, Peel produces a video that he says entails more than just copying game films.
"I prepare a video circling the athlete and separating his impact plays," Peel said. "Coaches don't have time to search through game films looking for the prospect. They tell me if the video's not in the right format or they can't pick out the player, they throw them away."
Allen hasn't received any solid offers, but no one's giving up.
"I'm still sending out applications," he said. "It's hectic."
And Peel said he has extra incentive for driving on.
"I'm pleased to be helping Lewis," he said. "As former military, it's a chance for me to help others who were in my situation."
---
---
---