Some coaches want international schools brought back to Far East wrestling championships
---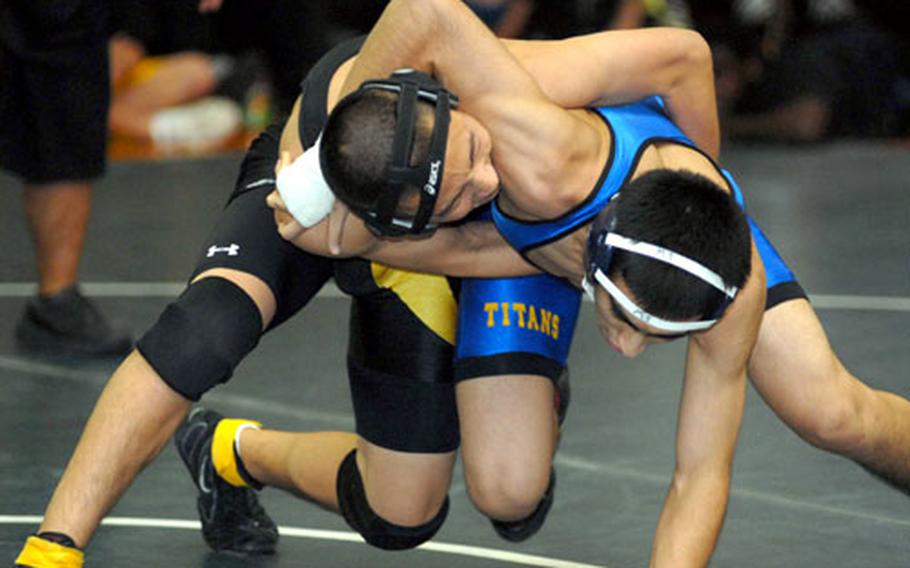 CAMP FOSTER, Okinawa — Gathered at one end of Kubasaki High School's gym, a group of DODDS and international school wrestlers were kicking a Hacky Sack. In less than an hour, they'd go at it hammer and tongs on the mat in the 2nd Rumble on the Rock Tournament.
But now it was time to just have some fun. "Playing Hacky Sack changes the whole mood of the room," Kadena coach Steve Schrock said. "When the six minutes is over, that doesn't mean we can't have a cup of coffee and play Hacky Sack. Competition and camaraderie. It's a brotherhood."
It's also part of a groundswell of support from some DODDS-Pacific coaches who are calling for international school teams to be welcomed back to season-ending Far East meets.
DODDS-Pacific ruled in September 2004 that future Far East cross country, tennis and wrestling tournaments would be DODDS-only events. The decision cited billeting and athletic facility availability as the chief concerns in Far East meets hosting international schools.
Some coaches would like to see that overturned, to give wrestlers on both sides of the aisle more experience, to enrich Far East's competitive level and make Far East titles more meaningful.
Though not officially part of the decision's rationale, some viewed it as an effort to make Far East a true DODDS-Pacific championship.
"I don't see anything wrong with that," Nile C. Kinnick coach Nico Hindie said. Still, "everybody wants to be crowned champion of a (Far East) tournament with the best teams available."
"We're here to wrestle. We're here in the Far East, we have teams in Japan, Korea, Guam, the Philippines. Why limit yourself? Bring them all here," said Kubasaki assistant coach Bobby Duncan, a two-time champion before the tournament was DODDS-only. "We're here for competition and the international schools bring more competition."
"I don't feel we get a true Far East experience," said Ian Harlow, who coached four years at Zama American before and after the decision was made, and the last three years at St. Mary's International School.
Duncan, Harlow, Hindie and Schrock spoke during last weekend's Rumble tournament, which welcomed St. Mary's, American School In Japan and Christian Academy In Japan. They have 10 Far East team titles and six Far East Outstanding Wrestlers to their credit.
Other than the Rumble and the Beast of the Far East earlier in January, "we don't get to wrestle these guys," Harlow said. "I felt the same way at Zama when we lost the international schools. We weren't competing against the best and beating the best. Do you really feel as if you're deserving of a true Far East gold medal?"
Many hurdles must be crossed, DODDS officials say, before such a change could take place.
The DODDS-Pacific Far East Activities Council, chaired by Don Hobbs, would have to examine the issue first. Besides wrestling, international schools would also return to Far East tennis and cross country meets.
Billeting, gym and field availability, and base access for international school students would then have to be discussed, among other issues. The incoming DODDS-Pacific director, Diana Ohman, would then render a decision.
For those reasons, "a change is not imminent. It may come up, it may not," Hobbs said. "It would be nice, but given the world situation, you sometimes have to take what's given to you."
While coaches agree the wrestling field seems fairly equal these days, some coaches fear that a return to the pre-2004 days would also mean DODDS tennis and cross country teams would be hopelessly outclassed by international schools, presenting the biggest hurdle to their return.
Before 2004, only Kadena won Far East tennis and cross country team titles. The tennis title came in 1989, when base access restrictions in the Philippines limited the tournament to just DODDS schools.
"If DODDS is putting on an event and if the best DODDS athletes can do is fourth or fifth place, what's the point?" Yokota wrestling coach Brian Kitts said. "It's more tennis and cross country. Wrestling is more cyclical."
St. Mary's and ASIJ dominated Far East wrestling in the late 1980s and early '90s, then Kubasaki and Kinnick dominated, then St. Mary's until the 2004 decision.
Nowadays, "the competitive level would be good," said Go Yamada, a Kinnick assistant coach who won a Far East gold medal pre-2004.
Duncan says he's also heard the argument that having DODDS wrestlers who come and go every couple of years are at a disadvantage wrestling against international school athletes who are there for the long haul.
He argues just as strenuously that is the reason they should wrestle each other, that though a DODDS wrestler might not far so well in the short run, the experience he gains will help him in more battles later.
"It gives them better competition," Duncan said. "When they go back to the States, they'll find the competition there is better, so [wrestling against international schools] here helps those kids in the long run."
One international school whose program went by the boards after the 2004 decision, Faith Academy of the Philippines, indicated it might be open to reviving it if the doors to Far East open again.
"Our kids lived for that," Faith's athletics director, Dan Beaver, said.
---
---
---
---