Home Team
Soccer in Korea more competitive than ever
by
Dave Ornauer
April 27, 2011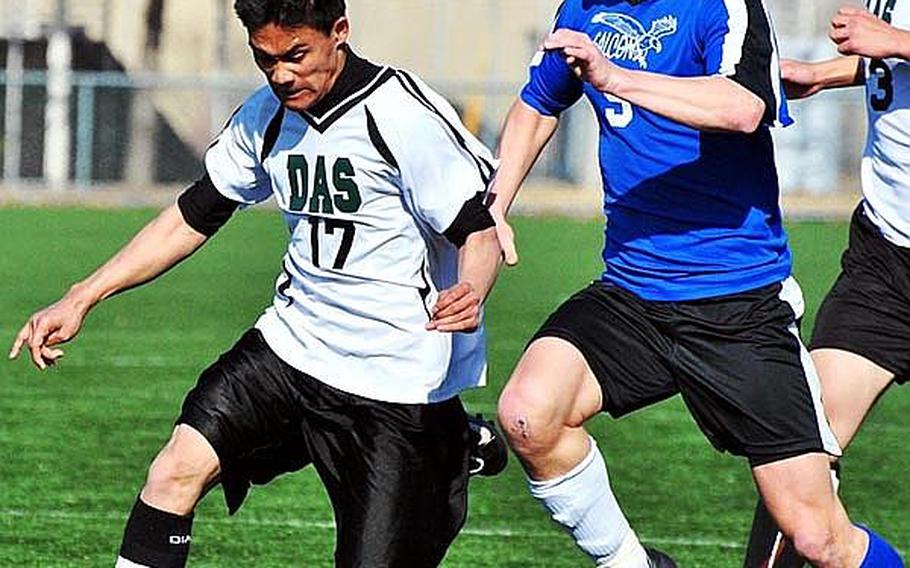 Korea boys high school soccer has never seen the likes of this.
Normally, it's as much a rite of passage in April as tax deadlines, Final Fours and the start of baseball: Seoul Foreign's boys soccer team captures another Korea league regular-season title.
It happened eight times in the last eight seasons under former coach Doug Farley's stewardship.
It happened again this year, but it came down to a 2-1 Crusaders' victory Wednesday on the final day of the regular season.
The league's six top teams finished 13 points apart and the top five were separated by eight points after Wednesday's action.
It portends an upredictable Korean-American Interscholastic Activities Conference Division I tournament this weekend as the league has ever seen in its 39 years, says longtime league historian Jack Moon.
"There are no gimmes here," said Moon, who coached for 12 years in KAIAC and has been with the league since 1979. "In the past, we've had two, maybe three close enough to catch each other, but never to this extreme."
Moon and league coaches say that unlike the Crusaders' power years, any of the league's top six are equally powerful and equally vulnerable.
"It's exciting," said coach Steve Boyd of sixth-place Seoul American. "Any of those six teams can beat each other on any given day."
Seoul Foreign (10-2-2) won the regular season with 32 points, with Yongsan International-Seoul (9-2-3, 30) and Seoul International (9-3-2, 29) nipping at the Crusaders' heels. Taejon Christian International (8-4-2, 26) was fourth and first-year D-1 team Gyeonggi Suwon International (7-4-3, 24) took fifth.
Sixth-place Seoul American (5-5-4) trailed GSIS by six points, but went 5-2-4, including four straight wins, after an 0-3 start. The Falcons have beaten or tied every team they've played.
Two of Wednesday's finales were emblematic of competitive nature of the regular season. SFS – which has lost two regular-season matches for the first time in 12 years – edged GSIS 2-1 and Seoul American tied TCIS 1-1. YIS-Seoul routed ninth-place Korea International 5-0.
What has made this season so competitive?
Unlike those Seoul Foreign domination years, when the likes of Pacific single-season (61) and career (183) goal-scoring leader Remco Rademaker patrolled the pitch, "we don't have any super-superstars, no Remcos running around, just good players playing as a team," Moon said.
"It's one of those rare years when the teams are really competitive," said Boyd, who has coached the Falcons on and off for 10 years.
Four players have at least four goals for Seoul Foreign, led by Trevor Smith (10). YIS-S (Jimmy Kim, 19), a two-time Far East Division II Tournament champion, and TCIS (Jerry Promise, 16), which won that title in 2003, have long fielded strong teams.
Not so GSIS (freshman Jacob Son, 19 goals) and SIS (Eddie Cho, 14), which surprised many with their sudden rise to prominence.
"Nobody saw GSIS coming," Boyd said, while SIS – which hasn't fielded a competitive entity in any team sport since its Far East champion basketball teams of the early 1990s – has several players in the 6-foot-1, 200-pound range on the pitch.
"Where were those guys during basketball?" Boyd said, adding that the pride that South Korea has taken in its national soccer program, which reached the World Cup semifinals in 2002, may be spilling over into its soccer-playing populace. "When it comes to playing, they're saying, 'This is our game and we're going to be good at it.'"
Seoul American began the season riddled with injuries, but once fully healthy, Josh Chung, Peter O'Grady, Peter Kim, Josh Naputi and the Falcons began to feel their oats – and could be a darkhorse bet this weekend at Osan.
"Word has gotten around the league that we're better than we were and as healthy as we've been all season," Boyd said.
As examples, he pointed to a 7-0 loss at YIS-S early in the season. In the rematch at Seoul American, the Falcons led 3-1 before settling for a 4-4 tie. Seoul American lost to GSIS early in the season 2-1, then repaid the favor at the Falcons' Sims Field by the same score.
"And we were missing four starters," Boyd said of the victory over GSIS on April 8. "Because it's so wide open between the top six, we don't fear a YIS-S or an SFS. It can be any one of these teams."
So, what will it take to be the one this weekend?
"It's been all over the place," said first-year YIS-S coach Brian Bennett. "Every game has been so unpredictable. You have to tell them (players) to do their best to win because every other team is out there trying just as hard. It's who has the healthiest, strongest 11, especially the top three."
"Even KIS is taking points" off top-tiered teams, first-year SFS coach Brian Hamm said of last-place Korea International's beating and tying SIS.
Rather than being disappointed over two rare regular-season losses, Hamm says he appreciates the competition. "It makes it more meaningful for the players," he said. "It raises the level of play for everyone."
"I've never seen it this competitive," Boyd said. "It's a matter of who's playing better that day. And the best may be yet to come."
---
---
---