Home Team
Soccer gatherings are season highlight - and sometimes entire season
by
Gregory Broome
April 27, 2017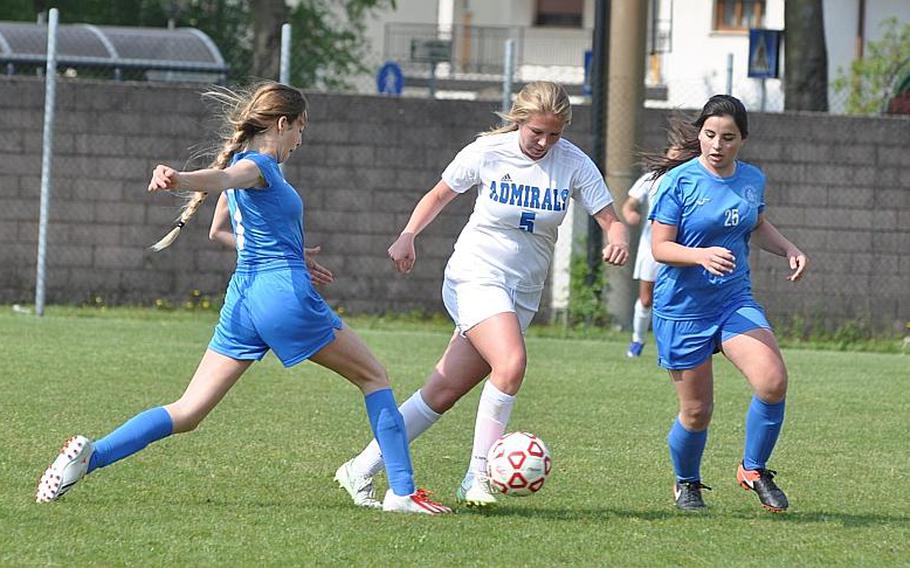 It's easy to schedule sporting events between DODEA-Europe's largest high schools. Kaiserslautern, Ramstein, Stuttgart and Wiesbaden are all within a three-hour radius in southwestern Germany; that's close enough not just for painless weekend visits to each other's campuses but occasionally even weekday showdowns that are common in the United States but rare in DODEA-Europe.
Outside of that vicinity, however, things get more complicated.
In 2014, DODEA-Europe reacted to personnel changes on the continent by realigning its three-division structure. The change eased the crunch of mid-sized schools swelling the ranks of Division II. But the promotion of Italian schools Naples and Vicenza from Division II to Division I, making them the only upper-division programs in the country, exacerbated an existing challenge for the organization - namely, how to provide teams with regular-season competition within their own divisions.
In 2016, the regular-season spring soccer schedule began to address this issue in earnest by arranging two gatherings of four divisional rivals apiece for two days of matches. The 2017 editions of those meets occurred last weekend, with Division I Vilseck, Stuttgart and Naples traveling to Vicenza and Division II American Overseas School of Rome, Marymount and Rota meeting up in Aviano; similar meets in baseball and softball are scheduled for Aviano and Vicenza this weekend.
For the teams that participate in them, these annual gatherings have become a centerpiece of the DODEA-Europe soccer regular season.
"These types of competitions are always a good thing," said Aviano girls soccer coach Robert Tiffany, a recent arrival to DODEA-Europe from DODEA-Pacific. "They need to see other teams in action, they need to stay competitive during the season and these types of events help."
That's particularly true for a distant school like Rota, DODEA-Europe's only program in Spain. The Admirals spent around 30 hours on a bus in each direction to take part in the matches at Aviano. .
"For Rota, these multiple-team divisional events are essential," Rota boys soccer coach Jason Fox said. "Our budget and the distance required to travel precludes us from having a steady stream of divisional competition. Traveling to one destination and competing against several teams as opposed to only one gives us the biggest bang for our buck."
Fox's Admirals got their money's worth last weekend, playing three matches in a period of roughly 24 hours. While it's impossible to fully replicate the frenzied atmosphere of the European tournament, scheduled this year for May 17-20 in the Kaiserslautern Military Community, these gatherings can serve as at least a worthwhile warm-up to that event,
"Things are fast and furious in events like these," Tiffany said. "That's part of the fun."
The Vicenza boys soccer team had a particularly intense weekend, defeating Vilseck 2-1 on Friday before taking a 2-1 loss to Stuttgart the next day. That's the third one-goal margin in as many Division I games for the Cougars this season, including a 2-1 defeat against Naples on March 21.
"Playing back-to-back games is also good preparation when you will play four games in two days just to get out of your bracket," Vicenza boys coach Roland Sturk said. "The pressure of play in those games in a short period of time definitely mimics and is good prep for the tournament."
Daniel Coapstick, coach of reigning Division I girls soccer dynasty Stuttgart, has come to value the midseason meets as a milestone on the road to the European tournament. He said this year's trip to Italy had a "magical effect" on his Panthers.
"My girls say it is one of the events they look forward to the most," Coapstick said. "Nothing bonds together like two or three-day trips with long bus rides. I always feel this brings any team together."
Twitter: @broomestripes