Cross country preview
Smith to try for three-peat; boys field wide open
by
Gregory Broome
September 14, 2017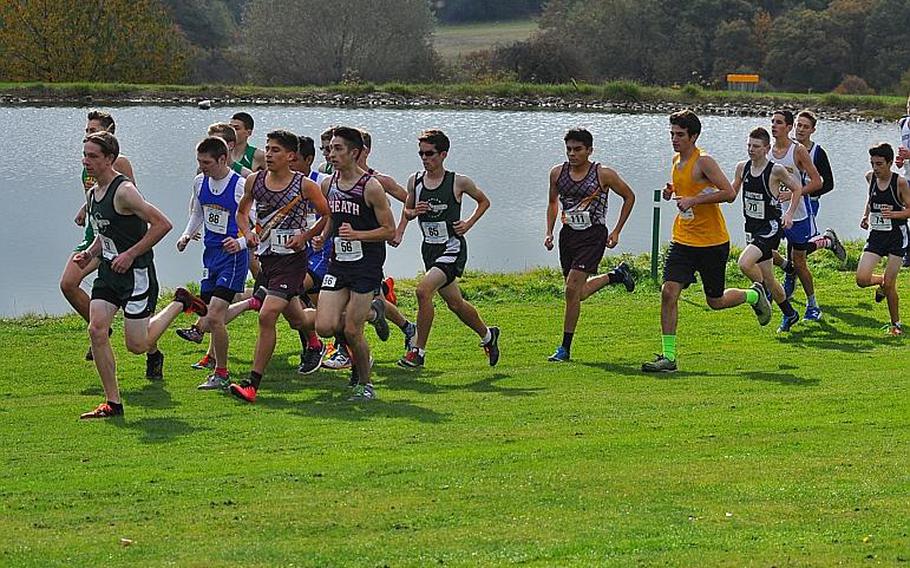 The 2017 DODEA-Europe cross country season looks a lot like the 2016 edition.
Once again, St. John's International School phenom Kayla Smith will set the pace for the girls. And just like last year, the boys field will produce a fresh champion from among a field of eager contenders.
The season, the last to launch of DODEA-Europe's five fall sports offerings, opens Saturday with five meets across three countries. This weekend's action is the first of five regular-season Saturdays leading up to the European championship meet Oct. 28 at Baumholder, Germany.
Girls As Smith returns for her senior season, her primary competition is the historically high standard she's set.
Smith won the 2016 European title by an imposing margin of nearly 45 seconds. Her time of 18 minutes, 45 seconds beat the previous course record of 19 minutes, 28 seconds, which Smith set in the process of winning the 2015 DODEA-Europe championship at Baumholder.
While Smith is the prohibitive favorite to win her third straight title, her adversaries are good enough to make her earn it.
Division I power Stuttgart presents a deep roster of runners headlined by Tatiana Smith, who finished fifth in last year's race.
Beyond that, the girls field is brimming with finals-tested seniors hoping to improve on strong 2016 showings. That group includes Kaiserslautern's Helene Arnold, Spangdahlem's Amanda Zubowicz, Brussels' Avery Smothermon and Aviano's Virginia Belt.
Boys The DODEA-Europe boys ranks will again produce a new individual champion this fall thanks to the graduation of Ramstein's Colin McLaren, the 2016 winner. McLaren won't be completely forgotten, however, as runners will race to break the Baumholder course record of 16 minutes, 27 seconds he set at last year's final.
The list of potential successors is vast and unpredictable. Most of the top finishers behind McLaren left along with the Royal champion, leaving the vacant boys throne very accessible to a new contender ready to emerge from a pack or programs that are also chasing divisional team championships.
Defending Division I champion Ramstein must overcome substantial losses, while runner-up SHAPE and third-place Naples are facing a similar task. Kaiserslautern will make a run at the top three; the Raiders' large roster features a strong top tier including juniors Orlando Rojas and Yadiel Rojas. Stuttgart puts forward contenders Paul Fullwood and Alex Sprague from its own sizeable squad.
Reigning Division II champ St. John's will be tested by Black Forest Academy and Spangdahlem, which finished second and third a year ago. BFA junior Mac Roberts finished 12th overall last year and is one of five Falcons to compete in last year's European final. Spangdahlem, led by freshman Kaylar Lobre, is at the opposite end of the experience spectrum.
Championship meet host Baumholder, meanwhile, is harboring high hopes for a small but solid boys team led by junior Jesse Espinoza. The Bucs finished third in Division III last year and will look to pass defending champ Hohenfels and close runner-up Sigonella for the small-school crown.
Twitter: @broomestripes