Slick trek for Tama's mountain bike race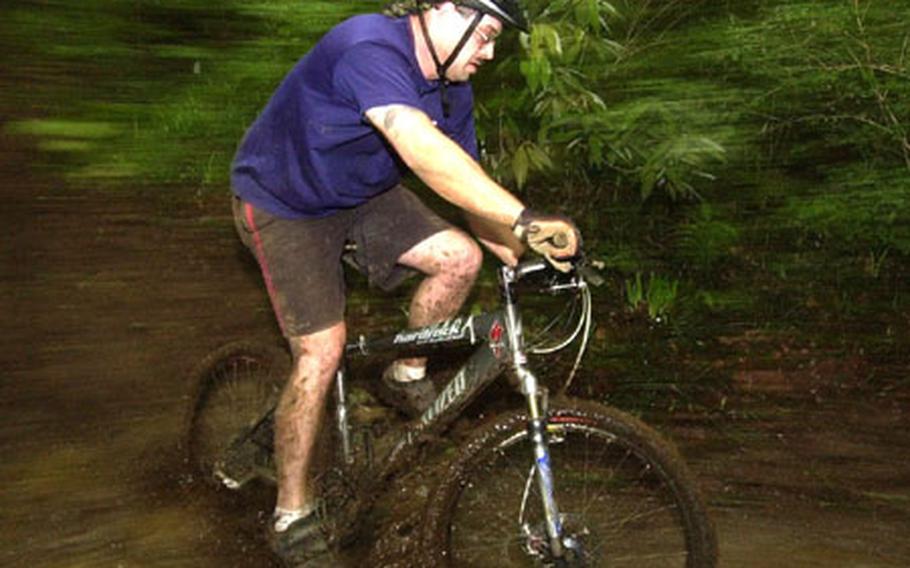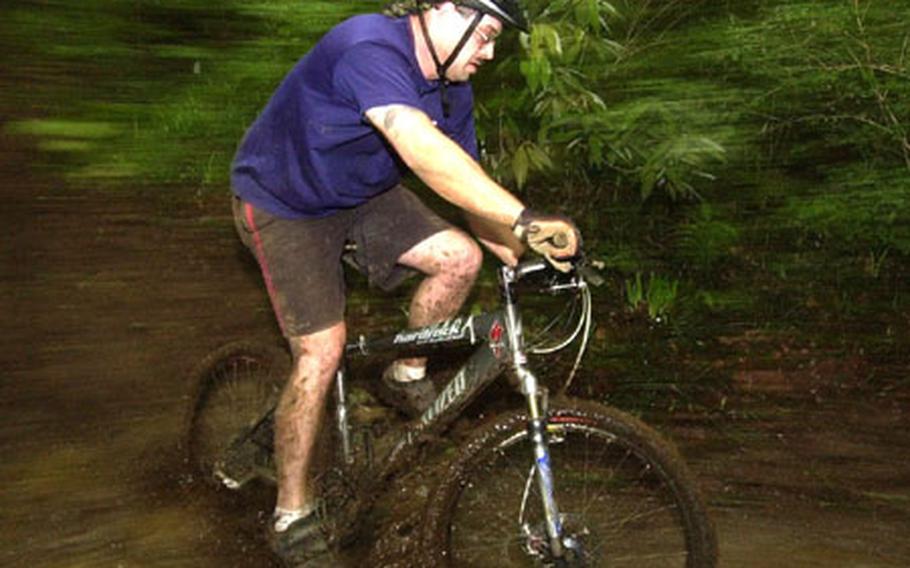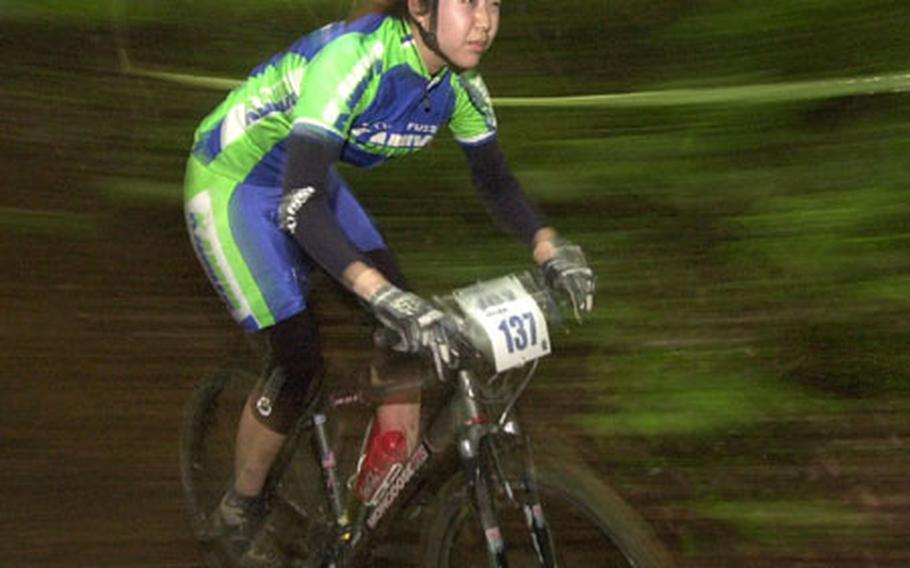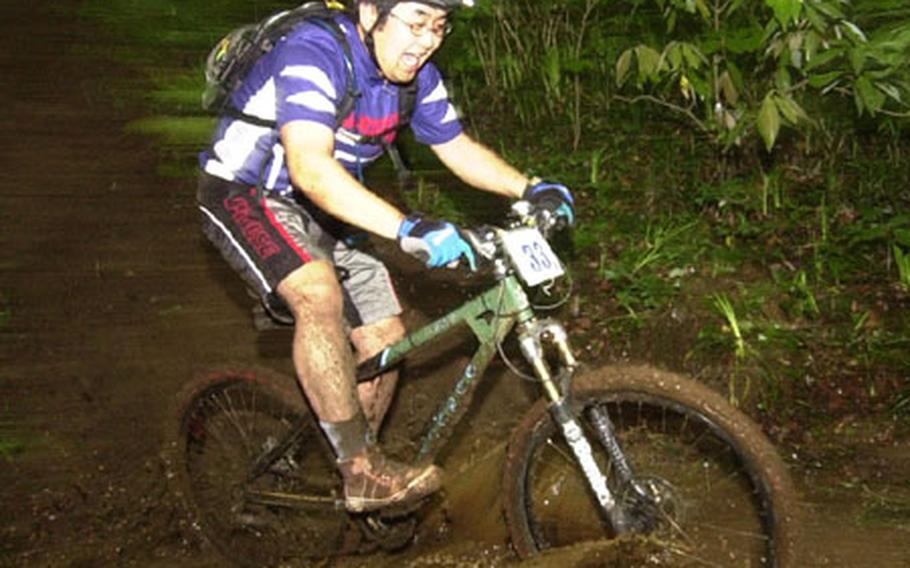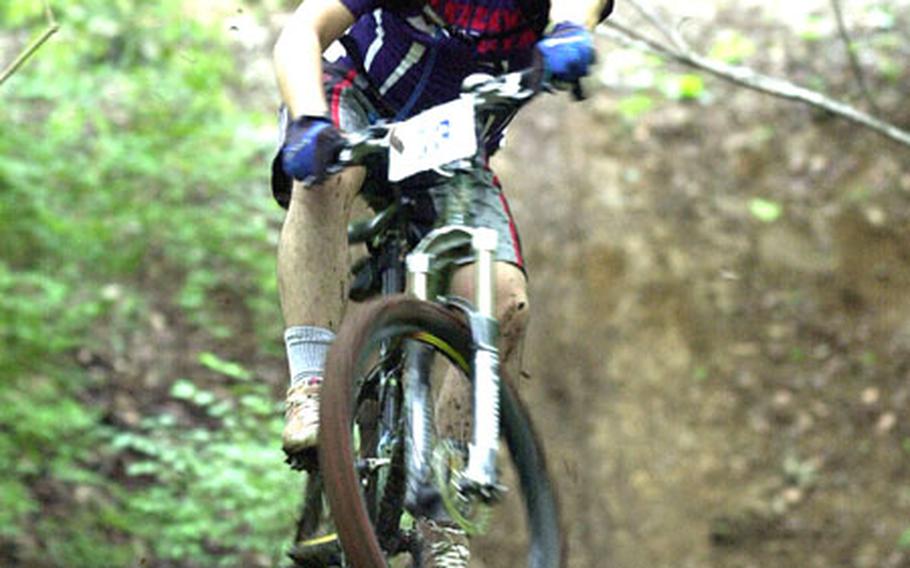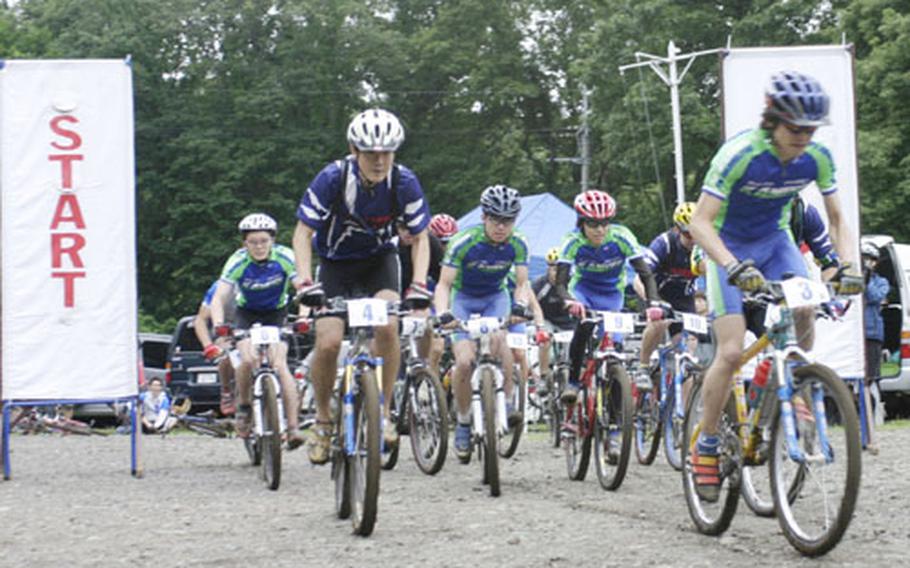 TOKYO — Long after rain stopped in the Tokyo area, its effects turned Saturday's 14th Tour de Tama mountain bike race into another mudfest.
Approximately 70 participants, including 22 Status of Forces Agreement riders from Yokota Air Base, endured 2½ hours of tricky hills and turns, made all the more challenging by weeklong rain that kept the 3.1-mile route slick and soggy.
"We had one major injury to a shoulder, dozens of flat tires and many broken egos," said Tosh Oka, the Outdoor Recreation program director for Yokota's 374th Services Division, which served as race coordinator.
That was typical throughout the only mountain bike race in the Pacific held on a military installation, staged biennially at Tama Hills Recreation Center.
According to race course designer Rick McCoy, rain does not matter. Tree shade tends to keep the sun out and the course moist for days after a lengthy rainfall, and Tokyo was hit by Tropical Storm Nida, which passed by the Japanese capital on Thursday.
"It stays pretty consistent. Normal wetness. But it was all right," said McCoy, 36, a former Air Force security policeman assigned to Yokota who now owns R&R Cycles, a contract outfit that sells and repairs bicycles on Yokota and is one of the race sponsors.
Whether a cyclist is a beginner or has intermediate-level experience, McCoy calls the course a challenge simply due to the conditions.
"Beginners find it really hard," McCoy said. "By the time you do three laps, you get beaten down. It's pretty muddy, most of the time it rains. It takes a lot out of you."
Rookie division winner Mike Freund, 33, of Yokota's 62nd Field Investigative Service, acknowledged the course was tough but appreciated the challenge.
"The track was very muddy and caused us problems," he said. "You really had to be careful going down the steep, muddy hills."
Another first-timer, Mark Parth, 28, of Yokota's 36th Airlift Squadron, said the last lap turned into what he called "hike-a-bike" because of the conditions.
"It got sloppy out there," he said.
McCoy made minor adjustments to the course for Saturday's race, adding one jump section. And the "Double Doozie," a twin set of steep drops close to the end of the course, remained as challenging.
"It was as popular as ever," McCoy said. "That's going to be a permanent attraction, a real popular spot for people to hang out."
The "Double Doozie," a 45-degree downhill grade, caused a large number of cyclists to halt and summon courage. A handful merely walked to the bottom, which McCoy doesn't recommend.
"A lot of them crashed because they tried to walk down the hill," he said. "Everybody seems to think it's easier to walk down. It would naturally seem that way, but it's so slippery and steep, they slide and their bike slides with them."
Elite division winner Yuichi Suzuki, 27, a Japanese engineer, was one who chose to walk some of the trickier hills.
"I had to get off and carry the bike because of the mud, and that slowed me down," he said.
— Mark Rankin contributed to this report.