Super Six football
Six teams to vie for three DODDS-Europe titles
by
Rusty Bryan
November 3, 2011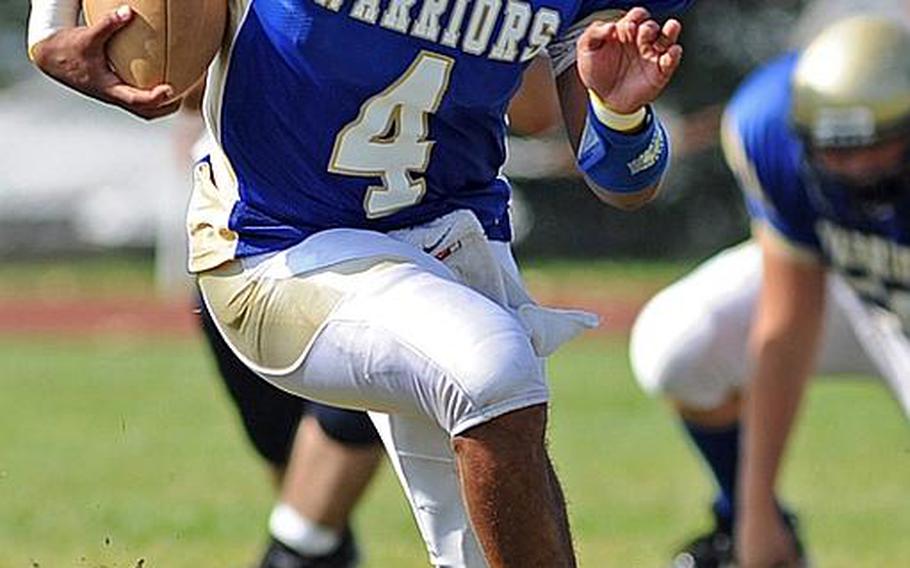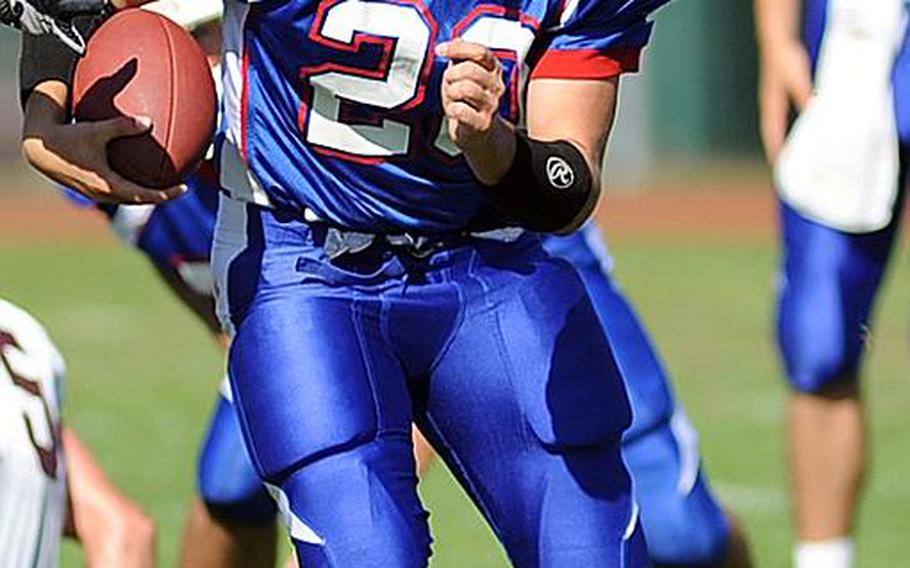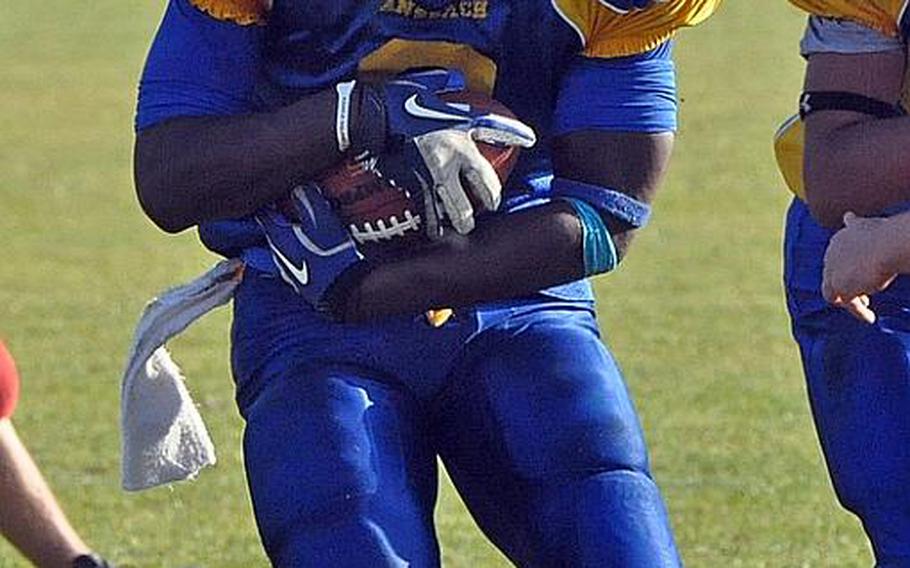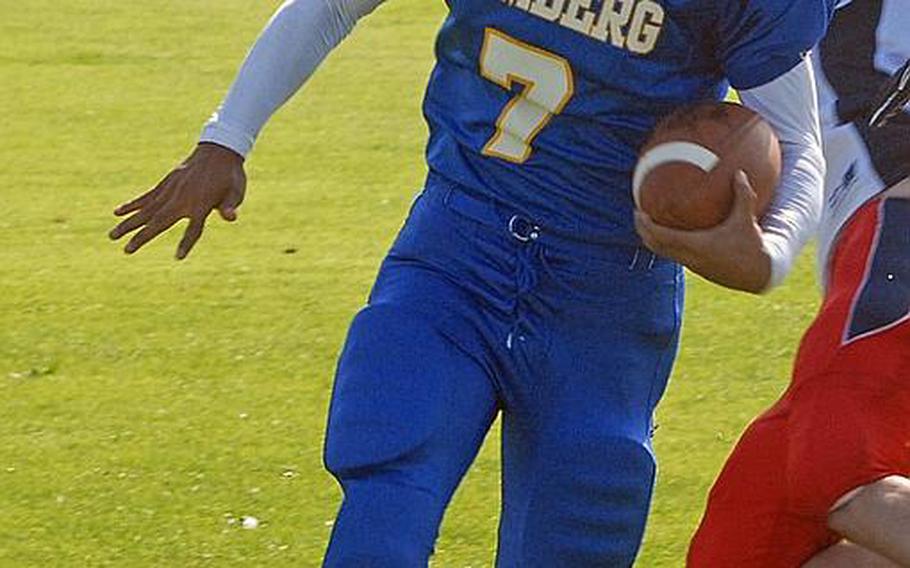 This article has been corrected
The two teams that have ruled Division II football in recent years renew their rivalry Saturday to kick things off in the Super Six football championships at Baumholder's Minick Field.
First up, at noon, the unbeaten, two-time defending European Division II champion Bitburg Barons (7-0) are to take on the Ansbach Cougars (6-1), who have won eight European titles since 1992. Next, at 2:30 p.m., is the nine-man Division III championship clash between the undefeated Rota Admirals (7-0) and the Bamberg Barons (6-1), who are playing nine-man ball for the first time this season. Finally, at 5 p.m., is the big-schools finale, where the Ramstein Royals (6-1) are trying for European title No. 11, an all-time best, against the Wiesbaden Warriors (6-2), who last won the D-I title in 2004.
One ticket, priced at $5 for adults and $3 for students, is good for all three games. Children accompanied by an adult are free. AFN's Pentagon channel will carry all three games live, and afneurope.net will stream the games on the web.
Here's a game-by-game look, as provided by coaches whose team faced each of the finalists the season:
Division IIAccording to Will Vreugdenhil of the International School of Brussels, it will take an all-out Ansbach effort to deny Bitburg its 22nd straight victory and third straight D-II crown.
"In my opinion, this year's Bitburg team is bigger and stronger than I have seen in the past," he wrote in a Monday email. "Expect them to be in a double-tight wishbone and get the ball in (All-Europe running back Kyle) Edgar's hands quite often to run behind their great offensive line. They run off-tackle quite a bit and have a nice counter play as well. Expect their fullback (All-European Austin) Schmidt to have a good game both carrying the ball and making good blocks."
Ansbach will counter with running back Xavier Jones, who has three 300-yard games under his belt so far this season, and a lot of misdirection.
"Expect … Jones to carry most of the workload … also, expect them to put the ball in the air from time-to-time (using the arm of quarterback Jake Voorhees) to keep Bitburg honest. I think DeMar Flake is Ansbach's sleeper. He is a speedy and dangerous player who is fun to watch."
Division III"No one in Division III could stay on the field with Rota this season," summarized Menwith Hill coach Pete Resnick in a Monday email about the Admirals, who outscored six foes this season by a combined score of 304-7.
Bamberg's the squad which ended Rota's unscored-upon streak in a 62-7 Rota victory in Spain on Oct. 15 that was the Barons' first loss of the season. To avoid a second loss, according to Resnick, the Barons must exercise their muscle and speed.
"Bamberg is the only team that can come close to physically matching up with them," Resnick wrote. "Bamberg linemen Michael Wright, Michael Johnson and Wally Garcia knocked us all around the field and can create spaces for their backs. Bamberg quarterback Phathanasin Sandod is fast and elusive. When Bamberg went to a shotgun spread offense, it allowed them time and space to fully utilize thier excellent receivers, Anthony Cortright and Terry Williams, or time for Sandod to scramble."
Resnick, however, expects Bamberg to have to do lots of scrambling against a team he sees as nearly as big and fast as Bitburg, the D-II power which traditionally combines size with athleticism.
"At the end of the day, you will be comparing the Rota athletes to the Bitburg athletes and trying to decide which team is more physically dominant. I believe Rota's Frankie Esquivel and Tim Drake Jr. to be All-Europe quality. They also have three all-conference backs, K.C. Mason, Terrence Paris and Ramon Quijano."
Rota won a Division IV crown in 2004. D-IV's long gone, but Rota, seems poised for a D-III crown against the Barons, who won European D-III titles in 1984 and 1996.
"If Bamberg can slow Rota's awesome wishbone running game (though they line it up as a double-wing or power-I), and have success mixing their run-pass game," Resnick concluded, "we could possibly see four good quarters of football."
Division IAmong other things, this game will be a matchup between 1,000-plus-yard rushers.
"Wiesbaden is all about speed, misdirection and Daniel Harris (1,333 yards rushing)," emailed Vilseck coach Jim Hall, whose Falcons downed Wiesbaden 25-8 on Sept. 17 and dropped a 24-21 verdict to Ramstein in last Saturday's semifinals. "But over the weeks, there is a passing game."
The passing comes from Harris, who has averaged more than eight yards per rush the past two seasons and throws the option pass, and senior quarterback Garry Miskovsky (22-of-54 for 451 yards and six touchdowns), and it has helped the Warriors, D-I runners-up last year, to four straight victories going into their second straight final.
"Ramstein is all about power and Jon Grotelueschen (a 6-foot-2, 210-pounder who's rushed 223 times for 1,123 yards and 14 TDs)," Hall added. "Ramstein is averaging 25-30 carries per game for their tailback."
For all that running, Hall cautioned that Wiesbaden must account for receiver Jaap Van Gaalen, who burned his team for a 60-yard TD grab down the left sideline last week.
"If the Royals can continue to block for their tailback and only pass when they need to, look for Ramstein to establish 13-14-play drive and eat up the clock on Wiesbaden."
Hall predicts a low-scoring game, "especially if the rain traditionally shows up."
CorrectionThe starting times for the Division II and III games were incorrect in an earlier version of this article.
---
---
---